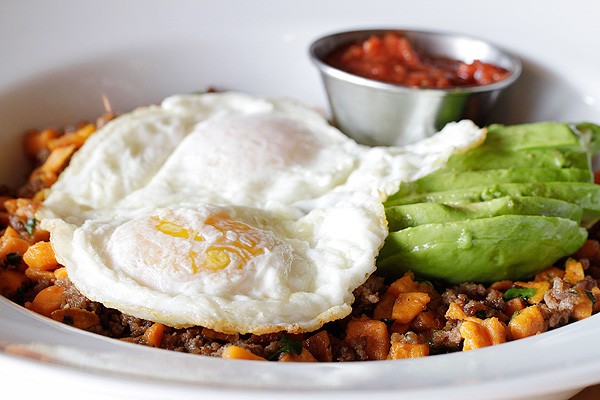 Are You Ready For Some Football Brunch?
Where to grab some grub and watch the big game.
Unless you live under a rock or refuse to acknowledge another defeating season for the Cowboys (actually things are looking up this year), you know football season is in full swing. Whether you're a sucker for Saturday college rivalries or end you're Sunday church prayer with a few thoughtful mentions of your NFL team, you will devote weekends to drinking beer and celebrating touchdowns like you just won the lottery. Location, food, and beverage are all important decisions in making your team's victory as sweet as possible. Games start early and run late, so choose your brunch location wisely and prepare accordingly as one drink quickly becomes a round of shots, a couple shotgun beers, two plates of chicken nachos, another round of shots, and an Uber ride home you definitely don't remember.
Brunch and football are a few of our favorite things, so here's to some standout locations that make the best of both worlds. Feel free to comment with some of your favorite spots.
Why I like it: A bit hipster, a bit sophisticated, a bit house party meets library with a DJ, this place brings a lot to the table. I feel classy until I realize I just finished that mimosa carafe on my own.
What to get: They are known for their pizza, but they have a way with their brunch menu. Standouts include the stack of blueberry pancakes, egg white omelette with a side of hashbrowns, and chilaquiles. However, I advise you stick to the Mother Child Reunion with chicken fried chicken, poached eggs, strongbow bacon gravy, and honey butter grits.
Where to next: Stay put fool.
Why I like it: I can plop down at a picnic table on the patio and watch the "People of The Trail" exercise with the intention to walk a couple miles myself. Then, I realize I am two baskets of sweet potato fries in and an ice cold beer sounds a lot more appealing. It's not necessarily a football-watching destination, but it's right next to one of the most popular spots.
What to get: Start out with the Baja Tower, which is a twist on your normal table guacamole with added shrimp and pico de gallo. Go for The Deep Bowl of beef, sweet potato hash, avocado, and two eggs or choose the Veggie RX scramble to offset the number of drinks you're about to partake in. Order the hibiscus lemonade made with Absolut Hibiskus to wash down all that grub.
Where to next: Katy Trail Icehouse
Why I like it: I can eat my second helping of chicken and waffles and not feel judged. Beware: everyone loves them for this same reason, so weekends are flooded with locals. They don't take reservations, so be prepared to wait.
What to get: Chicken and waffles, duh. Plus, the bloody Mary bar let's you put your skills to the test and make your drink just how you like it.
Where to next: Pour House
Why I like it: The eclectic interior, knowledgeable mixologists, champagne fountain, and upscale, yet casual atmosphere.
What to get: First of all, they have pizza fries. Take that in, order them, and then look over the rest of the menu. The chicken and waffles are a fan favorite here as is the bottomless mimosas courtesy of the champagne fountain. For $12 you can fill your glass to the rim and add a splash of a number of different juices offered.
Where to next: Three Sheets, Nickel & Rye
Why I like it: The outdoor patio fit with televisions sits upstairs as a perfect people watching perch when you aren't tipping back drinks with the table next to you.
What to get: Be honest, you're here for the $2 brunch cocktail menu with items like a frozen blueberry mojito and margarita swirl. Order the table a big bowl of chili con queso Patrick O'Hara and get yourself a plate of chilaquiles or the Mexican tortilla sandwich because it won't take long for those drinks to kick in.
Where to next: The Old Monk, Henderson Tap House
Why I like it: Putting a unique spin on the city's brunch scene, the folks at this establishment remind us just what it's like to sip a cocktail on the beach. Their tiki-themed brunch makes me forget that Monday is less than 24 hours away.
What to get: The Hawaiian Hash includes corned beer and ham hash with barbecue sauce, onions, and a fried egg to top it off or there's the soy-ginger wings with pancakes. This is a cocktail destination as Rocco Milan offers a number of craft drink options like the Pearl Diver's Punch for $8 with three different rums, orange juice, fresh limejuice, Pearl Diver's mix, and Velvet Falernum.
Where to next: Christies Sports Bar, The Rustic
Why I like it: Deep Ellum makes me feel all kinds of hipster inside. It's a nice change of scenery and people for when you're sick of the Uptown scene.
What to get: If not for its name alone then for the food experience you'll get from the "Fuckbrunch" menu. Inspired by the Fuckbrunch Bloody Mary stacked high with a full-on meal, this cocktail list offers a mimosa, sangria, and screwdriver along the same lines. The Mimosa comes topped with cinnamon buns, tater tots, fruit, and a sausage, egg, and cheese sandwich. The Screwdriver consists of a club sandwich, onion ring, fruit, and stuffed roll. The classic bloody Mary flaunts a bacon cheese slider, shrimp, asparagus, cured meats, and olives.
Where to next: Black Swan Saloon, Twilite Lounge (Saints fans)
Why I like it: It's a low-key neighborhood pub with craft cocktails from Lucky Campbell, bocce ball, live music, and a build-your-own burger bar.
What to get: The caprese frittata, sourdough grilled cheese benedict with smoked tomato hollandaise, and duck fat fries will cure any hangover and will provide the right amount of indulgence to your Sunday morning. There's $2 mimosas on the menu, but you shouldn't leave without putting the mixologists to the test.
Where to next: Stan's Blue Note