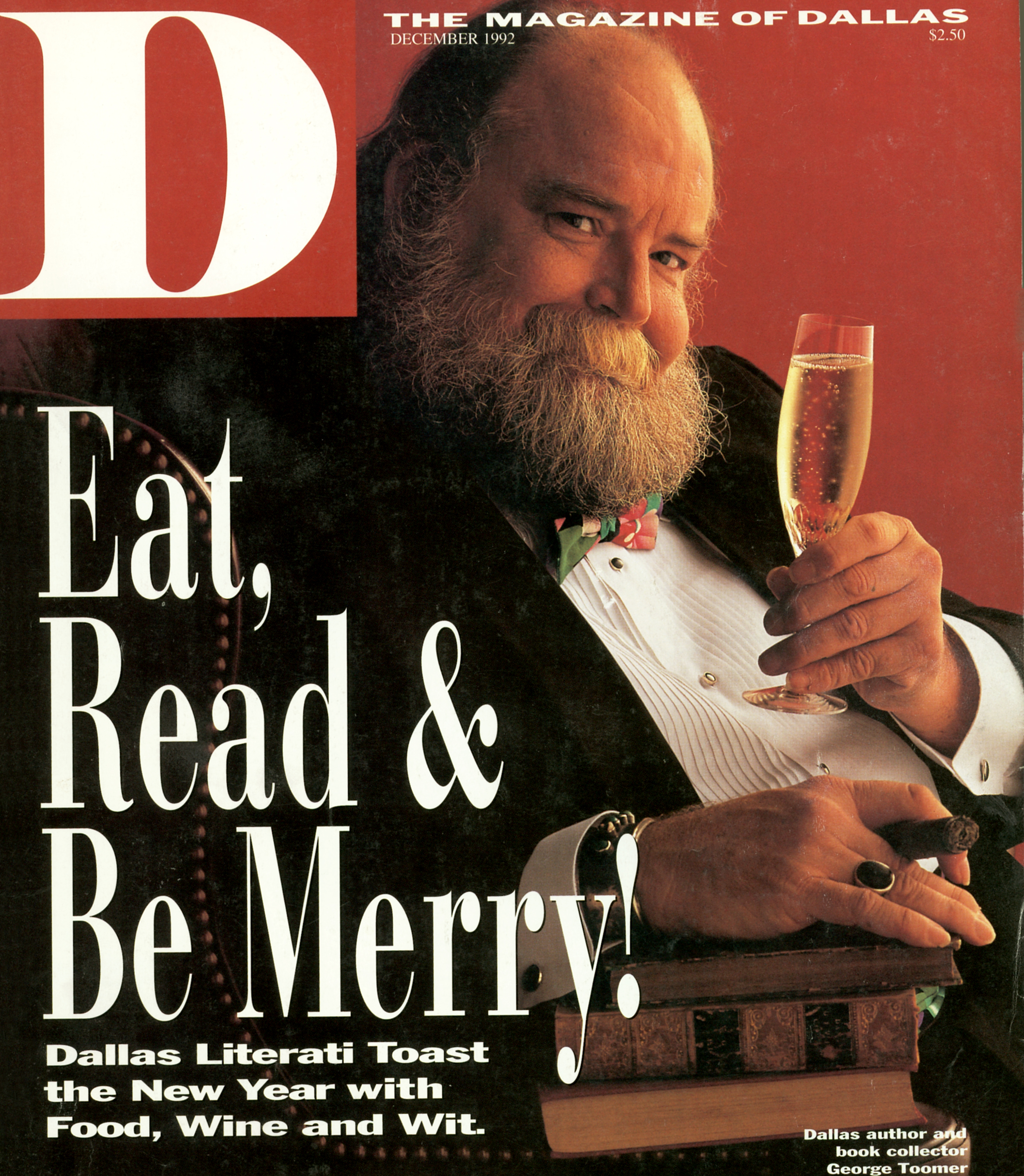 Flashback Friday: Eat, Read & Be Merry!
Take a step back in Dallas dining history.
I found a signed copy of George Toomer's American Extremes at the thrift store last weekend. When I opened the book, a newspaper clipping fell out, it was his 2009 obituary. "He was known internationally as Buffalo George, an award-winning adman, illustrator and social critic of everything from fast food to the city of Dallas. The origin of his nickname was obvious – wearing one of his trademark Hawaiian shirts, he resembled a bison." I'd never heard of Toomer until a week ago, but he sounded like a truly cool dude. After I got home I looked him up online. He went by "Buffalo George," drew illustrations for the Wall Street Journal and Time, wrote books, was a restauranteur, critic and TV personality. What didn't this guy do?
One of the posts I came across while researching "Buffalo" George Toomer is this short piece by Tim Rogers. The photo that accompanies it is the cover of the December 1992 issue of D Magazine, in which "Buffalo" resembles a jovial champagne-sipping, cigar-smoking, bow tie-wearing Santa Clause. The feature is called "Eat, Read & Be Merry! Dallas Literati Toast the New Year with Food, Wine and Wit." The story centers around a dinner party that takes place in the library of the historic DeGolyer estate at the Dallas Arboretum. Guests include James Mardis (poet), Bob McCraine (publisher and editor), Patty Turner (owner of Shakespeare Books), Emma Rodgers (owner of Black Images Book Bazaar), Paula Bosse (author), Jan Miller (literary agent), Kay Cattarulla (founder of the Arts and Letter Live series at the Dallas Museum of Art), Robert Nelsen (writing instructor and editor) and George Toomer. During the party, the literati feast on crème fraîche soufflé, sip champagne and discuss literary life in Dallas. Click the images to enlarge, and take a step back in Dallas dining history.