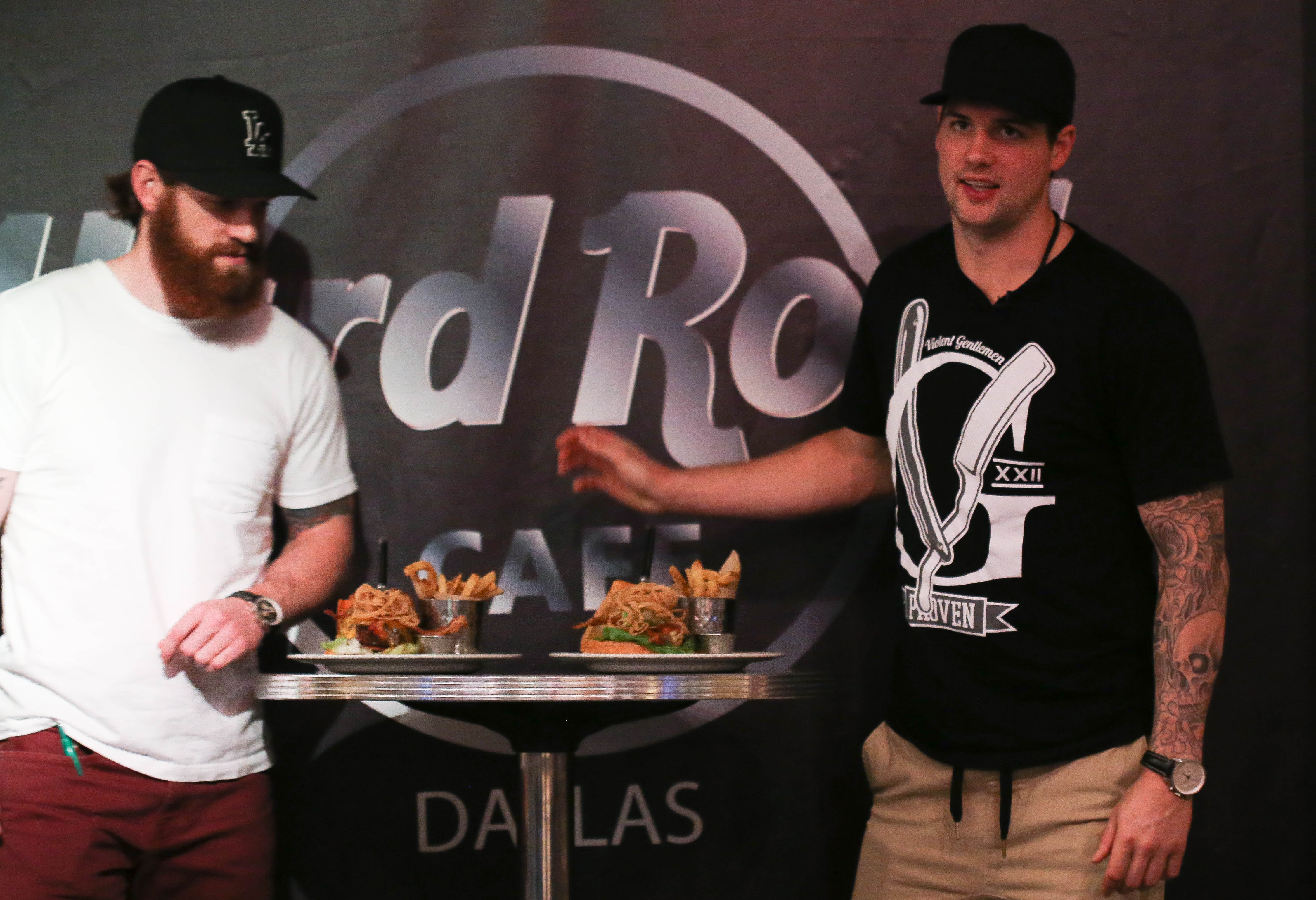 Dallas Stars Jamie and Jordie Benn Cook Burgers at Hard Rock Café in Dallas
Last night, Jamie and Jordie Benn showed up at the Hard Rock Café in Dallas to do what brothers do: compete against each other.
Last night, Jamie and Jordie Benn showed up at the Hard Rock Café in Dallas to do what brothers do: compete against each other. This time the battle did not take place on the ice, it took place at the bar where each assembled their own burger creation. Both burgers will be featured on the Hard Rock's menu from November 1 to December 1. You, the burger connoisseur, have the privilege of tasting their respective concoctions and voting on social media for which one you feel is the best. (Use #HRCJORDIEBENNBURGER or # HRCJAMIEBENNBURGER) The winning burger will be featured as the Hard Rock's Local Legendary Burger for the remainder of the season. (That's hockey season, not burger season).
Catherine Downes and I headed over to watch the demonstration and chat with the brothers. Jordie, the 27-year-old defenseman for the Stars, garnished an 8-ounce beef patty on grilled jalapeno cheese bread with sautéed mushrooms, cheddar cheese, bacon, crispy onion rings, tomato and iceberg lettuce. The Jordie Burger comes with a side of hickory barbecue sauce.
Jamie, the 25-year-old left wing who is also the captain of the Stars, was a tad more adventurous. The Jamie Burger, also an 8-ounce patty, sits on sourdough bread slathered with chipotle mayonnaise is topped with Swiss cheese, bacon, avocado, crispy onion rings, romaine lettuce, and jalapenos.
Off the ice, both Benn brothers are rather shy. During the competition Jordie's presentation was (naturally) more defensive. He had to be prompted to describe his methodology. Jamie was a bit more forward. He added facts such as his lettuce was "freshly washed" and he took great pride in his dramatic "spreading the mayo" move. Both finished by placing their hands atop their respective tall burger and performed a Gretzky-esque "mandatory big squish." Let's hope they finish the hockey season with the same bravado.
After the festivities, I chatted with them about food. Jamie, a loyal SideDish reader, emerged as the family food enthusiast.
NN: Is there any food you will not eat?
Jordie: I eat sushi and raw fish. Not a big fan of Brussel sprouts.
Jamie: Oysters. I won't eat them. I can't do it. It's the texture, they just don't go down for me. I've tried. He [Jordie] loves them.
NN: Are you an adventurous eater? Do you try new dishes or restaurants when you are on the road or do you gravitate to the same places for the same food?
Jamie: We're [hockey players in general] pretty basic. We eat a lot of steak. But we [Jamie and Jordie] like to go around to different restaurants. We don't go to the Morton's or chains like that, we go to different steakhouses to try different steaks.
Jordie: No, I'm not so adventurous. I stick to steaks and sushi and burgers, your basic everyday meals.
NN: What cities in Canada have the best food?
Jamie: I like the West Coast obviously [they are from Victoria, B.C.] . I love going to Vancouver and eating sushi. It's so fresh and it tastes somewhat different from sushi down here. I guess Montreal too. I love the poutine.
Jordie: It doesn't really matter to me. Every city has steak and sushi. I love going home to Vancouver and eating sushi. And like Jamie said, it's way better.
NN: When you guys were growing up, was your mom a good cook?
Jamie: I think my dad was more of the cook.
NN: What was a typical Benn family dinner?
Jordie: Turkey dinners. Roast beef dinners. You know regular dinners.
NN: It sounds like you guys grew up like an All-American family. Any traditions you had that you can't find in Dallas?
Jamie: (Laughs) We're a normal All-Canadian family. We eat burgers, tacos, stuff like that.
Jordie: My dad used to make what he calls his "Famous Casserole." It's an amazing macaroni casserole with sausage, ground beef, lots of vegetables, and cheddar cheese.
NN: What are your favorite restaurants in Dallas?
Jamie: Kenichi is pretty good. Al Biernat's. I love Shinsei and Nobu. Also, Bistro 31, Nick and Sam's. I love to eat out.
Jordie: Same as him. We like the same food. Ziziki's and Avanti's are really good.
Jamie: Do you have any other suggestions in Preston Hollow?
I gave him a few (Blind Butcher for poutine), but said SideDish readers would also play along.