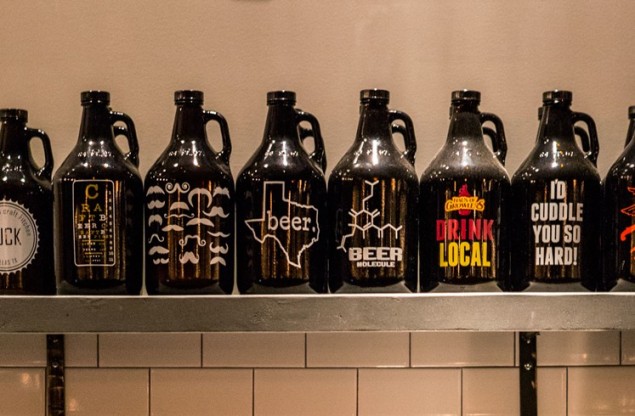 This week seems to offer a whole lot of something for everyone. In order to take full advantage, I advise not getting picky when it comes to what fills your glass, and checking out what each boozy category brings to the table. Prepare accordingly by packing some Advil and water in that bag as this is going to be one long week full of tastings, guzzlings, and pairings.
For the Beer Lovers:
This past week, the Bishop Cider Co. officially dove into DFW's brewing scene as they unveiled two new additions to their lineup, polished off their brand new tap handles, and announced two unique events for the next two days to come. Cider lovers can now try the Crackberry, which marries flavors of cranberry and blackberry to bring a tart, semi-dry finish, while the Peach Pecobbler delivers a sweeter blend of semi-dry peach, pecan, and a hint of brown sugar. Today, patrons of the Trinity Groves area can head to LUCK for shortcake that combines peaches and the Peach Pecobbler because we all love eating and drinking our booze at the same time. Then, on Wednesday, head to Lakewood Growler at 6 pm for a three-cider flight paired with three small bites and a choice of glassware to keep. Tickets are $15 and are available here.
Tomorrow, The Libertine Bar will host a five-course meal featuring pairings from Saint Arnold Brewing Company. Dishes will include sweet potato egg pasta, chicken sausage, alligator, venison, and a peach tart with chocolate toffee crisp. Embrace the fall beer scene with a lineup of Brown Ale, Santo Black Lager, Endeavour Imp IPA, Oktoberfest, and Pumpkinator 2013. Reserve your spot for $60 by calling 214-824-7900. The first drink hits the table at 7 pm.
In case you didn't get your fair share of pretzel, brats, and beer this past weekend at Addison's Oktoberfest, CBD Provisions has a special treat for you. Executive chef Michael Sindoni will offer guests a Housemade Weisswurst with Bavarian Mustard and Lye Pretzel paired with a 10 oz. Lakewood Till & Toil beer for $2 at the bar Monday through Thursday from 4 pm to 6 pm. The Saison-style, farmhouse ale and sausage made with pork shoulder and bacon are subject to rotate through the time of the offer.
For Wine Lovers:
Oak Cliff Cellars and Bridge Bistro in the Dallas Design District host their monthly Chef's Table Wine Dinner this Wednesday at 6:30 pm. Guest chef Joel Harloff will walk diners through an intimate dinner paired with hand-selected wines from Oak Cliff Cellars. Seats are $65 and you can call 214-740-1985 to make your reservation.
Drink for a good cause on Thursday as East Dallas Boys & Girls Club put on a culinary celebration at Times Ten Cellars for Foodiepalooza 2014. Tickets start at $65 for a night of food, silent and live auctions, music, and flowing wine. Special guests include Top Chef Cheftestant John Tesar of Spoon, Grant Morgan of The Ranch, Pastry Chef Katie Kennedy of the Dallas Cowboys, Scott Murray, and music by Boardwalk Vagabond. Food items include Times Ten wine, Sprouts charcuterie, Guthrie's bites, deep-fried Oreos and Society Bakery cupcakes. Call 214-824-9463 to find out more.
This Sunday, The Members of the Dallas Chapter of Les Dames d'Escoffier International present the 2014 Raiser Grazer event with a "Fresh Approach." The evening will pair the Dallas Dames with local and regional farmers and ranchers to create a menu including plates like salmon tartare and pistachio ice cream. This year's chef lineup includes Sharon Hage, Joanne Bondy, Dunia Borga, Tiffany Derry, and Janice Provost. Courtney Lusher will head up the beverage committee pouring a selection of both Texas wines and beers, as well as national and international wine selections (Domaine Chandon Sparkling Wine, Merryvale, Dutton, Hahn with Fall Creek, Pedernales and Light Catcher from Texas, and beer from Lakewood Brewing and Rahr.) The Shed (formerly Shed 1) of the Dallas Farmers Market will house the event starting at 5 pm. Tickets are $65 before Wednesday and $75 thereafter. Purchase here.
Currently, new One Arts Plaza tenant Proof + Pantry is teaming up with Ruinart Champagne to offer guests a deal of $10 3-oz. Ruinart Blanc de Blancs paired with 0.25-cent oysters. When that gets old, grab a larger dish, like the bone marrow and sip on an old fashioned. I hear the bar serves up one of the city's best.
Just when you thought you couldn't get much classier than afternoon tea, the Joule Hotel brings out a bottle of champagne with your biscuits. Available Fridays at 2:30 pm starting this week, they offer a seasonal tea menu at the TASCHEN library under the guidance of executive chef Jaco Smith and executive pastry chef Ruben Toreno. The $59 per person reservation will get you a communal setting limited to 16 individuals, an educational presentation on the teas and food served, 10% off purchases from the library, and a menu including dishes like ham mousse éclair, a deviled egg sandwich with a tomato meringue, smoked salmon rillettes, berry layer cake, and an apple milk tea bombe.
For Cocktail Lovers:
Supposedly, it's National Bourbon Heritage Month and we've all been missing out. Catch up on the celebrations with a bourbon and cigar tasting class this Thursday at the NYLO Plano at Legacy. For $45 you have the opportunity to sip on bourbons like Jim Beam, Bookers, Bakers, Knob Creek, Maker's Mark, and Woodford Reserve alongside paired Maker's Mark Corona cigars. Nosh on meat and cheese plates as you listen to pairing tips and bourbon nuances from Jared Moss, general manager of LOCL Bar in the NYLO Plano Gazebo. RSVP by calling 972-963-9097.
Among the numerous football watching venues, The Standard Pour sticks out this week with a special night dubbed "Whistle Pig, Pig Pick'n Pig Skin Party." Well, the name could use a little work, but points for creativity. Starting at 6 pm, Cowboys fans can unite over food, football and music as the team faces off against the Saints. When the scores gets to difficult to watch, grab yourself another drinks and take in the tunes of The Free Loaders to drown out your sorrows.
Get the SideDish Newsletter
Dallas' hottest dining news, recipes, and reviews served up fresh to your inbox each week.