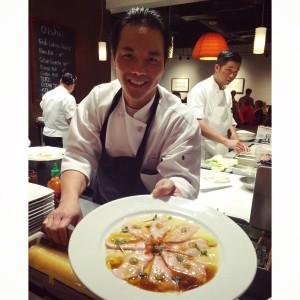 Chef Thanh of Oishii is a man of few words. Or so it seems from the other side of the sushi bar as I watch him swiftly yet meticulously craft, roll, torch, slice, shred, and garnish raw fish with an eye for detail. He moves with quickness like most sushi chefs I've admired, but he doesn't miss an opportunity to engage with those around him. People flock to this longstanding neighborhood gem not only for the food, but the people behind it.
Chef Thanh is not just an owner. He is not just a chef. He is a host to his guests and treats them each like the family that works alongside him in the kitchen.
His Story
It's one you might find on Lifetime or among the other motivational blockbusters out there. It's all starts in a village 200 miles from Saigon, Vietnam in June 1973.
Thanh Nguyen (Tan New) was born in the Year of the Ox, which to most comes as an unlucky sign. The youngest of eight, Thanh worked in the rice fields with his five sisters, two brothers and their mother, worked in the rice fields of Vietnam. His family immigrated to the US in 1992 to the city of Dallas in the footsteps of Thahn's sisters who ventured to the States in 1982 as one of "the Boat People."
At age 18, he entered high school to learn English, and by 1995, he graduated Plano East Senior High School. After taking a year off between high school and college to work and travel with the Fishing Company of Alaska, Thanh entered The University of Texas at Dallas, where he graduated in 2001 with a Bachelor of Computer Science.  He is the first member of his family to graduate from college.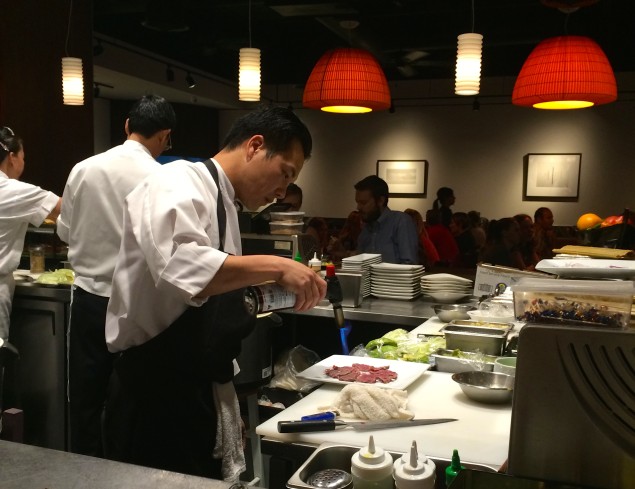 Moving on to work in technical support at Alcatel and Budget Rent-a-Car, Thanh found comfort in working nights at different restaurants.  After almost nine years at Plano restaurant Nakamoto, Thanh went on to the restaurant Steel and became Dallas' first Vietnamese sushi chef. While there, Thanh discovered a Vietnamese buffet off Wycliff Avenue where he could enjoy the flavors he missed from back home. Then one day, the owner of this buffet told Thanh she was looking to sell. Thanh pushed together his savings and acquired the space in 2003 to make way for his own endeavor, Oishii, a Japanese term for "delicious."
Along Thanh's journey he married a Vietnamese family friend who now practices as a successful pediatrician. Together they have three children, ages 3, 4, and 6.
What else should you know about Chef Thanh Nguyn and Oishii?
It wasn't all California rolls and sunshine since the beginning.
A fire erupted and gutted the building in late December 2012. The Dallas Fire-Rescue Department ruled the fire accidental, likely caused by an electrical short in the ceiling. However, in less than a year and with a grand makeover, Oishii welcomed guests back to familiar dishes like the spicy salmon cabbage salad and coconut sea bass.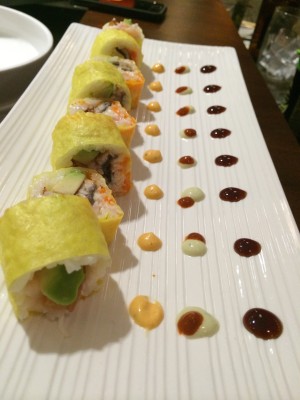 He loves his family
Thanh asked me what I thought the "D" stood for in the "Big D" roll. This is a trick question, right? Day one of my move to the city I engrained the phrase into my way of life. It stands for Dallas. DUH. Wrong. Thanh chuckled, shook his head and scrolled to a picture of his son Daon on his iPhone.
After talking with Thanh and watching him work, I can tell the foundation of Oishii starts with family. From Oishii's conception to its daily routine, family runs through its floorboards like the constant flow of sake on stock.
He's got a sense of humor
One of my favorite dishes of the night Thanh dubbed "The Royce" roll. Why? Because it's the Rolls Royce of sushi rolls. And let me tell you, it lives up to the name. Between the delicate presentation of thin lemon garnished on top to the decadent drizzle of truffle oil, it's a refined dish, both refreshing and light.
What to order
Go with a craving in mind and leave it to the staff to guide you. I enjoy yellowtail tuna and salmon, so Thanh took this notion and ran with it. I started with a couple popular items like the On The Border roll and #42 roll, moved to a couple local secrets like the yellowtail hataki and finished with a couple plates Thanh curated on the spot for us like the Rolls roll. This is somewhere you go and even though you fall in love with your order, you end up with food envy of the table next to you. It's not unusual to share plates and new suggestions with those around you as the menu will always surprise you.
When to go
I suggest early dinner or lunchtime. Regulars frequent this joint almost all hours of the day. As time rolls on, seats fill up with locals and outsiders alike making their usual trek cross-city to get that sashimi fix.
What to expect
Food, atmosphere and service like home. That is, if your mom serves tako (octopus), blowtorches her ahi tuna, and can name 100 uses for slices of salmon. Whether you come here on the daily or it's your first time in, you will most likely encounter a fist bump from the man himself. Thanh takes pride in serving the best and that's in reference to both his food and his guests.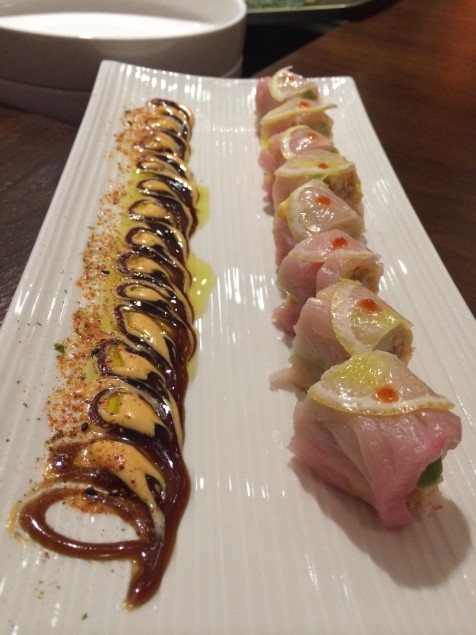 Get the SideDish Newsletter
Dallas' hottest dining news, recipes, and reviews served up fresh to your inbox each week.