Take the men of Duck Dynasty, combine them with the hilarious duo of Stepbrothers, mix in a little flair from BBQ Pitmasters, and you get the faces behind longstanding restaurant Hutchins BBQ. Texas natives Tim Hutchins and Dustin Blackwell may not come from the same bloodline, but sit down with the two together and you can tell their brotherhood runs deep.
Tim plays the role of proud owner and Pitmaster of Hutchins BBQ, while Dustin works as the co-owner and general manager of this traditional Texas BBQ joint. The two are dedicated to giving back to the community through quarterly charity events that support the Wounded Warrior Project and the Samaritan Inn, pay for twenty children every year to go to the circus through Shriners Hospital, and provide two dinners each month at surrounding homeless shelters.
With locations in both McKinney and now Frisco, you can get your hands on signature items like smoked St. Louis Ribs, brisket, and homemade sausage. Choosing a meat plate is like picking your favorite child, so I suggest going with the "All You Cant Eat" for about $17. The meat hangover you'll feel the next day is completely worth it.
Q: Now, for the good stuff. Let's be clichéd and start this off with a little backstory to Hutchins BBQ?
Dustin: It all began in 1978 in Princeton, Texas by Roy Hutchins, the original founder. He wanted to grow his digs in Princeton, but quickly grew too big for what he had. Roy actually started off by serving the 'cue straight from the side of his house, living in one side and serving from the other.
Tim: That's where I was born. My brothers were actually born in the BBQ.
Q: So that's the secret to the sauce? 
Dustin: You could say it's a special sauce. Roy came to McKinney in 1991 with a dream and a goal and made it happen. He busted his rear with Tim's big brothers. Tim was seven at the time, working as a dishwasher. Does that break child labor laws? Over the years it grew and they just kept adding on.
Tim: It's a pieced together restaurant, with little projects at a time. I became an owner in 2005 and brought Dustin on in 2007. We had opposite personalities, but that's what made it work.
Dustin: Yeah, he's type A and I'm type lazy. We are yin and yang.
Q: How do you know each other? Dustin: We grew up together; best friends since the third grade. The first day of class this 200 pound kid walked in (points to Tim).
Tim: Hey, I was only 130!
Dustin: I was the most popular kid in school. I was fast and the fastest kid was always the coolest. He sat right next to me and we started talking and I made him cool. But then I fell out of graces in seventh grade and he made me cool again in eighth grade. We both worked here through high school and played football together.
Tim: Dustin didn't really work though. He would just go sit off in the corner and make people laugh.
Dustin: Well I "worked" here as sophomore through high school graduation, until I went to school at SMU. I worked in human resources in Irving for about a year and found my way back to Hutchins after the economy hit the fan. Then, I ended up dominating here and becoming one hell of a boss, so here I am today. I've only boosted sales like five hundred percent.
Tim: You know about the fire we had right? Back in June of 2012? We were doing well, growing about fifteen percent a year, but then the fire happened and it was like a restart for us. We got depressed, but then once we got it back, we put everything we had into it. It gave us a new mindset and we've been full throttle ever since.
Dustin: We put a lot of money into the rebuilding. We were prepared for success. Whenever Texas Monthly and Dallas Morning News came out I think we had a good product and staff in place, which helped us get on the list, but you have to be great to stay on the list. With my crazy hiring skills we have good people in place. I see people and can read them. A lot of people have been here ten to fifteen years.
Q: So, what separates your Barbecue from everyone else's?
Dustin: It's a secret.
Tim: It's really all about the work we put in. Our seasonings are pretty basic and wood is just like anyone else would use, but we use premium stuff, hire good people, and we work it ourselves. Plus, just years and years of experience. You can have great food, but someone can completely jack up the cuts. Dustin focuses on the front of the house, making sure we are plating it right, and taking pride in the cuts.
Dustin: I work the pit and finalize on everything. You can have a perfect brisket and just ruin it with the cut. Or you can have an overcooked brisket and people could still serve it. If we don't like it, we donate it. We don't throw away much, but we don't want to serve crap. Brisket is our number one seller.
Tim: Over forty percent of our food costs go to brisket. Ribs are a big seller, but the brisket is key.
Q: Okay, well now that we've talked meat. Let's get serious. Are you boys Dallas Cowboys fans?
Tim: HUGE. All my life. You'll find me outside the stadium with a big 'ole rig, whiskey, and some moonshine.
Dustin: Well, I'll be outside South Bend, Indiana at Notre Dame. I have ties to the SMU Mustangs, but I grew up with a love for Notre Dame football. Whiskey and maybe some barbecue.
Q: So, whiskey is your drink of choice? Not beer?
Dustin: Crown Royal. We love it. I drink beer to kill hangovers. Give me twenty five shots and I'll still be killin' it.
Tim: We've elevated above beer. Whiskey through and through. That's pretty much what we do, drink and make great barbecue.
Q: Halloween is right around the corner. What's the best costume you've ever dressed up as? Dustin: In college, I had an end table around me with a lamp and alarm clock. I was a one-night stand. I made a lot of friends that night.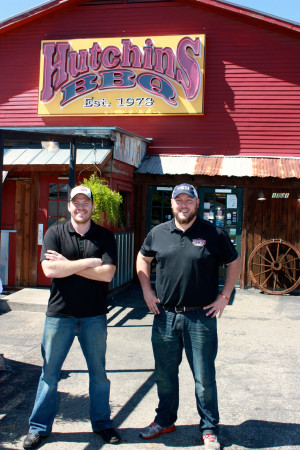 Q: Word on the street is you two went to the World Cup in Brazil this summer. How was it?
Tim: I got lost in Rio for three days. There was a crazy amount of people and it was an unreal experience. Buenos Aires was my favorite though. We ate two steaks each, every night.
Dustin: We went to a bunch of games, but we mainly ate and drank our way through the country. At one point we were in a bar called Mexico 70 and Tim traded his authentic USA jersey for the bartender's work shirt. Tim wore that shirt for three days straight. I think we are still recovering from that trip.
Q: What's your favorite food outside the 'cue?
Tim: Tex-Mex. I love Blue Goose and this local place in Princeton called Las Rocas.
Dustin: Authentic Mexican for me. There's a great place in Austin called El Taquito, but really the best you'll get is from these guys' wives (staff). They bring stuff up here and we will go up to their houses on the weekends for some of the best meals.
Q: If you had your own show what would you call it?
Dustin: BBQ Dynasty. I'm the funny guy and he's the enforcer.
Tim: Dustin is a personality, but you haven't even seen the rest of our staff. Each person here brings something different to make Hutchins BBQ what it is.
Get the SideDish Newsletter
Dallas' hottest dining news, recipes, and reviews served up fresh to your inbox each week.