It's my opinion that, despite year-round superlative offerings, the aesthetics of Hibiscus are most endearing in the fall and winter months, irrespective of whatever reality lies outside its heavy wooden door. The interior design exhibits the warm glow of filament bulbs, fireplaces, dark hardwood and stone, and wafting scents of hibiscus, the culmination of which serve to instantly eclipse a patron from the hustle and bustle that is Knox-Henderson. Last week, in this warm and welcoming environ, I sat down with Executive Chef Graham Dodds as a guest of the restaurant to discuss (and sample) items for the upcoming fall menu and the precise origins from which he sourced his building blocks.
Do not fail to start your venture without the seasonal charcuterie board for the table (it's not on the menu, so be sure to ask). At twenty-five dollars, it is simply the best-kept secret in DFW, and a delectable way to casually prepare the palate for the forthcoming courses. All vegetables originate from nearby farms and are pickled in-house, while meats are first sought from local, family-owned purveyors in Texas. The ever-rotating menu is etched on the chalkboard in the front of the house; our selection included a spicy goat chorizo, a mild rabbit pate, a wonderfully oleaginous pork coppa, in-house smoked duck breast, and unctuous pork headcheese. The portion is enough to act as an appetizer for two, or to placate a party of four. My recommendation is to add artisanal cheeses, which also vary on a daily basis. This variable will skew the ratio a bit and add to the price, but it truly rounds out the experience.
My favorite appetizer was the Bobwhite Quail ($12), sourced from South Texas Hill Country. Accompanied by creamy grits, crispy pig ear slaw, and fresh chow chow comprised of green tomatoes, green peppers, vinegar, sugar and chilies, the dish embodied a South Texas hunting expedition. I must emphasize the flavorful nature of the braised (then smoked, then fried) pig ear, which provided the requisite elemental crunch to the tender, succulent game bird. If sharing, pair alongside the newly-introduced butternut squash soup with fresh herbs for a truly seasonable opener.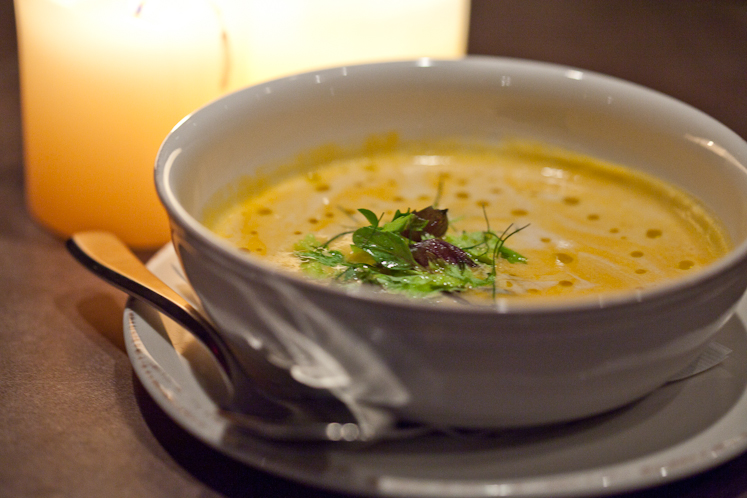 Obtained from three different Texas farms, the okra with Armenian cucumbers, tomatoes, and Calabrian chile ($11) was a nice surprise. Growing up in South Carolina, followed by stints in North Carolina, Virginia, and Georgia prior to moving to Texas, I thought that I had enjoyed every style of preparation. But Chef Dodds added a unique twist by dredging the okra in flour and buttermilk, and then tossing in Calabrian chile paste before flashing in the fryer. Visually intriguing, the crispy battered red okra displayed subtle heat with a sweet finish.
As per usual, we enjoyed a cocktail break between appetizers and entrees to digest and converse. Grant Parker, who remains one of the most creative and consistent mixologists in Dallas (if not Texas), poured a Boulevardier consisting of Michter's 10 year Rye, Gran Classico, Dolin Rouge and lemon peel. If you're familiar with a gin-based Negroni, simply substitute the gin for rye and you have a Boulevardier. Apropos.
Debuting as an entrée for the first time tonight is a pork cassoulet with rillettes and Toulouse sausage from Falster Farm in Winnsboro, TX ($TBD). Accompanied by creamer peas, tomatoes and herbs from Comeback Creek Farm, the cassoulet is the embodiment of fall, taking on flavors that pair perfectly with a glass of Roar 2012 Pinot Noir from Saint Lucia Highlands.
The Colorado lamb saddle with mint chimichurri, pistachios, and shaved fennel ($50) is not a new entrant to the Hibiscus menu, but it was one of the finest cuts of meat I've enjoyed in 2014. Raised entirely on an organic, 100% vegetarian diet, the lamb was seared rare and served exactly as any exquisite cut should be – in isolation, on a wood cutting board with shaved fennel and two accompaniments to be used as desired by its recipient. Easily shared amongst two or more people, I recommend pairing alongside the risotto with melted leeks and assorted mushrooms with thyme ($11 each).
Dessert consisted of a playful trio from Dallas-based Dude, Sweet Chocolate and Balcones Whiskey from Waco. Similar to flights you have experienced in the past, the pairing is to be consumed from left to right based off the flavor profile of both the whiskey and chocolate. My personal favorite was the Fruity Crack with Bing Cherries paired with Balcones Rumble Cask Reserve. Crack-In-The-Box and Hippie Crack were also satisfying, accompanied by, respectively, Balcones's Texas Single Malt and True Blue.
Dodds has always been ardent about using fresh ingredients sourced from local farms and purveyors and crafting them in a highly original, yet forthright, manner. The result is unequivocal quality and exceptionally enticing dishes. So, while the seasons may not have shifted just yet, I would recommend donning a light sweater and diving through the front doors of Hibiscus at your earliest opportunity.
Get the SideDish Newsletter
Dallas' hottest dining news, recipes, and reviews served up fresh to your inbox each week.