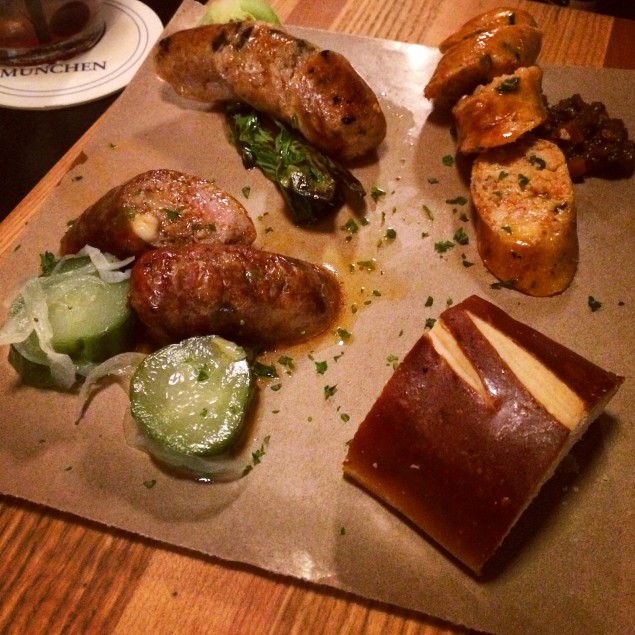 Deals, steals, and more food surprises keep us on our toes and hitting the gym as we try to make more room in our stomachs for everything the Dallas food scene has to offer. Get a load of what the culinary-inclined of our city are cooking up:
Forget Taco Tuesday. La Popular puts a spin on things with Tamale Tuesday. Buy one dozen and get one dozen half off for the rest of this month on Tuesdays by calling 214-824-7617.
Scotch & Sausage will kick off the first installment of their music series this weekend with live DJs from 9 PM to 2 AM and daily specials until late hours. The lineup includes Melissa Richey, Hunter Vaughn, and Colton Carlyle.
Proof that autumn is upon us: Rise No. 1 debuted their fall sweet soufflés yesterday with flavors like Raspberry, Apricot, Dark Chocolate Mint, Bananas Foster, and of course their Pumpkin soufflé.
Sisu uptown launched their Sunday Funday fall series this past weekend. With brunch starting at 11 AM, guests can enjoy drink specials, giant twister, beer pong, human hamster balls, poolside cornhole and of course plenty of TVs full of football coverage.
On that note, Social House Uptown will offer their version of Sunday Funday Football special in partnership with Red Bull. With $6 jaeger bombs, $6 vodka Red Bulls, 100 taps of beer and other drink specials, you can still enjoy yourself even if the Cowboys seem to let you down once again. Take in tunes from the DJ and win prizes from various giveaways as you watch from one of their 25 TVs.
TJ's Fresh Seafood Market relocated last month to the old Purple Cow space off Preston and Royal, but officially settled in with a "yacht christening" last week which unveiled their menu expansion. Okay, so they really just smashed a champagne bottle against some brick, but owner Jon Alexis looked pretty official in his captain hat. The 90-person dining space features a full bar and plates that run at affordable prices for what Dallas has come to know as some of the finest fish in town. The cocktail list is divided between Classic and Coastal with your frilly drinks and more manly drinks such as the Dark & Smokey. Menu highlights include Hickory & Alder Smoked Salmon Board ($18), Thai Charbroiled Oysters ($13), off-menu Ciopppino, Pistachio Crusted Chilean Seabass ($29) and Caramelized Pineapple Panna Cotta.
This might be early, but it never hurts to plan ahead. The Slow Bone invites you can everyone you know to take this Thanksgiving easy and leave the cooking to them. Jack will serve up his version of "Free Bird" with the traditional meal at NO CHARGE. Not only can you count on a great meal, but you will surely find some good company at this joint come Turkey Day.
And just so you know, everything everyone has said is true. Blind Butcher's offerings can solve world peace. I am late to this party, but I just tried out their menu lineup and WOW. My favorite was the chef-prepared sausage board that changes with various housemade selections. I dug my teeth into the brisket cheddar jalapeño, chicken sausage, duck foie gras, and a special seafood sausage accompanied with a soft pretzel roll. Vegetarians will love their salads and carnivores can get their helping of greens with the brussels sprouts and bacon plate. I cannot wait to try more of what their kitchen has going on.
Get the SideDish Newsletter
Dallas' hottest dining news, recipes, and reviews served up fresh to your inbox each week.