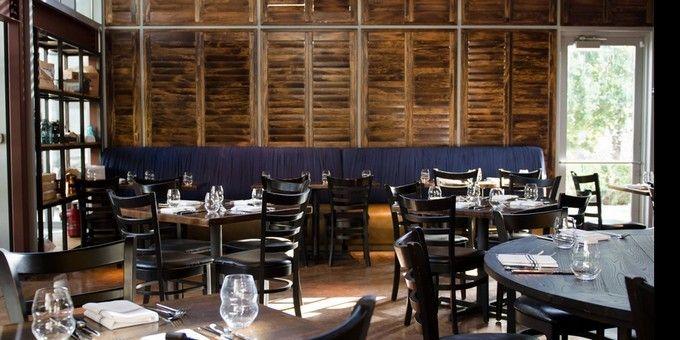 First Take: Proof+Pantry
Misery Loves Co.'s new spot at One Arts boasts excellent cocktails and an impressive food menu.
Proof + Pantry, the newest member of the Misery Loves Company family, opened recently in One Arts Plaza. Michael Martensen and Sal Jafar II developed the concept with combined past experience in restaurants all over town. Martensen's genius is very clear on the drink menu, that's for sure.
I stopped in this week to check it out. A roomy patio leaves plenty of space for quiet conversations, and the open kitchen faces the center of the plaza. The entrance is filled with jars, cans, baskets and other nostalgic knick knacks. The dining area is small but well-planned, with a party table divided off and some booth seating in addition to the bar stools.
The staff recommends that guests make reservations, which I didn't understand at first. It was empty when I walked in sans reservation soon after opening time, but within 45 minutes, the room was packed with businessmen and small parties on a weeknight. And let me tell you, there is good reason for that hype.
My dining partner and I decided to jump right in to the High Proof section of the cocktail menu. I chose Cards on the Table, made with strawberry cardamom highland tequila, lemon juice, agave nectar, and black pepper garnish. He started with the intense If You Were Here, a clear drink of western gin, french orange cordial, dry vermouth, dandelion bitters, and orange oils with an orange twist garnish. 'High Proof' is not a joke, and we both commented on the slight buzz we acquired before the food even arrived.
Our server informed us of the daily specials for the Fried Whole Fish (a Bulk Item, meant to be shared), oysters, and another off-menu meat special. We started with the Bone Marrow (Soil) and Day Old Duck Egg (Soil).
The Day Old Duck Egg ($16) is a great starter dish, whether for sharing or hoarding. Two shiny yolks sat nestled on a pile of frisee and a surprising quantity of tender pork belly. While the title of the dish is eye-catching and the eggs are perfectly prepared, the pork belly and dressing are the standouts here.
Let me just tell you about the Bone Marrow ($19). The big split bone came topped with onion marshmallows, tomato jam, and hazelnuts with some greens on the side. We ate the toppings but there wasn't much to scrape out of the bone. Then Michael Martensen swooped in and declared that the dish wasn't good enough, and we'd be getting another one (and no, he didn't know who we were). The replacement bone was legendary. The marrow was deep and rich enough to send me into an eye-fluttering food coma. ("Your eyes are rolling back in your head," my dining partner told me.) The combination of textures and flavors on this plate is worth the trip alone.
But we still had our Bulk Item on the way. The Fried Whole Fish ($46) turned out to be dorade, and it was served in the classic style. The skin had a satisfying crisp, and the meat was light, flaky, and moist. It was topped with bok choy, shishito peppers, and mushrooms with a mild dressing. I will say that we were surprised by the amount of meat in the slim-looking fish, and we were definitely full by the end of the meal.
We shared another round of cocktails afterward. The Island Fever contains Rhum VSOP, honey cordial, pear cordial, white verjus, bitters, and tonka bean. The Rhum is aged for four years in oak barrels, lending it a dark sweetness. There is a lot going on in this impressive cocktail. I personally really enjoyed the I'm Rich, a more simple drink made with white rum, house grenadine, and lime curd. Creamy, easy to drink, and served with a lime wheel, it went down fast and packed a punch.
Two rounds of drinks left us with a healthy buzz, even with two small plates and a shared plate. Then again, we did choose from the High Proof section of the menu. There is also an extensive wine and beer list for such a small restaurant.
To make reservations or see the drink menus, visit Proof + Pantry's website. See more of the food menu below. Note that during the week, the bar opens at 5 PM and the kitchen opens at 6 PM.