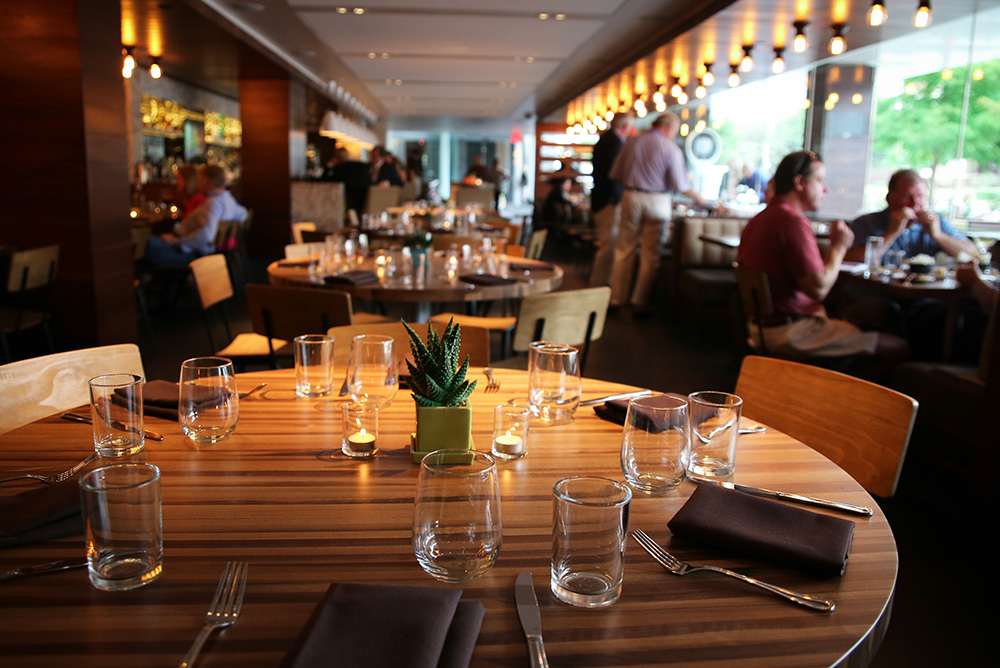 First Take: Front Room Tavern at Hotel Lumen
This Park Cities restaurant introduces a new chef, updated menu and recently refurbished interior.
Front Room Tavern (previously The Front Room) has undergone a complete makeover. There's a new chef, updated menu and recently refurbished interior. I was invited to dine at the restaurant over the weekend — I'd attended the grand opening of The Front Room back in 2012 — so, naturally I was curious to see the changes. The first thing I noticed after swinging open the gigantic glass door was the aroma of coffee. It practically smacked me in the face — in the most delightful way. Turns out, there's now a coffee bar at Hotel Lumen, which uses freshly roasted beans from Drip Coffee Company. The bar serves up typical beverages like espresso, macchiatos and cappuccinos, as well as pastries. Pastry Chef, Alison Morse makes everything in-house, offering an assortment of muffins, bagels, biscuits and other carb-laden treats. The pastry case hasn't been installed yet, but I was told that it should be ready sometime this week.
The layout of the restaurant is basically identical to its pre-tavern days, but the aesthetic details have been updated to embody a warmer, more inviting feel. Wooden tables and chairs replaced the stark white, diner-esque seating; booths and barstools were reupholstered with earth tone fabrics; Edison bulbs line the ceiling where light fixtures once dangled and every table is adorned with its own, planted succulent.
To start, the menu features "Snacks & Apps," which includes plates like marinated olives ($5), burrata with grilled toast and plums ($11), salmon ceviche with tortilla chips ($10) and Texas pea fritters with charred onion yogurt ($10). The ceviche comes served in a salt-rimmed margarita glass, and is paired with a generous portion of crisp tortilla chips.
The Texas pea fritters were a hit at my table. The savory bite-sized fritters that resembled a hybrid of mushy peas and falafel, were delicately fried to a golden brown. They came served on a charred onion yogurt sauce and were topped with grated parmesan cheese.
The restaurant also boasts an oyster program. For now they're using Island Creek Oysters out of Duxbury, Massachusetts. Oysters are $3 each and come with fennel-apple mignonette and lemon wedges. I tried the proprietary oysters and the Moon Shoals. The Moon Shoals were my favorite, they also happen to be chef Michael Ehlert's favorite. "I like to sit at home and crack them open, while drinking ice cold vodka" he said after dropping the freshly shucked oysters off at the table.
Ehlert was Chef de Cuisine at Hibiscus, before starting at The Front Room in 2013. He is now Executive Chef of Front Room Tavern.
I ordered the roasted beet salad. A mound of red, golden and Chioggia beets came plated alongside generous globs of goat cheese. The salad was topped with hazelnut crumbles and candied orange peels. The portion was massive, which provoked my suspicion (I was, after all, toting a rather enormous DSLR camera), but the server insisted that the dish was always that heaping.
Main courses fall under the "Sandwiches & Plates" section. There's the pork schnitzel served with warm baby kale and a fried egg ($24), lobster cavatelli (the cavatelli is made in-house) with chanterelle mushrooms and leeks ($29) and the croque madame; a sandwich with warm ham, melted gruyere and a fried egg ($15). There are also a variety of sides to choose from, like frites with aioli, house potato chips and ratatouille ($6 each).
And finally, there's dessert. The menu offers peach skillet pie with oatmeal streusel and vanilla bean ice cream ($9), salted carmel pot de creme with cashew brittle and vanilla cream ($8) and my personal favorite, the ice cream soda float, made with house-made cheesecake ice cream and Dublin's Orange Cream Soda.
In the mood for a nightcap? The bar pours plenty of refined wines, beers and cocktails. And if the weather's decent, you can take your drink to the rooftop and grab a seat next to a metallic sculpture by local artist, Brad Oldham. Prefer breakfast? The restaurant opens at 7 a.m. They also serve brunch from 11 a.m. until 3 p.m. on weekends.