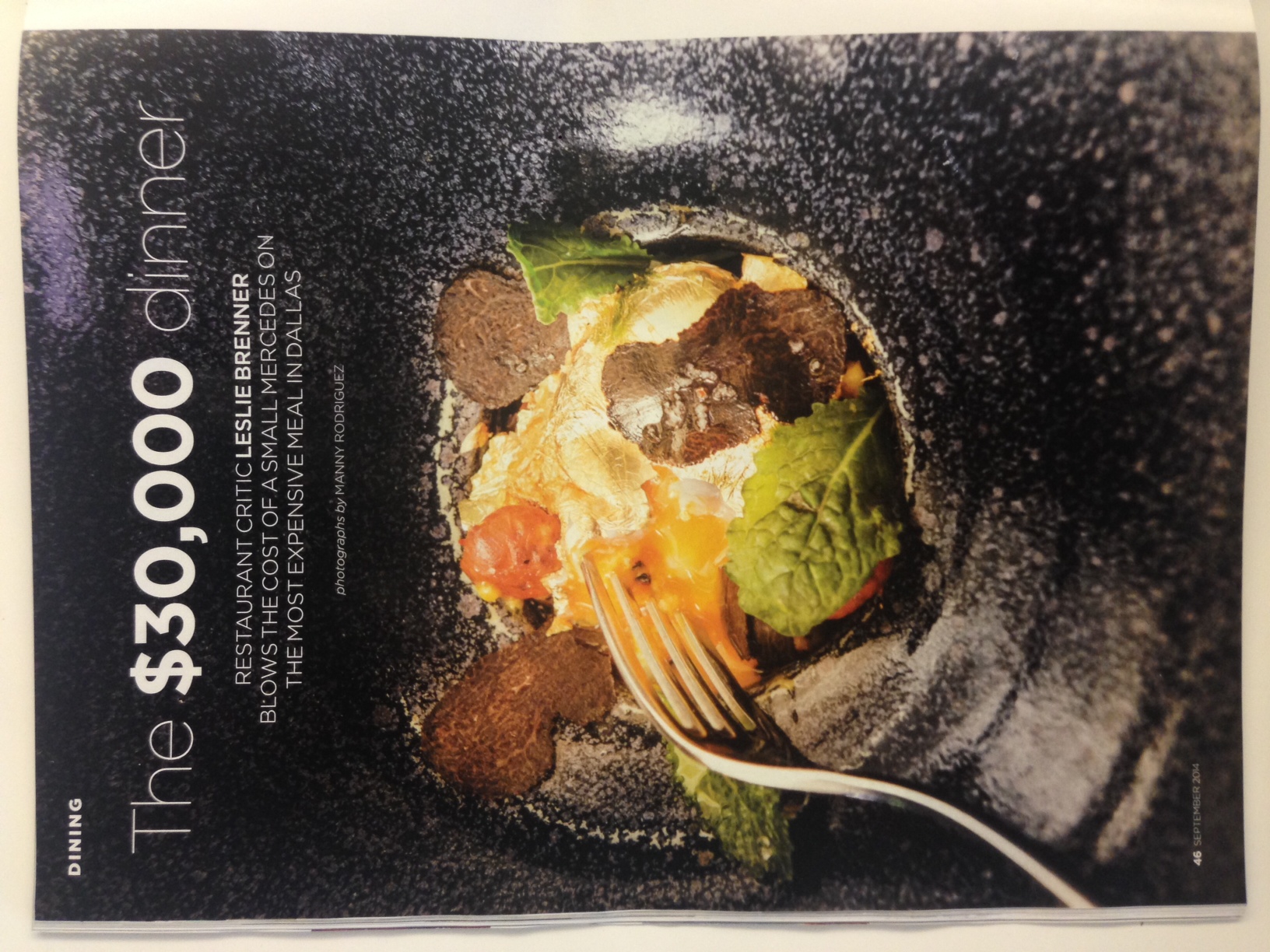 Please take a moment to look at page 46 of the current Morning News-produced luxury free magazine called FD (nee FD Luxe). I've provided a picture of that page here, for your convenience. If, like me, you have fortysomething eyes that don't see so good, you can open the image in a new window and read the type more easily. But I'm here to help. The title of the story is "The $30,000 Dinner." Here's what the subhead says: "Restaurant critic Leslie Brenner blows the cost of a small Mercedes on the most expensive meal in Dallas."
Now, I work at a magazine. Seeing that presentation, my first thought was: Goodness gracious. How did the News manage to spend $30,000 on one meal for a magazine story? This sounds fun. I gotta read it. But I don't think you need to work at a magazine to be drawn in by that layout. The dollar figure is in bold. The lead critic at the paper spent $30,000 on a meal. This promises to be good stuff.
Brenner writes that she asked Mansion chef Bruno Davaillon to create a custom menu. "[I]t's an opportunity for me to sip wines I've never had the opportunity to sample, or rarely," Brenner writes. She goes on to describe the menu. For eight people, the food, including tax and tip, is $29,206. A full $19,612 of that is for wine.
A quibble comes to mind: if you let me spend whatever I want on wine, "dinner" becomes much more than dinner. I could order a hamburger and still spend $30,000. But whatever. I keep reading. And then I come to the end of the story:
What's that my editors say? I don't really get to experience the dinner? It's a flight of fancy, a dinner of the imagination?

Oh, poo. Of course. It's fun to dream, though.

Maybe you can afford it. If so, save me a bite.
There is not a person in the world who could read that headline and subhead and not think that the story was about a writer spending $30,000 on a meal. This was a real letdown. An amateur editing move.
Poo, indeed.
Get the SideDish Newsletter
Dallas' hottest dining news, recipes, and reviews served up fresh to your inbox each week.