Over the Labor Day weekend you were most likely either posted up on your couch or on a pool floatie with the occasional trip to your nearest bar to catch the start of football season. Or was that just me? In any case, West Village pizza and boozy hub Union Bear closed, but thankfully a flock of new options to lose track of our diets opened to dry our woes. Cocktail lounges Parliament and Proof + Pantry welcomed guests last week, Chili's founder Larry Lavine unveiled Richardson barbecue joint Ten50 BBQ, new Uptown hangout The Sir overtook Ketchup Burger Bar, Thirteen Pies in Fort Worth dished out its first slices, and Dallas welcomed beer dens Cold Beer Company and Off the Record.
Here's a few more things you should know about for a little food news update.
Have you ever woken up and convinced yourself it's totally acceptable to down a little Ben & Jerry's for breakfast? Well, Melt Ice Creams just rolled out a breakfast-inspired menu for September and I'm letting you know it's now officially okay to do just that. Want bacon with that? The "That'll Do Pig" includes bacon marmalade from one of our favorite pizza teams over at Cane Rosso Fort Worth. You can also get flavors like Tea Time, Apples–n-Oats, Morning Juice (vegan with coconut milk), Chocolate Chocolate (made with Dude, Sweet Chocolate), and Beans (vanilla).
From the people that brought you "Burgers, Brews + Blues" at the inaugural Fort Worth Food + Wine Festival last March, "Tacos + Taps" will give restaurants another chance to showcase their innovative techniques and win "Best Taco" around. Guests will enjoy tacos and beers from 11 restaurants and 22 local breweries. Tickets go on sale September 12 for this October 12 event, which runs for $60 general admission or $75 for the early bird admission. Find out more at www.fwfwf.com.
Pecan Lodge was on fire this past weekend. Literally on fire. A small fire broke out when a cart ignited in the smokehouse, but stop freaking out because the restaurant is still completely intact. Now, go get yourself some burnt ends and give thanks to the big man upstairs for keeping the BBQ wonders of Diane and Justin Fourton around for the long haul.
Hopdoddy's latest shake special is called I Love Lucy, and it will be offered through September 14. Get a load of these ingredients: peanut butter, vanilla ice cream, coconut, chocolate, spicy smoky chipotle ancho puree, coconut flakes, and chipotle powder.
You can now bring home the house-smoked bacon from Smoke Restaurant at the Belmont Hotel for $10 by the pound. That means you don't have to fight the hectic brunch crowd or hide that 10th piece of pig fat you just downed from the rest of your group. Call 214-393-4141 or stop in to place an order. Sorry, no email or deliveries for these guys.
McKinney restaurant Belly & Trumpet closed its doors, but don't worry, they are hopefully coming back with a plan to reconcept. The last supper occurred Saturday night for the eclectic place. Frequenters of their food and beverages can find chef Brian Zenner back at Oak and bartender Matt Perry at Neighborhood Services.
Las Colinas' Underground Indian Cuisine will hold a raffle to benefit nonprofit A Wish With Wings. Register on their Facebook page to win dinner and/or a gondola ride on Lake Carolyn. That's pretty much like the real Italian deal right?? Wait, I thought this was an Indian restaurant though??
I love some daily Instagram food porn and I thought it only necessary to share what's caught my eye recently.
@KateWeiserChocolate loves Texas like the rest of us and isn't afraid to show it. Funnel Cake bonbons to get you amped for the Texas State Fair.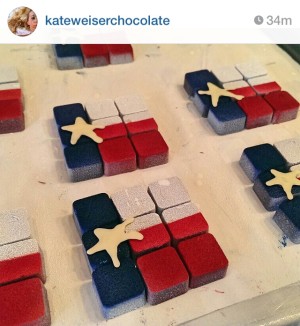 Urban Taco taunted us with pictures of their special Pork Belly Chicharron Tacos, but this retired dish may just be making a comeback to their menu.

According to @askfoodbitch, Stonedeck Pizza Pub offers flights of flavored moonshine. This is already pretty awesome, but this one in particular is a spicy peanut butter cup A.K.A. part of their dessert flights. Yeah, it just got real.

I guess you can tell I have a bit of a sweet tooth because here's another dessert post to put you in a sugar coma. That's some mighty fine housemade banana pudding from The Rustic that grandma would be proud of.

Outrageous Bloody Marys are pretty common throughout Dallas and Anvil Pub knows how to 'em right by piling a full-fledged meal on top. But, did you know they do the same thing with their mimosas?!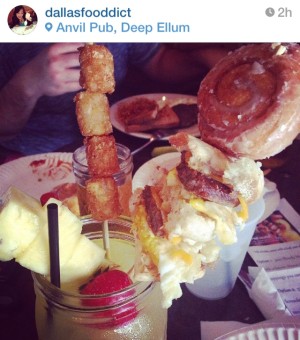 Get the SideDish Newsletter
Dallas' hottest dining news, recipes, and reviews served up fresh to your inbox each week.