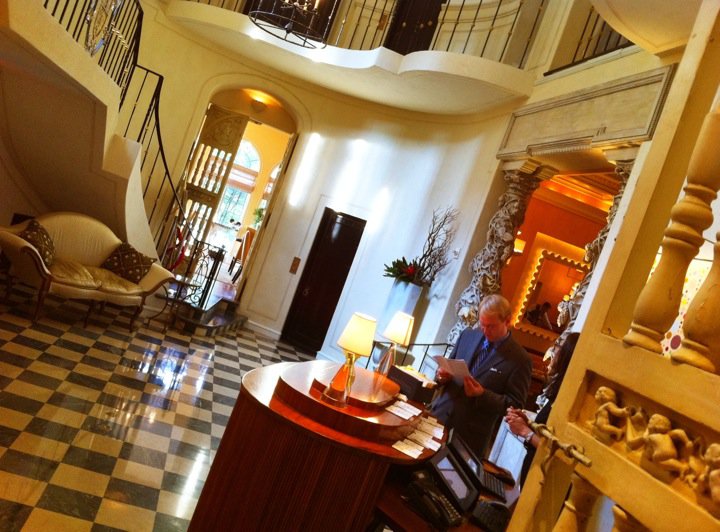 Changes at the Rosewood Mansion on Turtle Creek: The Restaurant GM Resigns; Staff Concerned About Quality of Service
An anonymous email from the Restaurant Staff at the Mansion details a sad state of affairs in the once luxurious dining room. Days later, Ryan Harvey, the general manager for the restaurant at the Rosewood Mansion on Turtle Creek, has accepted a position at the Tower Club. Strange coincidence?
Ryan Harvey, the general manager for the restaurant at the Rosewood Mansion on Turtle Creek, has accepted a position with Club Corp, the company that manages luxury country clubs and business clubs all over the world. Harvey resigned three days ago and will begin his new job as head of Food & Beverage at the prestigious Tower Club in downtown Dallas on October 1. He has been at the Mansion for four and a half years. "Working at the Mansion has been an incredible experience for me," Harvey says. "The pride that I have for being an activate participant of such a superb organization's existence, history, and culture is something that I will always cherish."
A few days before I spoke with Harvey, I received a lengthy email signed by the Mansion Restaurant staff. Their message was distinctively different from Harvey's. The group of frustrated servers wrote they are concerned the restaurant at the Mansion is losing the "special occasion" appeal. Here are specific examples of new policies they claim are "dwindling down" the reputation of the restaurant.
Dress Code: "There are many restaurants below us that have nice tablecloths, somewhat of a dress code, and many other things. Really, you could be dressed up in a nice tux at the Mansion and seated to someone in a baseball cap and shorts."

Table Settings: "The tables [have been] replaced with slates from Crate & Barrel…We no longer set with glasses or silverware!  With a four-top you have no room for silverware to be set, so we manage to just stuff it somewhere on the table. We do not use stem wear for water anymore. Since there is no white tablecloth, condensation just drips all over the table and we just place your silverware in the wet puddle and crumbs. That's not very sanitary!"

Service: "They refuse to hire server assistants and we are running with just one at some times. It's so busy the server has to prioritize whether a person should get a water refill or open a $200 bottle of wine. We've also cut out many steps of service, like no more hot tea service. We use clear ceramic glasses for tea and coffee now. Wines are now poured at the bar not at the table. The wine pours are two ounces less, but price is the same. There are no controls on employee uniforms. We went from suits to just all black shirt and pants and khaki pants in the morning."

Alcohol Pours: "We used to have finer and larger wine and cocktail glasses. They have been replaced with cheaper Riedel glasses. We used to pour and let the guest taste the wine at the table. We also used to pour four glasses per bottle, now we are required to get five glasses out of a bottle. Cocktail glasses are about the size of a measuring cup now. The prices are still the same."

Special Touches: "We use to have special touches like putting napkins in people's laps and birthday/ anniversary notes written on desserts. We have been told that is old school. How is making people feel special old school?"
It's no secret that the Mansion relaxed the atmosphere after the property was acquired by New World Development Company in Hong Kong in June 2011. New leadership brings new direction and changes. Many of the servers behind the emails have been at the Mansion for a long time and, while they understand the concept of trying new ideas, they fear the concerns they have voiced to management are not being taken seriously. They are also afraid of losing their jobs for speaking out.
When I spoke with Ryan Harvey I told him about the emails from the staff. He sounded genuinely stunned. I asked if the claims were true and what part, if any, they played in his leaving. "The department of F&B [at the Mansion] has gone in a different direction and a lot of people have left," Harvey says. "They are trying more avant garde approaches and the approach to the guest is more casual, but still refined. My reason for leaving the Rosewood Mansion on Turtle Creek was due to the exciting and wonderful new opportunity to join Club Corp as the Director of Food+Beverage at the Tower Club-Dallas. The relationships I have developed, friends I have made, and the people I have met along the way have been a profound part of my career and journey."
After I ended my phone call to Harvey, I emailed the staff and asked how Harvey's departure would affect their cause. They didn't even know he'd turned in his resignation.
Change is painful. I hope emails from a devoted staff crying for help to save the Mansion's reputation as a special occasion destination are a starting point for better communication between management and staff. If you've got something to add, please do so.