I hail from the land of "Boulevarding," Pony Up chants, Homebar Thursdays, frat-filled weekends at Barley House, and late night study sessions at Bandito's. There are a number of established hangouts and drop-in restaurants around the SMU area, so a newbie to the scene can easily become lost in translation. Key example: the demise of Beck's Prime off Greenville Avenue.
Sandwich shops continue to grow across Dallas and Asian cuisine is on the rise. It takes one talented team and innovative concept to make a statement and grab this stubborn city's attention. With Malai Kitchen's Braden and Yasmin Wages at the helm, I think Banh Shop has the potential to do just that.

Banh Shop? Like the sandwich?
Exactly like the Vietnamese Banh Mi sandwich. Yum! Brands and restaurant developer Mark H. Brezinski unveil their take on Saigon street food to the people of SMU Boulevard on Friday, with a second location soon to follow at the DFW International Airport. It's another fast casual concept, which I know has you thinking "Ugh. Been there. Done that." Did you know you live in Dallas? We survive on fast casual.
I thought you said this place had the chance to last?
Well, when you have the culinary minds of Braden and Yasmin Wages collaborating on the menu then the odds seem ever in their favor. Known for the Thai and Vietnamese flavors of Malai Kitchen, this duo just returned from a two-week exploratory trip to Vietnam – their third such visit in the past three years. I'd say they know a thing or two about what they're cooking up. Additionally, Brezinski has 23 years of experience in the business with more than ten projects over in the booming development of Trinity Groves.
Okay, well what do they have to offer?
I thought we established they dabble in the Banh Mi sandwich business? That means French baguettes stuffed with cilantro, Thai basil, pickled shredded carrot and daikon (Asian white radish), ribbon-cut cucumber, and aioli with a selection of proteins. The bread, a product of Village Baking Co.'s ovens, retains its crisp exterior without overwhelming all the contents within. It's not all about the sandwich though. Banh Shop also features Southeast Asian salads, soups, and wok-fired bowls. Don't understand the menu? Flip it over; they've got a dictionary for that.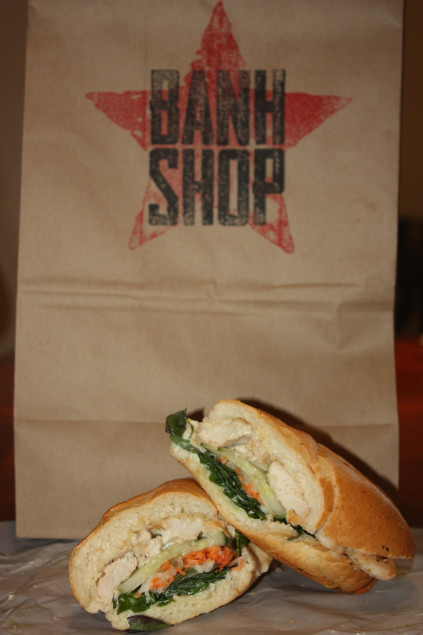 So, what should I order?
The Coconut Chicken Breast Banh Mi Sandwich takes char-grilled chicken breast marinated in chili-coconut piled with cucumber-cilantro aioli to make a lighter banh mi option that doesn't skimp on flavor. The "Banh Fire" Wok'd Bowl brings that Texas heat with a "Banh Fire" jalapeño pesto and spicy tamarind sauce drizzled over a stir-fry of carrots, bean sprouts, red onion, scallion and cilantro topped with peanuts served over white rice. Pick up a side of Saigon "Street Stall" Corn Cup and a tall glass of Vietnamese Iced Coffee to round everything out.
Any alcohol with that?
Don't worry. There's a small selection of draft and bottled beers in addition to your obvious frozen concoctions. They put a spin on things with a Frozen Ginger Margarita and Frozen Passion Fruit Colada.
What's the atmosphere like?
The fact that the shop lies within a converted garage should tell you a lot. You'll find a minimalist design with lime green accents and a neon signs gracing the walls. Wooden tables, concrete floors and steel trimmings make for a rustic vibe that invites crowds by the dozen. By default, the location invites the student masses (Warning: "Bro" sightings are inevitable), but families and lunchtime goers will come to frequent what Banh Mi has to offer as well. The restaurant reminds me of a Southeast Asian version of Chipotle, but with a deeper, more innovative menu.
Any down sides?
The sandwiches should come bigger for the price tag ($5.95-$6.95). I'm cheap and constantly hungry. Then again, I guess it's a good thing that I wanted more once I was done.

Get the SideDish Newsletter
Dallas' hottest dining news, recipes, and reviews served up fresh to your inbox each week.