It's a Monday night and my stomach commences its grumbling like clockwork as 5 PM rolls around. I have dinner plans with a friend, but don't really feel the desire to change out of sweats nor spend an arm and a leg on the night. Naturally, I think back to my study-abroad days as I declared a wedge of Brie, selection of cured sausages, and glass of red as a fully-balanced meal. I find 'picnic' dinners comforting and exciting as the group picks and passes an assortment of dishes, either homemade or prepared by the nearest grocery (sometimes we just don't have the time to cook and that's okay). I indulged my obsession with cheese and charcuterie and put my newfound knowledge from the Luschers to the test.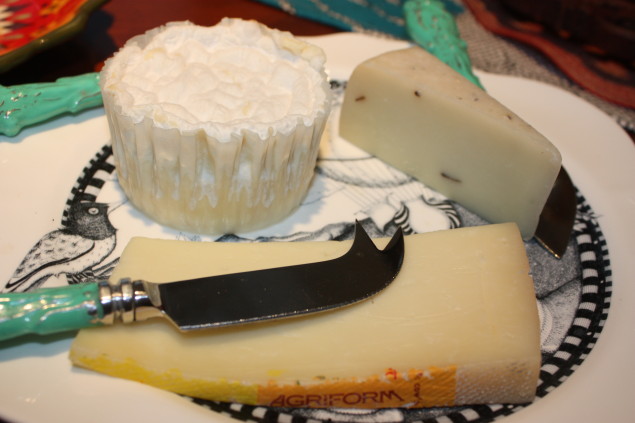 First, I hit Green Grocer to hunt down Luscher's Post Oak Red Hots and housemade Luscher Brown Mustard. The two go hand-in-hand, and one simply can't buy one without the other. If you have a grill handy, that would be the best option for cooking the sausage, but I went with the broil and pan-sear method. Broiling the links on high, I finished them off in my cast-iron grill pan. I like this option because it supports my decision to be lazy indoors, and you can collect all those heavenly juices from the sausage to add flavor to other items such as bread. Just toss in a couple slices of French or sourdough and toast the sides to your liking.
The next stop was Central Market, where I acquired cheese knowledge from a staff member. He suggested a journey through Italy to accompany the sausage, but before narrowing my search, he offered up samples of his favorite cheesy selections. Side note: Did you know if you ask Central Market for a sample of anything in the store, they will give it to you? One sample of every cupcake and truffle please! Okay, back to the cheese. The key to a well-rounded cheeseboard is all in the texture. Choose three different blocks, including one soft ripened, one semi-ripened and one hard to vary the taste. I chose the Alta Langa La Tur (the Italian version of Brie), the Asiago Pressato, Cacio Di Bosco flecked with truffles, and a personal selection off the beaten path of Brunkow's Original Baked Cheese.
The creamy La Tur comes from a blend of sheep, cow, and goats milk pasteurized at the lowest level according to Italian law. I must have had one cheese sample too many because I added this one to my lineup without taking it for a test drive. Rookie mistake. This very strong cheese should come with a warning label. If the stench doesn't get you, the rich zingy finish will.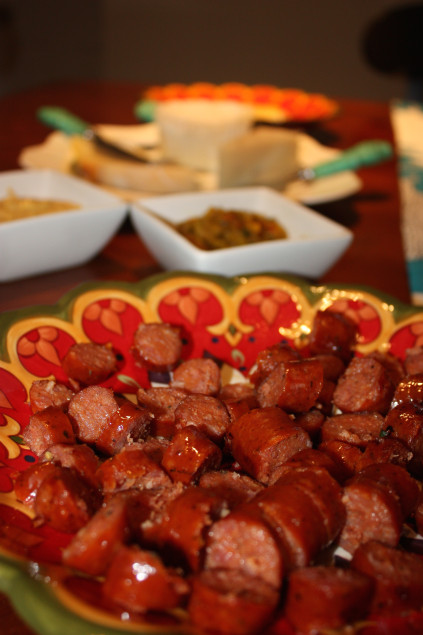 The Asiago Pressato offered a mild and sweet taste that can easily pair with a range of charcuterie, fruits, and wine. I liked this one for the fact that I could keep eating it and not feel overwhelmed by its flavor. On the other hand, who doesn't love anything speckled with truffles? The Cacio Di Bosco blends garlicky truffles with a nutty, aged sheep's milk that balances in a way so one does not outshine the other.
My personal selection comes from my love of Halloumi cheese, which mixes goat and sheep's milk at a high melting point so that one can easily grill or fry it. The Brunkow's Baked Cheese is actually American-made from the lands of Wisconsin. Warm it in the oven, on the grill, in a skillet, or even in the microwave and lay it over that toasted bread I mentioned earlier for buttery, intense experience. This one pairs well with jam also.
To cap off the meal, I provided sliced green apple, craisins, roasted almond slices, and a fig jam. Additionally, I continued my Italian theme with a quick bruschetta I whipped up using chopped tomato, garlic, basil, onion, and olive oil spread over grilled Portobello caps. My wine selection for the night was a Pinot Grigio from Italy that brought crisp, dry, refreshing notes of pear and lemon.
Give your own 'adult lunchables' (as the Luschers call them) a try. Be adventurous and experiment with different pairings. Refer to our interview with Brian and Courtney Luscher for more information.
Get the SideDish Newsletter
Dallas' hottest dining news, recipes, and reviews served up fresh to your inbox each week.