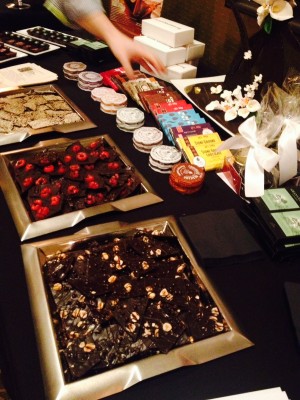 If you haven't bought a ticket for the 5th Annual Dallas Chocolate Festival yet, I really, really, really, wholeheartedly recommend that you do. It will take place September 13 at the Addison Conference Center, with workshops following on the 14th at Trinity Groves. Check out the website, dallaschocolate.org, for tickets, details, and vendor information.
I recently got a sneak peek at some of the delectable goodies that will be available at the festival. A number of Texas chocolate makers will make an appearance, including Sublime Chocolate (located in Allen, this is Dallas' first bean-to-bar chocolate maker), Tejas Chocolate, Chocolate Secrets, Kate Weiser Chocolate, Dallas Caramel Company, Toffee Treats, Haute Sweets Patisserie, Nib Chocolates, and CocoAndré Chocolatier. Other premium makers like Amano Artisan Chocolate, Taza, Valrhona, Potomac, and more will also be there to sample and learn from.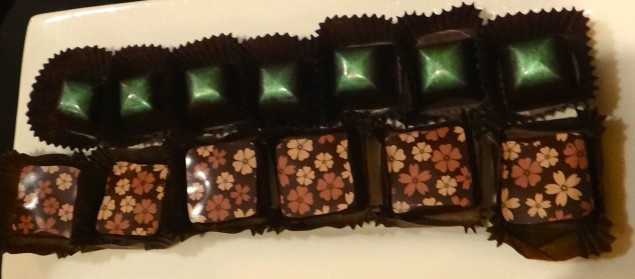 And when you go to the festival (because you must), you'll also get to soak up information from Adrienne Newman, or 'Madame Cocoa.' She is a chocolate expert and educator who schooled me on cacao the other day. There are seriously as many flavors and nuances in chocolate as there are in wine, and it takes a pretty refined palate to identify them. (Valrhona started putting harvest years on their packaging, like a wine vintage. Different years and locations make a big difference in flavor.) Newman introduced me to Amano Chocolate, and for that I am forever grateful. That is how good Chuao is.
Adrienne said, "Three years ago, under 20 people in the U.S. were making this grade of chocolate. We are at a moment now where there are probably over 100. Watch how it's going to grow, just like craft beer did."

Haute Sweets, located in Trinity Groves, has been making waves with their beautiful creations. This PB&J (pictured above) had peanut powder with real jam in the bottom of the chocolate cup. The white chocolate mousse was topped with balsamic pearls, no lie. Fantastic.
Rain McDermott of Dallas Caramel Company has made a chocolate caramel that will make your eyes roll back in your head. One way her caramels will change how think about caramel: they don't stick to your teeth. Like, at all. All the more reason to dig in. And just wait until you try the Pumpkin caramel.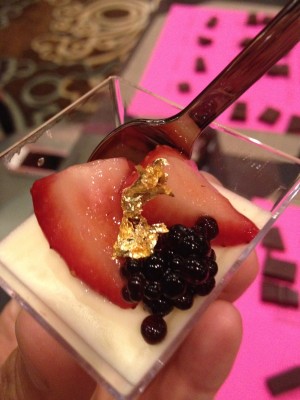 If you are a Hatch chile lover like me, you will love ML's Hatch chile toffee. ML uses her grandmother's toffee recipe at Toffee Treats in Plano, and she has had such great success with it. Because it's addictive. I'm normally not a toffee person at all, but that hatch toffee is irresistible. You can sometimes find her toffees at Central Market, but if not, check out her website.
Why should you go to the festival, other than the reasons already identified above? Well, in Madame Cocoa's words, "If you've ever wanted to know what the real difference is between the $2 bar of chocolate and the $12 bar of chocolate at the store, come find out!"
The whole bean-to-bar process is fascinating, and you can learn about it from experts from all over the country while you satisfy your sweet tooth. This festival will be the biggest one so far, and the InterContinental Hotel in Addison is offering special room rates for out-of-towners and staycationers.
Get the SideDish Newsletter
Dallas' hottest dining news, recipes, and reviews served up fresh to your inbox each week.