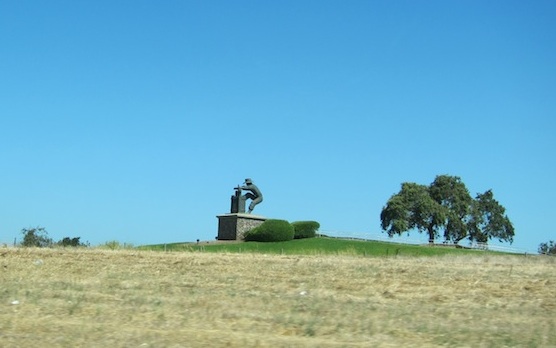 Napa Valley has had a tough year. Not only is the region experiencing one of the worst droughts in their history, with a summer of very hot days forcing some vintners to begin their harvest the last week of July (normally it is late August-September.) But the valley also experienced a 3,800 acre wildfire near Pope Valley in northern Napa County east of Calistoga, forcing evacuations and bringing in over 1000 firefighters to try to contain it.  Now, the 6.0 earthquake that shook the town of Napa and the areas to their south into American Canyon, where many of the workers in the valley live, destroyed not only many of the historic structures in the town, but also wine and olive oil stored around and just outside of Napa, and many, many homes throughout the area. Napa needs our help, and the best way to show your support is to support their wine.  So tonight, drink Napa. Consider one of these, or just open our favorite Napa Valley wine. A few selections were sent for editorial consideration.

I was so pleased to hear my friend Dave Miner was safe up on Howell Mountain, hopefully meaning many others in the northern part of the valley on Howell Mountain, like Robin Lail were as well. So the first two to pick up tonight to enjoy would be a bottle of Miner Napa Valley Chardonnay, the wine I will drink for the rest of my life from one of my favorite wineries in the valley.  Winemaker Gary Brookman refines low yielding Napa Valley fruit producing a lush and lively wine filled with layers of golden apple, honeydew and peach. A great Chardonnay any time of year. $30 at Sigel's.
From Lail Vineyards, one of the finest white wines I have ever had is the Lail Vineyards Georgia Sauvignon Blanc, crafted by winemaker Phillipe Melka. Made in the Bordeaux style, fermenting and aging for 18 months in new French oak, creating a creamy, rich wine filled with honey, white peach and lemon pie with incredible depth, texture and length that balances richness with acidity, keeping the wine crisp while being balanced, well rounded and delicious.  An incredibly special wine that will age nicely for several years, but is simply delicious now. $120 at Sigel's.

Another Napa Valley Sauvignon Blanc I just tried came from winemaker Laura Diaz Munoz of Galerie Wines, who believes "the hands of the winemaker are there to carry the message of the place (the grapes were grown) capture it in the wine."  Growing up in Spain, local flavors and foods influenced her both in how she makes her wine as well as the inherent art of pairing, creating food friendly wines, like her Naissance Sauvignon Blanc which she pairs with anything from cured ham croquettes to creamy Spanish tortilla. From fruit grown in Pope Valley, St. Helena and North Napa that is stainless steel fermented then aged on the lees for 6 months in 50% neutral French oak, 50% stainless steel for a very Loire style, the wine is fresh, bright and lively with juicy citrus, white flower and tropical fruit melding with a hint of steely mineral notes. $30 via their website.
From southern Napa in the Carneros region Starmont Winery and Vineyards has their 50 acre Stanly Ranch Estate producing cool climate Chardonnay and Pinot Noir. Benefiting from constant breezes through the vineyards from the Bay, hot days and cool nights throughout the summer, and focused clonal selection creating complex and elegant, yet also very approachable wines. The Starmont Stanly Ranch Pinot Noir is filled with layers of ripe berry, red cherry and blackberry with a subtle note of earthy, forest floor aromas with tobacco, toasted spice and black fig on the finish. $55 available via their website.

Not far from the Napa Valley Airport Rocca Family Vineyards opened their tasting room in a renovated Victorian home orginally built in the 1860's by General Vallejo for one of his daughters making it one of the most charming places to visit in Napa.  Add in the high quality, small production wines of Rocca Family Vineyards and you have the ideal stop just as you are entering into Napa. I am still waiting to hear back from our friends, owners Mary Rocca and Eric Grigsby, as both their home is in the hills above Napa and their tasting room sits very close to the earthquake epicenter, so tonight I will be opening a bottle of Rocca Collineta Vineyard Cabernet Sauvignon from their estate vineyard in the Coombsville AVA in the southern part of Napa just outside the city. Filled with black cherry and blackberry with toasted spice, cedar and tobacco notes this robust wine is all that Napa Valley Cab should be with bold flavors, yet also balanced, elegant and interesting. $95 via their website.
As you move up valley from southern Napa to northern, traveling through Oakville, Yountville and Rutherford the flavors of the valley change, most evident in the beloved Cabernet Sauvignon wines of the region. Grgich Hills blends a few of these regions together to create a harmonious Estate Cabernet Sauvingon wine from Biodynamic, organic certified vineyards in Yountville, Rutherford and Calistoga. Filled layers of dusty earthiness, black fruit, balsamic, spice and licorice with aromatic rose and lilac notes the wine highlights some of the best of Napa Valley in a glass. $60 available at Total Wine & More.

Cakebread Dancing Bear Ranch Vineyard proves how special Howell Mountain fruit is, producing intense, robust Cabernet Sauvignon with personality that Cakebread Cellars transforms into silky, luscious wine with layers of black fruit, dark chocolate, espresso and tobacco for a concentrated, complex wine that lingers on the palate long after you have finished the last sip. $115, available via their website.
Round Pond in the heart of Rutherford grows sustainably farmed Cabernet Sauvignon that epitomizes the phrase "Rutherford Dust." Their robust Rutherford Cabernet Sauvignon leaps from the glass with aromas of blackberry, black cherry, coffee and tobacco with dried herbs, dusty earthiness and cola.  Subtle on the finish, filling the palate with creamy mild chocolate and black licorice spice, a delicious wine with grilled steaks or smoky grilled mushrooms. Open it about an hour before you drink it, though it is great right out of the bottle, a little time to breath with soften some of the bold tannins in the wine. $60 available at Goody-Goody.
Get the SideDish Newsletter
Dallas' hottest dining news, recipes, and reviews served up fresh to your inbox each week.