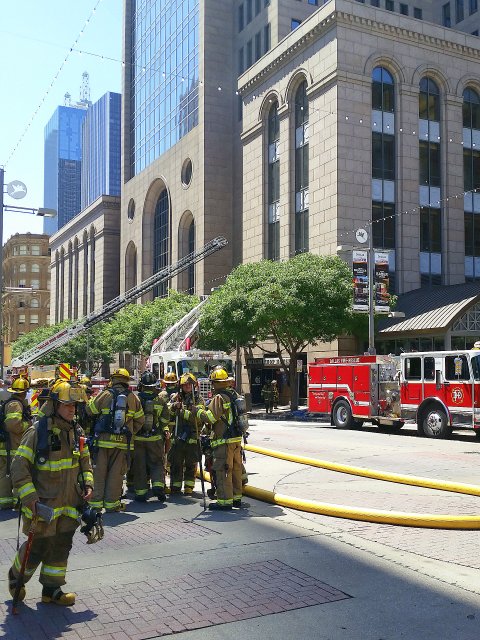 Three-Alarm Fire at Dallas Chop House
Details developing on a three-alarm fire at Dallas Chop House.
Loyal SideDish reader Kerrie Sparks sends news of a 3-alarm fire at the Comerica Building. According to Sparks, the blaze was coming from inside Dallas Chop House. Dallas Chop House representative, Fran Gallagher, confirms there was a fire in the restaurant and there are no injuries. She will send details as soon as they are available.

UPATE:
Everyone is safe and sound.  We are grateful to the Dallas Fire Department for their service. The damage from the kitchen fire is concentrated in the kitchen and, of course, will be repaired immediately.  Our goal is to have Dallas Chop House open to serve guests by September 1, if not sooner.  We are grateful to everyone for their interest and for their good wishes as we make these repairs and get all of our employees back to serving guests.

DRG is contacting all DFW Restaurant Week 2014 guests with reservations at Dallas Chop House and is accommodating reservations at its restaurant Dallas Fish Market, also in Downtown Dallas.  DRG Concepts is grateful for everyone's understanding during this temporary closure and transition for Dallas Chop House.– Nafees Alam, Vice President, DRG Concepts, parent company of Dallas Chop House