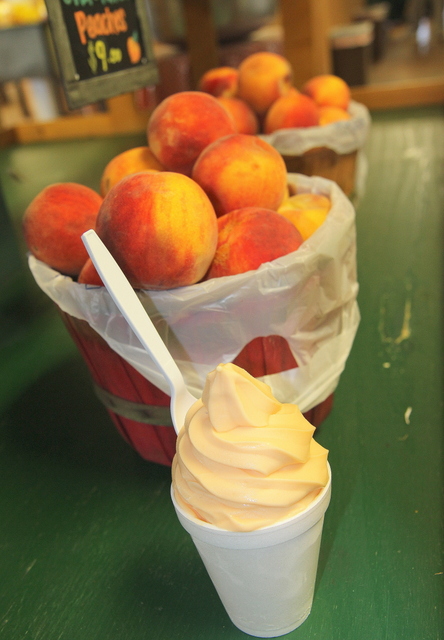 Peach Porn: Head to Ham Orchards Before the End of the Season
The peach harvest this year has been phenomenal. Head out to Ham Orchards this weekend and see for yourself. Go early and get in line for Eddie Deen's barbecue. Then grab a rocking chair and enjoy a cup of soft swirl peach ice cream. (Or strawberry. It's a jump ball on which is better.) I came home with a bushel of peaches
Several weeks ago, I headed out to Ham Orchards and spent the day with owner Dale Ham. If you haven't made the short drive east of Terrell, do so in the next few weeks. Dale claims this year has been the best harvest ever for peaches he's ever seen. He has 100 acres of more than 35 varieties.
Go early and get in line for Eddie Deen's barbecue. Then grab a rocking chair and enjoy a cup of soft swirl peach ice cream. (Or strawberry. It's a jump ball on which is better.) I came home with a bushel of peaches. Some I ate, some I gave away, others I froze. The store has a huge variety of jams, jellies, butters, chutney, peach salsa, and ciders. The bakery offers pies, cobblers, breads, and fried pies. Take a cooler and load up.
Here are some photos I snapped to get you primed.
Full Disclosure: Dale Ham and his family welcomed me to tour their facility and pick my own peaches for a story I am printing next spring. Ham Orchards is not a pick-your-own peaches facility. They do all of the hard work for you. Here's a link for directions.