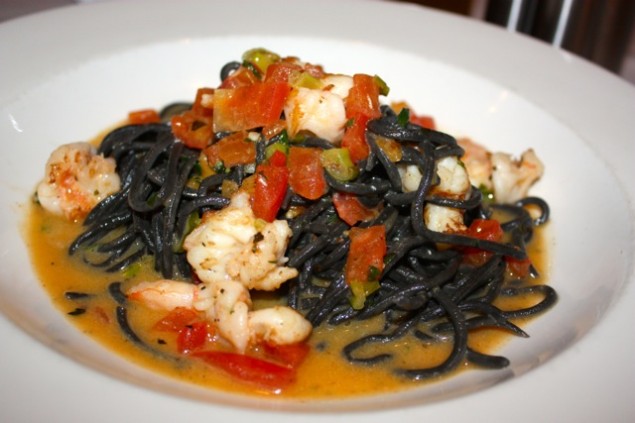 Though a couple months have passed since the opening, Cucina Neighborhood Italian continues to make the appropriate changes to make it a home for friends and family in search of "comfort food with a casual atmosphere and attentive, professional service," describes Ben Crosland, Managing Partner Cucina. The menu at Cucina is rustic Italian featuring pizzas, pastas and grilled fare. Last night I was invited to sample a few dishes.
Wait, isn't that place called Mi Piaci?
After two decades in Dallas, Mi Piaci shuttered its doors last spring, which allowed Cucina Neighborhood Italian to take over, but not without a fight. We reported on the debacle between the two owners last May. A sign on the door claimed Mi Piaci's Brian Black failed to pay rent forcing the landlord to change the locks. However, Black reared back with a vengeance and a different side to the story. Whatever the truth is, Cucina welcomed the neighborhood to its cuisine May 27 and seems to be on the right track to becoming a University Park favorite.
So what changed?
Though menus between Mi Piaci and Cucina appear similar at first glance, Cucina offers a more refined selection of classic Italian dishes with a more modern twist. Obvious changes include décor, management, service, and attention to detail in the food. The elegant interior offers guests an intimate experience with dark wood tables, warm red and clean white wall finishes, black metal frame chairs, a dramatic black banister leading to a more private upstairs, and a backdrop of jazzy music. The restaurant has two floors, two bars, two outside patios and two spacious dining rooms as well as a semi-private dining room upstairs. The upstairs patio features a retractable roof so it can become completely enclosed or open for al fresco dining. For me, the most notable aspect to any restaurant is service. They can make or break an experience for me. I felt Cucina was extremely inviting and attentive throughout my time.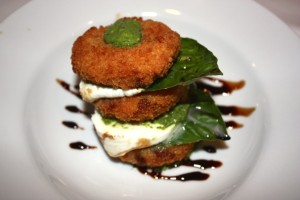 Do I care?
If you want a location to round up the family, a place to gaze into your date's eyes over bites of tiramisu, or just a good spot for classic Italian that won't disappoint, then yes, you definitely care. This isn't just another knock-off Olive Garden with a new paint job and different name. You'll want to check this place out.
Who's there?
The crowds vary from older couples to young twenty-somethings to boisterous families. Picture a place with romantic, candle-lit atmosphere perfect for date night that offers the same prime setting for a big group to get rowdy over a couple bottles of wine. The space is big enough for both parties to enjoy their night and not make the other feel uncomfortable.
What do I wear?
The simple, yet sophisticated kitchen invites you at your worst or at your best. Patrons are encouraged to dress up for a fancy night out or keep it casual with shorts and flip-flops, but let's keep it civilized. I'm pretty sure they enforce that "no shoes, no shirt, no service" rule.
If I could tell you to order one of everything and keep passing the plates, that's what I would do. However, I realize that's unrealistic. Order a round of appetizers such as the decadent risotto cakes with a crisp thin crust, cold asparagus & prosciutto that boasts vibrant flavors of balsamic and capers or fried tomato caprese that manages to be light yet so sinful. Enjoy the Spaghetti Nero for its interesting presentation and rich chili butter. Fun fact: the pasta gets its black color from squid ink. Vegetarians and carnivores alike will shovel down the Portobello Puttanesca that comes with zucchini pappardelle and a traditional puttanesca sauce of anchovy paste and capers. You can even substitute the portobello steak for a more meaty option of chicken or fish. Nevertheless, I loved the fresh sea bass. Seared with a crisp crust, the buttery fish is everything I need with the lemon-basil-asparagus risotto. As for dessert, I want it all. The peach sorbet is like you're digging into an actual peach. The tiramisu is smooth with the expected Italian coffee finish. But, the 'Kool Breeze' cheesecake is like nothing I've had before. It manages to be light and airy, which makes me believe it's only half the calories so I should clearly eat double the amount (I am very naïve when it comes to sugar).
Price?
Affordable. Well-executed food at the right price point that won't bust the bank.
What else should I know?
Chef Mark 'Kool Breeze' Sims gets his name from how well he dressed when he was younger. He was a fly kinda guy, and he definitely hasn't lost his flair through the years.
Get the SideDish Newsletter
Dallas' hottest dining news, recipes, and reviews served up fresh to your inbox each week.