Food lovers and healthy eaters, rejoice: there is a shop in Far North Dallas called EVOO & Vin that carries gourmet olive oils and vineagars, and get this: you can taste everything. From chocolate balsamic and cayenne-infused olive oil to white truffle gourmet oil and Ultra Premium Oils, there is a bit of everything in this little place, thanks to owners Nicole Gilbert and Heather Rhea.
The two women have been friends and coworkers for 8 years at Bank of Texas. When they came across a delicious balsamic vinegar from a California supplier, they did some research and decided to open a store together.
"We both have a passion for cooking and providing healthy, nutritious meals for our children. The products have been so fun for us to use in our own kitchens. The possibilities are endless, and they are a foodie's dream come true. Cooking with high-quality, flavorful products like these will really amp up your cooking. We are so excited to share this with Dallas," says Rhea.
The shop's long walls are lined with fustis, stainless steel containers that preserve the oils and vinegars. On each fusti hangs a tag with information about the product it houses. Bottles in multiple sizes line the shelves underneath, and they range from a 60 ml sample size (from $5.95) to a large 750 ml option (from $28.95). Customers can sample by sipping straight from small cups or by dipping free bread into larger cups.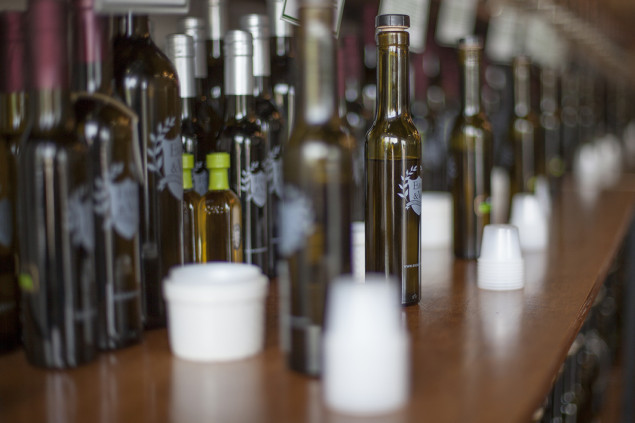 The oils at EVOO & Vin are sourced from all over the world in countries like Chile, Peru, Portugal, Australia, Spain and Italy. The oils are produced traditionally by local growers who use strict guidelines to ensure consistent quality. The oils make their way to California, where they are then distributed straight to vendors like Heather and Nicole, who bottle them and store them in fustis to keep them fresh.
Of course you'll find traditional oils from different kinds of olives and from different regions, but you'll also encounter fused and infused oils. Infused oils are blended with flavors after the oil is pressed, but fused evoo is made by pressing fruit or other ingredients with the olives at the same time. Try the Herbs de Provence or Wild Mushroom & Sage Infused Oils, as well as the Blood Orange, Cayenne, and Lemon Fused Oils. The most surprising item in this range is the Butter Fused Oil, which contains no dairy or animal products at all. Using just herbs, somehow this oil tastes just like butter, but even better, if that's possible.
"Once people taste it, they are obsessed. A good tip is to put some in a bowl and put it in the refrigerator. It will take on the consistency of butter this way, which makes it great to use as a spread on rolls, toast, etc. And don't forget to try it on popcorn," Rhea advised.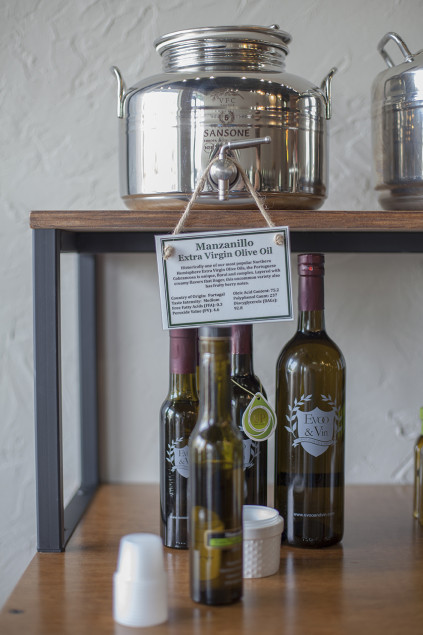 There can certainly be health benefits to replacing butter with oil, which is something Gilbert and Rhea believe in wholeheartedly. They sell the book The Pink Ribbon Diet in their store, written by dietician Mary Flynn. She recommends consuming three tablespoons a day of high-quality olive oil to improve heart health and encourage weight loss.
Balsamic vinegars also take up a big portion of the store's shelves, including dark and white aged from Modena, Italy. They are naturally flavored from traditional grape varieties like Trebbiano, Lambrusco, Spergola and Berzemino. These vinegars taste like they should cost far more than they do. In additional to a classic version, EVOO & Vin sells flavors such as Dark Chocolate, Espresso, Cinnamon Pear, and Serrano Honey Balsamics, as well as a Pomegranate-Quince Balsamic that is so sweet and light, it seems like biting into a piece of fruit.
"Drizzle the Dark Chocolate Balsamic over strawberries for a healthy version of the classic chocolate-covered strawberry, or put the Cinnamon Pear Balsamic on apples. It tastes just like apple pie, without the carbs!" suggested store manager Shelby Koscielski.
All 50 oils and vinegars and 5 Ultra Premium Olive Oils are kosher, gluten-free, vegan and all-natural. There are also gift baskets, jams, dipping seasonings, pasta mixes, cutting boards, bottle pour spouts and Stonewall Kitchen items. The staff is welcoming and knowledgeable about the production process and recipe ideas.
EVOO & Vin is an approachable, affordable gourmet shop with quality products that are out of the ordinary. It is a welcome addition to the North Dallas area for those looking to spice up their cooking while keeping it healthy.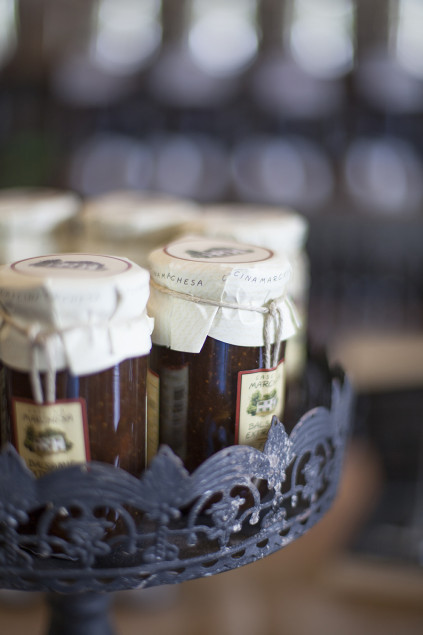 Get the SideDish Newsletter
Dallas' hottest dining news, recipes, and reviews served up fresh to your inbox each week.