Naturally, most people cry at the sight of old bananas. Who wants a brown banana nearing its end days? ME. Banana bread, banana smoothies, banana ice cream, banana soap…is that a thing? Still reeling from my one-on-one with local heroes of Pop Stars and determined to take the Pop Master crown at SideDish (I think I'm the only one who knows there's an actual competition going on), I decided to put my Progressive International popsicle mold to the test.
Sifting through possible ingredients in my pantry I decided on a combination of my favorite guilty pleasures. Behold: a recipe for Banana Chai Almond Butter popsicles flaked with chocolate chips:
3 large bananas
1/4 cup almond butter
1/3 cup almond milk (I used vanilla)
¼ cup agave or honey

¼ teaspoon cinnamon

¼ teaspoon ginger

¼ teaspoon ground cardamom

¼ teaspoon allspice
½ cup chocolate chips (or however many you want)
Directions
In a blender, pulse first 8 ingredients. Add in chocolate chips and stir in to combine. Pour mixture into each mold leaving a little room at the top, so they don't overflow when freezing. Place popsicles in the fridge for about 30 minutes before inserting sticks (this makes sure the sticks don't sink to the bottom) and then continue to freeze for 4-5 hours or overnight.
Inside my experience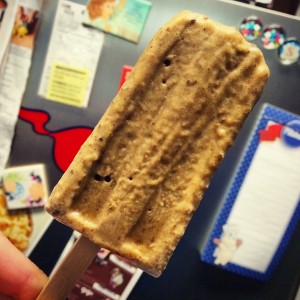 I guess popsicle molds are pretty self explanatory, but I'm the kind of gal that likes step by step instructions accompanied with pictures. My molds did not offer me this luxury. My kit came with a silver top to place on top of the mold with inserts for the sticks during the freezing process, but it was nearly impossible to take off at the end. I would forgo using the top in the future and just insert the sticks 30 minutes after initially freezing.
For me, the hardest part came at the end when I stared anxiously at my frozen molds without a clue of how to extract my creations. After phoning Rochell and a little Googling, I learned you can pop out each mold individually using a little arm and force. Get your sink going with hot water and run each side of the molds under it for couple seconds. Then with the same amount of force, yank the stick out to reveal your product. I thought it was going to pull the stick straight out of my popsicle, but I assure you it's frozen solid in there.
Expect a little trial and error at the beginning, but after the first time it gets significantly easier. As for recipes, the possibilities are endless. Surf the web and browse your cabinets to put your own spin on this nostalgic treat.
Get the SideDish Newsletter
Dallas' hottest dining news, recipes, and reviews served up fresh to your inbox each week.