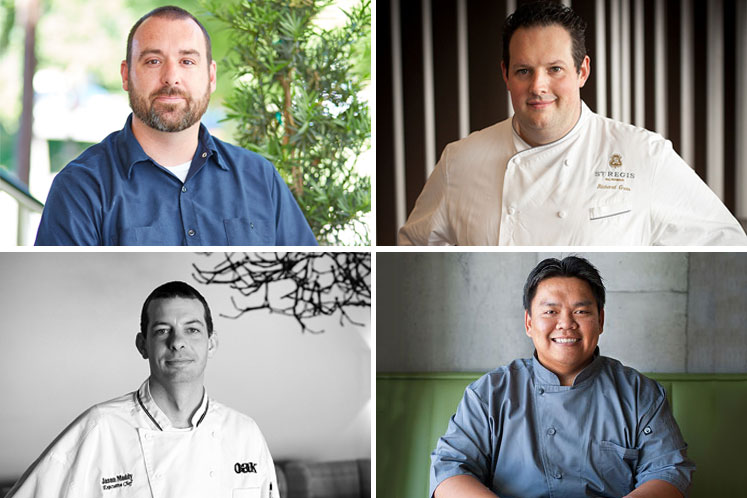 Why Can't Apheleia Restaurant Group Keep an Executive Chef?
Apheleia Restaurant Group (Oak, Belly & Trumpet, Pakpao) seems to be having trouble hanging on to front-of-the house staff and chefs. Let's take a look at the turnover they've had in such a short time.
Apheleia Restaurant Group (Oak, Belly & Trumpet, Pakpao) seems to be having trouble hanging on to front-of-the house staff and chefs. Last Thursday, they announced Brian Zenner of Belly & Trumpet would replace  Richard Gras as executive chef. Although Zenner was opening sous chef, he will become the third executive chef at Oak in a little over two years. Pakpao opened last June and lost talented chef Eddy Thretipthuangsin in less than six months. Apheleia Restaurant Group has hired Jet Tila to revamp the menu, but the high-profile chef lives in LA and is not working at the restaurant.
I learned about the departure of Gras when a press release titled "Brian Zenner Named Executive Chef of Oak" landed in my inbox. The release was short and there was only one line about Gras: "Richard Gras tendered his resignation on Thursday.
I emailed Sally Spaulding, the account supervisor at Wagstaff Worldwide, Inc. who sent the release, and typed: "Any word on where Gras is going?" She replied: "None at the moment! He is continuing service through the weekend (June 29)." (Note: this is at least the third publicist I've dealt with for Apheleia Restaurant Group information.)
Gras and his staff didn't know the release went out until they read the news online. Gras is a classy guy and I reached out to him for details. He's taking the high road, but he did say that he "turned in a six-week notice" last Thursday and he will remain in the kitchen until July 28. Then he will head to New York City to begin a new venture. He's originally from the Albany area so he will be closer to his family. "For the last year, I've put in 15 hours a day for six days a week," Gras says. "I'm not the kind of guy who puts in that kind of effort and then gets up and leaves." I think the release gives Gras a short shrift.
I remember another somewhat tasteless press release the company sent out when opening chef Jason Maddy departed: "Out of respect for Jason and his family, we cannot go into details. But due to personal health reasons, he is no longer Executive Chef of Oak." I still remember wondering if he had some horrible incurable illness. It was unkind of the Ellmans to leave the door to speculation so wide open. Unless a chef or significant employee robs the business, kills a dishwasher, or commits another crime, there is no reason to damage or darken an employee's reputation. How can a guy get another job with that kind of rap following him around?
Owners Tiffanee and Richard Ellman were restaurant virgins when they opened Oak. Richard had some experience; he owned the Sunset Lounge where he hooked up with Tommy (Boxwood T+G, The Dram) DeAlano, an original Oak investor/GM who has since departed.  Tiffanee spent six years in retail at the corporate offices at Neiman-Marcus. They opened Oak because of "their shared love of food."
In a little over two-and-a half years, they have opened three high-profile restaurants, actually four if you count The Bowery, a gourmet hot dog spot that failed. Gaining success is easier than maintaining it. It will be interesting to see how the Ellmans shared love of food plays out in the long run.