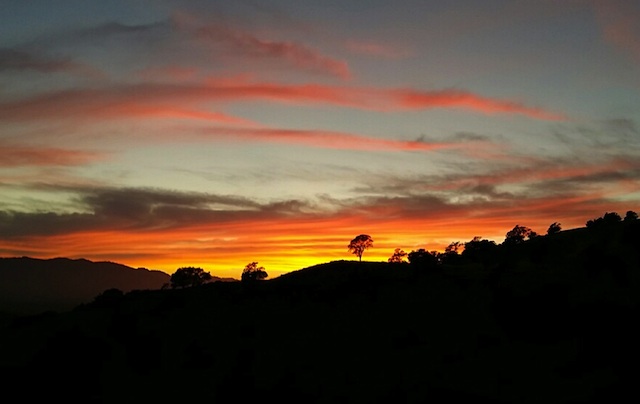 The beauty of Napa Valley, and why it became such a wine growing mecca, is that in a very small area you can grow the exact same grape variety, using the same vineyard trellising, clonal selection, management techniques and winemaking, same everything, yet from one side of the road to the other the end result can be completely different.  This is why Napa is so special.
I hear people, many in the wine trade, that say Napa is done….and nothing makes me crazier. Yes, our palates may have changed through the years, from wanting big Napa Valley oak bombs and butter balls. But producers big to small, from one AVA (American Viticultural Area) to another, are actively creating special wines that show the quality of what can be created from Napa Valley soils.  I recently visited the area, enjoying a little down time in the valley finding new producers and exploring areas I hadn't been to, as well as visiting old favorites and standards that I have come to love, tasting as a guest of the wineries we visited. Here are a few to look for that continue to pair well with the hearty flavors of our cuisine…another reason why Texans have always loved a good Napa Cab and Chardonnay.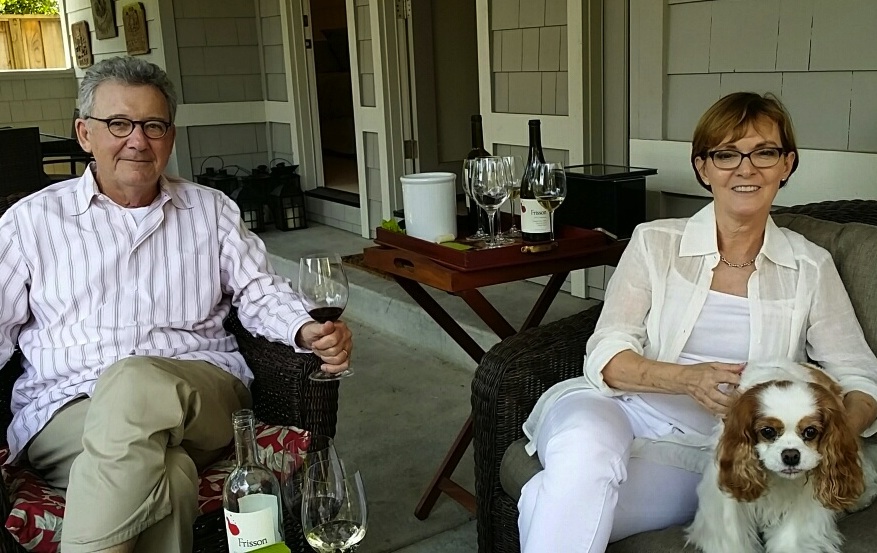 Just a handful of years ago Texans Terry and Pam Davis opted to turn passion into reality, and retirement careers into their lifetime dream with Frisson Wines. Houstonians, who still spend most of their time in Texas, got into wine through charity.  In 1980 the couple was asked to chair an annual event for the Cystic Fibrosis Foundation. Tired of many of the typical charity dinners they had attended, the duo opted to have a high dollar, multi-course meal with really good food paired with great wine, inviting chefs like Wolfgang Puck and Thomas Kellar to cook, with wines poured by Napa icons, like Robert Mondavi.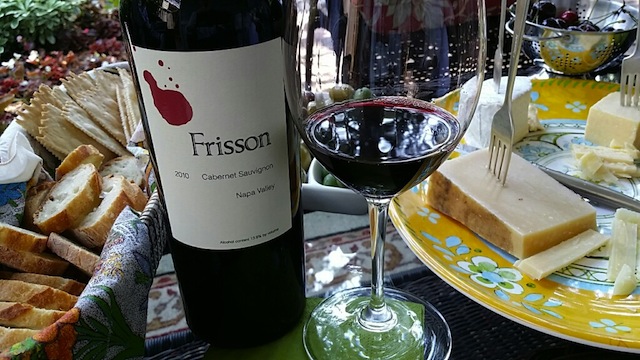 From that their love and passion for wine great grew, traveling out to Napa, enjoying the well known cult wines that grew out of the region in the 1980's and 1990's.  Eventually the couple bought a home in Yountville and begin to play with the idea of making wine themselves, naming their brand Frisson, or "thrill" in French. I had a chance to taste their latest releases with the couple on the back porch of their quaint Yountville home just across from French Laundry, including their 2010 Napa Valley Cabernet Sauvignon, a slightly aged, yet bright and delicious 2011 Sauvignon Blanc, and a stone fruit filled 2012 Frission Chardonnay from Russian River.
Winemaker Wayne Donaldson helped them source their first fruit, understanding the couple's desire to make Napa Valley wine that had a sense of place. He found them Cabernet Sauvignon from the steep slopes of Diamond Mountain, known for its volcanic ash soils that through the years have produced intense, robust Cabernet with a truly unique sense of place…exactly what Terry and Pam wanted.  They are still working with that Diamond Mountain grower, as well as adding in fruit from Rutherford, always looking to partner with quality growers with incredible fruit. The 2010 Cabernet Sauvignon is $65, available via their website.
It is only 30 miles from one end of Napa to the other, and I thought I had covered most of it in my travels out to the region, however one spot was still on my to do list. With my very carefully driving hubby (and you will need to be very careful as the switchbacks are tough) we traveled up Soda Canyon Road, 2600+ feet above sea level, to the very top of Atlas Peak to Antica Napa Valley.
Antica benefits from being at one of the highest elevations in the region, and because of the vast 1200 acres of land they own, have the benefit of both valley floor and hillside fruit in their 600 acres of amphitheater-like planted vineyards, creating layers and layers of fruity and earthy notes in their stellar Cabernet Sauvignon. For reference, Atlas Peak is also the home of Stagecoach Vineyard, also known for growing robust Cabernet and Merlot that will make any non-Merlot drinker change his tune.
The history of Antica really started in the 1960's when Italian vintner and winemaker, Marchese Piero Antinori visited California and fell in love. In the 1980's an opportunity arose with the Antinori's partnering with two other companies, that eventually led to the Antinori's purchasing the winery 100% and having full ownership today.
Though the winery grows many varietal, like the Italian varieties they have perfected in their wineries in Italy, making some special tasting room/website wines and selling much of their fruit to other winemakers, the real stars of this land are Cabernet Sauvignon and Chardonnay.
Estate Manager, Glenn Salva, gave us a look around the estate, defining the various areas to help understand how traditionally cool weather varieties Chardonnay, and a touch of Pinot Noir, can thrive in an area where they are also growing Cabernet and Sangiovese.  The valley that runs through the winery, as well as cool breezes that blow off lakes on the property help keep acid levels high and balanced, while natural warmth ripens grapes to create an overall fruit filled palate.
Starting with the company working in the vineyards in 1986 when the winery was created, Glenn Salva became Estate Manager in 2002, working with Antica as well as some of the other Antinori properties in the US and beyond.  With longevity and insight of this property, Salva offers a unique perspective. He has seen the winery and the region develop as no other has, watching the growth, assisting as the Antinori's developed this picturesque property.
Tasting current vintage Antica 2012 Cabernet Sauvignon, as well as 2004, 2006, 2008 and 2010 at the rustic table inside the Italian inspired kitchen with Glenn transported you to the heart of Tuscany.  Earthy pairings from the winery chef, like kale and goat cheese crostini with estate produced olive oil, completed the picture.
I like these wines, always have since I first tried them about 10 years ago, tasting the 2002 at the time. Happily, those early vintages as well as the later ones show the expressiveness of this AVA, and the ability for these wines to age gracefully.  The well draining soils of the Atlas Peak hillside make the Cabernet vines dig deep into the ground for nutrients, producing earthy, mineral filled, hearty Cabernet with a lingering finesse. Many say that the 2006 was a great vintage for Napa, especially for wines you want to age….and it was my favorite of the tasting, as ripe tannins settle and create a silky textures.  The smooth and earthy 2004 expressed leather and spice notes, as well as dried fruit and soft tannins.  The acclaim for 2012, as it was both a year with great quality and immense quantity, is evident in ripe, black and red fruit filled Cabernet.  The harsh weather conditions of 2010 produced low yields for fruit, but quality was there, with blackberry, spice and purple flower notes. Antica wine are widely available in Dallas at Pogo's, Central Market and Spec's. The Antica Cabernet Savignon is $55; Chardonnay is $35.
Just launching in Napa Valley, Starfield Vineyards has the goal to source premier fruit from some of the cooler vineyard sites within Napa, as well Bordeaux, to create wines with balance, texture and complexity. Father-son team, Tom and Rob Sinton, look to hillside and mountain vineyards with nutrient poor, rocky terrains, to produce their Cabernet based Napa Valley reds, like Stagecoach, Broken Rock and Konrad, creating a black cherry, earthy, chocolate and pepper filled Cabernet Sauvingon for their 2011 Starbeam Cabernet Sauvignon. $65, available via their website.
Though not necessarily unknown, but certainly spectacular, Merryvale Profile  is a wine that shows why Napa Valley is so ideal for growing quality Cabernet Sauvignon. Merryvale wines are meant to be enjoyed with friends and family, while enjoying beautiful food and conversation, the art of living well. The 2010 Profile is created from hand picked, delicately sorted fruit from the Merryvale St. Helena Estate's hillside vineyards in the northern part of the region.  Bottled unfined and unfiltered after 22 months of 100% new French oak aging, this is a big wine (one of the most intense ever produced from the winery) with great aging ability, but also floral, ripe berry and spice notes that shine in the wine now, recommending to decant for 2 hours first. $175 available locally at Total Wine and More (at a slight discount from the suggested retail price) or via their website.
The other wine of Napa Valley, Chardonnay, does best in the cooler climates of Carneros at the base of Napa benefiting from cool coastal breezes from the Bay. Marryvale's sister winery, Starmont creates approachable Pinot Noir and Chardonnay from this area. I recently tried their 2012 Stanly Ranch Estate Chardonnay from the eastern half of Carneros. Handpicked fruit, that is pressed in whole clusters to protect the freshness of the grapes, fermented using native wild yeasts, and aged for 18 months on the lees (yeasts) in partially new oak creates a rich, creamy and layered Chardonnay, with depth, character and age-ability. Very small production of this wine was made in 2012, just 273 cases, $45 available via their website.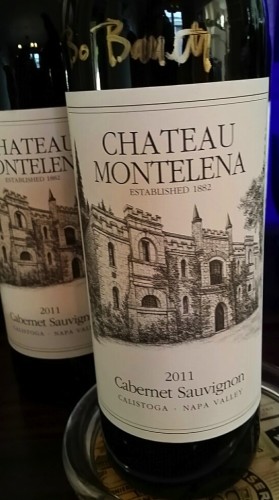 On the opposite end of the valley Chateau Montelena rests on their 40+ year old, Calistoga estate, growing black fruit and licorice filled Cabernet Sauvignon. Though 2011 was a difficult vintage in Napa Valley, with a long cool summer, forcing growers to remove much of their vine canopies to help grapes ripen, just as unexpected hot spurts hit the valley in August of the year, essentially sun-burning vines throughout the valley. For those that salvaged their crop, like Montelena, the grapes for the year are highly concentrated, filled with black berry, black plum and black licorice notes with great spice, helped by 14 months of oak aging. Lush, ripe and delicious, your perfect steak wine. $50, at Sigel's and Goody-Goody.
The Stag's Leap District of Napa has proven to be ideal for growing beloved Napa Cab, as well as not so traditional varieties, like Petite Sirah, with Stag's Leap Winery making one of the most well respected Petite Sirah reds in the valley.  Floral, sweet spice and black fruit define this rich wine that's heart is from the Stag's Leap estate fruit, with additional fruit from St. Helena, Calistoga, Oak Knoll and Oakville, utilizing spice and coconut filled American oak for the 12-14 months of aging to help round out the big wine, as well as blending in a touch of additional Rhone varieties to create a refined yet powerful wine. $45, available at Wine Poste and Total Wine & More.
In 1966 Robert Mondavi knew exactly where he wanted his prized winery to be located in Napa Valley, in the heart of Oakville on his To Kalon Vineyard.  Mondavi saw that within the small AVA of Oakville there were various micro-climates with a variety of soil types, from volcanic to gravelly to clay and sandy, lending itself the ability to produce diverse, interesting wines.  Robert Mondavi Winery Oakville 2011 Cabernet Sauvignon shows the structure and elegance of Oakville, and Napa Cabernet. The cool vintage wine is filled with pronounced herbal notes,mingling with black cherry and black berry, enhanced with toffee and coffee from 20 months of aging in predominantly new French oak barrels. $55, at Sigel's and Total Wine &  More.
Get the SideDish Newsletter
Dallas' hottest dining news, recipes, and reviews served up fresh to your inbox each week.