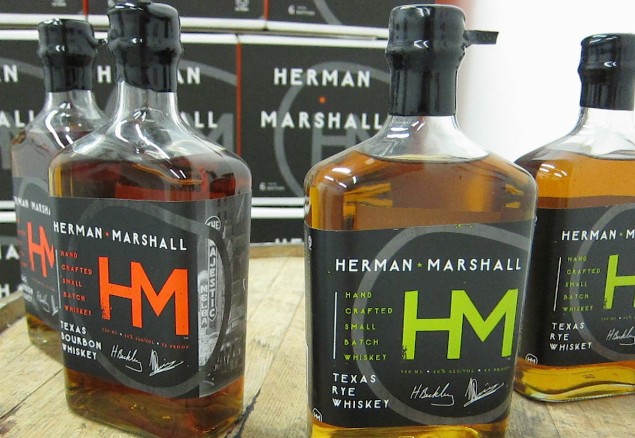 4th of July is this weekend and in order to make this very American holiday a bit more patriotic, why not drink something straight out of your own great state of Texas. Here are a few cocktails for Texans by Texans, with spirits either produced locally in Dallas or throughout the state. A few spirit samples were given for editorial consideration.  Happily, as they are all made her, all are available locally at liquor stores throughout the city.
Right in our own back yard Herman Beckley and Marshall Louis, the team behind Dallas' Herman-Marshall Whiskey, have been making small-batch, high quality, craft whiskey with a subtle, smooth palate and balanced taste, enhanced by their deep passion for what they are doing. Both, now in their second careers (Herman having been in the software industry and Marshall working in building and construction,) they agreed early on that this phase of their life will be about passion and making something they love.  Happily, the response from the public shows we like it too. Their sales focus is just on Texas now, distributing their Bourbon Whiskey and Rye Whiskey throughout the state with the help of Republic, after being produced in small-batches and aged in new American oak in their Garland distillery. Though both are delicious, the Rye adds a nice hearty earthiness mixed with caramel, orange and spice notes, ideal for a classic Manhattan.  Want to enjoy a simple dram, the straight Texas corn based Herman-Marshall Bourbon Whiskey is ideal.
Herman Marshall Rye Manhattan
2 ounces Herman Marshall Rye whiskey
1/2 ounce sweet vermouth
2-3 dashes Angostura bitters
Maraschino cherry for garnish
Preparation: Add ingredients to an ice filled shaker and shake until very cold. Strain into a coup glass and garnish with a cherry.
Balcones Distillery is the only producer in the country to make whiskey out of roasted blue corn for their Baby Blue Whisky, produced in Waco, TX, noting that the blue corn adds an nuttiness, earthiness and depth that isn't often found in traditional yellow corn whiskey. $42, available at Spec's.
Balcones Baby Blue Ginger Julep
2 parts Balcones Baby Blue
1 part Ginger Liqueur, like Domaine de Canton
½ part agave nectar or simple syrup
Juice of ½ lime
10 mint leaves
Preparation: Add the mint and agave to a shaker and muddle lightly together. Add the remaining ingredients and shake well, strain over ice into a rocks glass. Garnish with a mint sprig.
There might have been a time when making Moonshine wasn't something you really wanted to advertise. For spirits fans that time has passed as the explosion in the production and enjoyment of Moonshine continues to grow throughout the Country. The team behind JEM Beverage Company, the Carollton based distillery, keeps their operation constantly churning producing everything from vodka (Western Son) to rum (Sting Ray) to whiskey (Red River) and to moonshine – South House, produced in the original flavor as well as Peach, Apple Pie, and Cherry Limeade.  This spirit of the south tastes like summertime…especially the peach when mixed with a little cranberry juice and ginger. $18, available at Spec's.
Peach Pit Punch
1.5 oz South House Peach
.5 oz Ginger Liqueur, like King's Ginger
1 oz.Cranberry Juice
5. oz simple syrup
garnish with a lime
Preparation: Add all ingredients to an ice filled mason jar and serve garnished with a lime.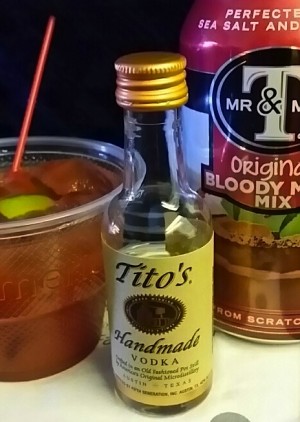 Vodka production continues to expand in Texas, as the clean spirit can be relatively easily produced (especially when you consider the time and aging requirements needed for producing whiskey and rum.) But with all these vodka producers popping up, I still find myself going back to the classic and one of the best from our great state – Tito's Vodka. Started in 1997 by Tito Beveridge producing vodka in the state's first distillery. Now, Tito's is sold all over the country, but retains their handmade approach and determination to make a quality product from pot stills in their Austin distillery. Though you can mix just about anything with Tito's, from Bloody Mary's to Cosmos, a simple vodka soda with a lemon and a lime is always my go to.
We love the Deep Eddy Vodka guys, having started their brand with their Sweet Tea Vodka made from black tea leaves, local honey and pure Texas water from their Austin aquifer, and expanding to straight vodka, cranberry and this, their Deep Eddy Ruby Red Vodka. Not too sweet with a very natural grapefruit taste, enhanced with just a little bit of extra citrus by adding a touch of lemonade and finishing it with soda, a perfect pool time cocktail.
Summer Kiss
2 parts Deep Eddy Ruby Red Grapefruit Vodka
1 part pink lemonade
Club Soda
Garnish with a lemon wheel
Preparation: Add all ingredients to a tall glass over ice. Garnish with a sprig of mint of a touch of hebaceous flavor.
Like your vodka with a little olive juice…or maybe a little a lot? Try anyone one of the vodka's from Texas with 1888, olive juice made from whole pressed olives, right here in Dallas. They even say it is good for you, since the Spanish olives are pressed whole the only thing included in the mix is the natural olive juice retaining some of the healthy fats and antioxidants in olives. $20, widely available throughout Dallas at most liquor stores.
Waterloo Gin was released not long ago from producer Treaty Oak Distilling Co. with the goal to make a London Dry Gin style, right here in Texas. With an infusion of juniper, herbs, citrus and botanicals, they have come close, and then added some good Texas flare with the addition of lavender, pecans and grapefruit, paying homage to some of the best products produced in the state. The gin is bold, aromatic and powerful, incredible with tonic, lime and a slice of green apple.
Garrison Bros. Texas Straight Bourbon Whiskey is not an inexpensive product, about $80 a bottle, but with the greatest attention to each and every detail of production, the end result should be perfection, according to the Garrison brothers. Which is why it is best enjoyed simply with a single cube of ice, slowly, savoring each sip of his Texas product. $75, available at Total Wine and More.
Get the SideDish Newsletter
Dallas' hottest dining news, recipes, and reviews served up fresh to your inbox each week.