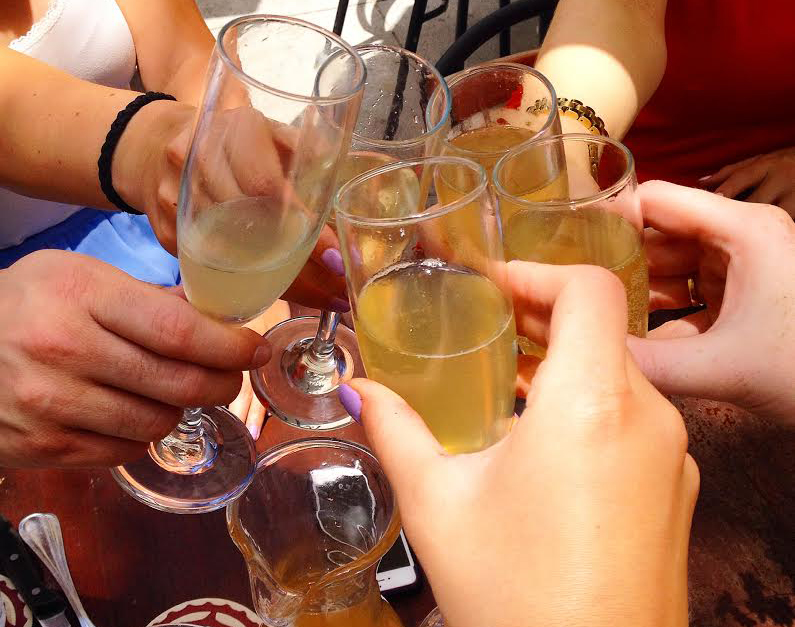 Tipsy Tuesday: Dallas Booze News
Pick your poison - there's plenty of reason to drink this week in DFW.
First, congratulations to local heroes Lakewood Brewing Company, Rahr & Sons and Peticolas for taking home awards at the 2014 U.S. Open Beer Championship on July 4th. A competition bringing together breweries from Australia and Iceland with more than 3,000 beers and ciders represented in 81 categories, it is the only brewery competition to include professional breweries and award-winning home-brewers. All three Texan breweries ranked among the Top 10 Breweries of 2014 with Lakewood bringing home two golds and one bronze for Rock Ryder American Wheat (Gold), Antigooon's Revenge Smoked/Rauch Beer (Gold) and La Dame du Lac French/Belgian Ale (Bronze). Tip one back in their honor with a bottle at home or with your buddies at the pub.
It's Tuesday, which means we survived the redheaded stepchild of the week (Monday). If you didn't already crack open a bottle last night, then I'd say you definitely deserve a drink. Friday seems far away, and if you're anything like me, you're probably already counting down the minutes to happy hour. Thankfully, Dallas feels our pain and has provided us with countless number of bars, boozy events, and award-winning breweries to keep us going.
For the wine lovers:
On Saturday, Fort Worth restaurant Bird Café will take guests on a journey through the wine countries of France, Austria, South Africa and Washington State as part of their summer tour through their wine list. This week features white wines paired with bites from their seasonal menu for $19.
How nice would it be to push work aside, grab a suitcase and fly across the ocean to Pamplona, Spain right now? Not for the annual Running of the Bull Festival of San Fermin in Pamplona, but to take part in the sangria showers and cheap wine gun fights going on throughout the streets. As much as I would love to run for my life from a bull full of fury, I love wine more. In honor of the festival, find yourself a glass of bubbly or full bottle of sangria to fuel your adrenaline by safer means. My favorite sangrias go out to Café Izmir and Casa Rubia.
For the beer lovers:
Starting at 5 pm this Wednesday, Meddlesome Moth will tap into the Belgian-style ale Ommegang Hennepin. Not only do drinkers get to keep the glass, but Ommegang Witte will run for just $4 a pint all month long as well. You can find me hunkered down with a cheeseboard and the pints flowing.
As part of their Harvest Dinner series, Asador will host a five-course beer dinner this Friday with local ingredients from Hudspeth and Tassione Farms, Mozzarella Company and Empire Bakery. Serving dishes family style, the restaurant will features plates like Roasted Tenderloin and Antelope Short Ribs for $60. Reserve your seat by calling 214-267-4815.
On Saturday, head to Tei-An for a rooftop party to celebrate Sahi Brewery's Gold Award in the 2014 World Beer Cup. $25 for women and $35 for men gets you into this night of brews, bites, and bumping music, but wear a kimono or yukata and receive $5 off entry. RSVP by calling George Kaiho at 214-220-2828.
For the cocktail lovers:
Dallas' Mexican cuisine just got a whole lot tastier with the addition of Komali's Inaugural Food and Art Event. The first in a series of art events hosted by the popular restaurant will feature artists including Brad Jensen, Sean McCune and Yelizaveta Nersesova. From 6-8 pm guests can enjoy hors d'oeuvres, a Mestizo Mezcal tasting and a signature cocktail in honor of the night. Oh, and did we mention admission is free? Call 214-252-0200 to reserve a spot.
Sometimes it's pretty hard being a woman. Thankfully, The Standard Pour gets us and thinks we deserve a little more lovin'. Dame's Dinner Club meets every Wednesday with a different complimentary three-course meal for ladies with a reservation. Round-up your girls and slip on those heels because you'll want to dance the night away to the live music after a couple craft cocktails from Standard Pour's skilled bartenders.
Lauryn Bodden is a DMagazine.com summer intern and a goalkeeper for the SMU women's soccer team.