The West Village location of LYFE Kitchen is having a Grand Opening today at 11 AM, featuring Art Smith (Oprah's former personal chef), chef Tal Ronnen and chef Jeremy Bringardner. The space sits on Lemmon Ave, with lots of windows and modern booths and tables. Just inside the front door, there is a rack of menus on the wall to choose from. They are labeled Vegan, Gluten-free, Everything, etc., and none of them are short by any means.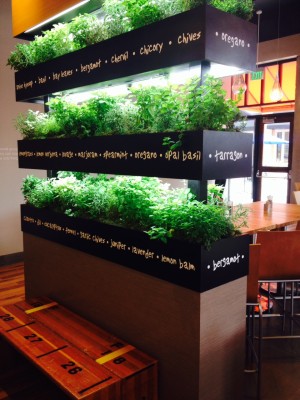 Guests order at the counter, where they are offered a juice, water or tea to go with their meal. A tall herb garden keeps diners company when they're standing in line in front of the large open kitchen. Seating is open, and orders are brought to the table pretty quickly. The staff seemed to still be a little unsure of the system, but very outgoing and friendly.
Breakfast is served from 7 – 11 AM and 8 – 11 AM on weekends, with options like classic breakfast platters and yogurt bowls. Lunch and dinner items span soups, salads, flatbreads (the Roasted Mushroom & Goat Cheese has a nice pomegranate balsamic glaze), burgers, pasta, and even steak and potatoes. The West Village location stays open until 10 PM Sunday – Thursday, and 11 PM Friday and Saturday. For Plano and Park Cities locations and hours, check our directory or the website.