Last week I introduced one of my favorite new wine regions, Franciacorta, the stunningly beautiful, premium sparkling wine region in the Lombardy region of Italy. My recent trip, and love of all things Italian, has got me drinking a lot of Italian wines lately, many of which are perfectly suited for warm weather. Here are a few to include in your summertime enjoyment, a few selections were sent for editorial consideration.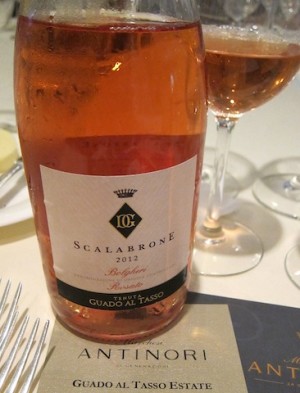 I had lunch recently with 26th generation Allegra Antinori, middle daughter of famed Italian producer, Marquis Antinori, attending as her guest, delving into the wines of the Antinori Guado al Tasso Estate from the Tuscan coast of Bolgheri DOC. With a close proximity to the sea, the winery benefits from constant breezes blowing in from the water creating consistent temperatures and a mild maritime climate year round, producing ripe, balanced fruit with briny influences from the sea air and minerality from the limestone filled, alluvial soils. Allegra is involved with many of the Antinori wineries, as are her two sisters, but this estate carries additional attention and passion for Allegra, as it includes several of her other passions besides wine, like a dedicated culinary center growing grains and vegetables, creating house-cured prosciutto from free-range Tuscan Cinta Senese pigs grazing on their property, and maintaining extensive olive groves for producing oil.
The key white wine of the area is Vermentino, known for both its fresh, lively characteristics, but also its depth and complexity while remaining approachable with a layered palate of stone fruit, fresh herbs and a touch of saline. This is also the area producing some of the best Super Tuscan wines in the country, with typical French varieties thriving in the moderate climate. The Guado al Tasso Scalabrone Rose blends Cabernet Sauvignon with equal parts Merlot and Syrah for a well balanced, barbecue ready wine filled with fresh tangerine, red berry, juicy red cherry, cracked pepper and briny olives. We tried the 2009 Guado al Tasso, the premier wine of the estate, blending Cabernet Sauvignon, Merlot and Cabernet Franc for a robust, yet elegant wine that shows the power and ability to age of these well-made Italian wines. Filled with fresh herbs, like sage and rosemary, with floral, black fruit and black licorice notes, the hearty wine paired perfectly with a slightly gamey, perfectly grilled lamb loin, highlighting the earthiness of the wine. Wines range from $15-$95, selections available at Jimmy's, Sigel's and Spec's.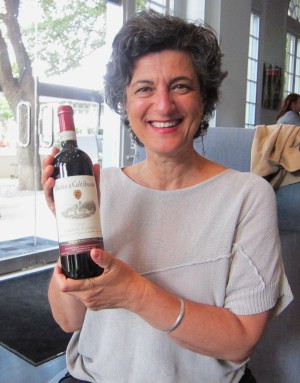 I also recently met with Emanuela Stucchi, owner of Badia a Coltibuono in Chianti Classico. She was in town stopping over before traveling down to Marfa for a wine dinner…and excited about her chance to stay in the James Dean room at The Hotel Paisano. Emanuela is a member of the 7th generation of her family managing the 1000 year old winery which they aquired in the mid-1800's, originally the "abbey of good culture" with historic importance in the European history as a landmark of both religion and spiritual refuge, as well as a center for learning and knowledge. Today the estate includes 180 different vineyard sites as well as 44 olive groves, all farmed and managed organically with native yeasts, mainly because this is the way they have always done it. Their goal is to produce quality Sangiovese from their vineyards that clearly show their sense of place, with depth, richness and balance. Their Badia a Coltibouno Chianti Classico Estate Riserva DOCG is a blend of 90% Sangiovese with a touch of Canaiolo to help round out and soften the acidic, red and black fruit filled Sangiovese, aged 2 years in oak, produced exclusively from their estate fruit. $35, available at Goody-Goody stores.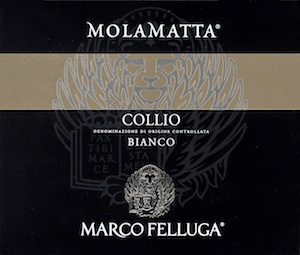 In the region known for producing some of the finest white wines in Italy sits Marco Felluga in the Fruili region in Northeast Italy producing layered, complex, high quality, mild weather indigenous varieties, predominantly white, from their 250 acres of estate vineyards filled with mineral rich soils, ideal for growing wines with complexity and structure. Marco Felluga Collio Bianco Molamatta is a blend of Pinot Bianco, Tocai Friulano and Ribolla Gialla creating an elegant, balanced and interesting white wine with character, without overpowering. A fresh, crisp wine perfect for summer, yet also rich enough to easily be enjoyed well into cooler months with juicy citrus and tropical fruit with a light, creamy finish. $22, available at Spec's.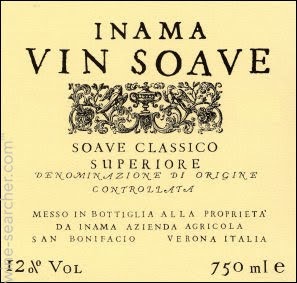 Inama continues to elevate the perception of Soave, as the wines from the Veneto region of Italy has had issues with quality and perception in the past, mainly as some producers focused on quantity vs. quality. Today, Soave, especially from producers like Inama, is a favorite variety for Italian wine lovers like me, proving that the Garganega grape variety can indeed produce very special wines. I love serving a quality Soave to friends who either say they don't care for Italian wine or white wine, as it usually surprises them with its balance, freshness, and approachability, while retaining character. Inama "Vin Soave" Soave Classico DOC, the entry level wine from the producer, is filled with fresh lemon, lime and stone fruit notes with touches of fresh herbs and steely mineral notes for a lively, juicy white wine. $15 available at Spec's and Jimmy's.
Brancaia TRE Rosso Toscano IGT blends predominantly Sangiovese with Merlot and Cabernet Sauvignon for a Super Tuscan wine highlighting freshness and juicy fruit flavors. Made from grapes from three different Tuscan vineyard sites, all from vineyards owned by the Brancaia estate, two in the interior hillsides of Tuscany, one set in a more coastal location, each adding different characteristics to the lush, red fruit and spice filled wine with ripe tannins and bright acidity, perfect for pairing with grilled brisket or ribs. $18 at Goody-Goody stores.
Get the SideDish Newsletter
Dallas' hottest dining news, recipes, and reviews served up fresh to your inbox each week.