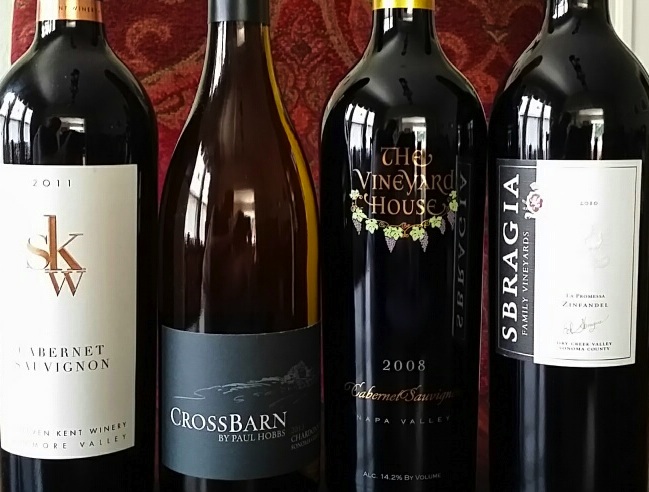 In planning for this post, I did a little research on wine and spirits made to honor dear old dad.  So this year, give your dad a gift he will love:  a great bottle of wine or high-quality spirit created out of love. A few selections were sent for editorial consideration.
Early on in Jeremy Nickel's life he was a bit of a mess, admittedly, enjoying substances that proved harmful to the young Oklahoma native, SMU graduate.  He got a firm wake up call while in college finding out his father, Gil Nickel, founder of NapaValley's famed Far Niente, Dolce and Nickel & Nickel wineries, had a progressive form of melanoma,  cancer that would eventually take his life.  Jeremy vowed to change his life. He got sober and determined to create something that would make his father proud.  The Vineyard House Cabernet Sauvignon is named after the small house, originally built in the 1850's, at the back of the Far Niente property in Oakville, Napa Valley that Gil left to his son when he passed in 2003.  The wine is lush, refined and special, earning high scores since the first release in 2005, proving that Jeremy's hope to create something special for his father did indeed come true.  Jeremy embraces the generosity of his father by donating 10% of the proceeds from each bottle to a group of charities. Available via The Vineyard House website by allocation, or online here. $200.
Paul Hobbs grew up in upstate New York. He worked the family farm with his father, originally tending to their orchard trees and then planting vines. He learned the passion for working with his hands from his dad.  Eventually he started his own projects , in Sonoma. He wanted his property to look like the farm he grew up on, so he framed the structure to remind him of his New York home. He named his entry-level wine CrossBarn, after his family's 150-year-old  farm where he grew up. The 2013 CrossBarn Sonoma Coast Chardonnay is just being released now. It's  filled with fresh citrus, tree and stone fruit, melding with white flowers and hints of sweet cream. A great wine for pairing with fresh pasta, grilled chicken or simply enjoyed on its own. $28. Available locally at Pogo's.
How do you honor a legend? By creating something that fullfils a life-long dream.  Legendary actor John Wayne had one of the most successful film careers in history, but the actor had a desire and passion to create something he never had a chance to: distill his own whiskey.  Now his son, Ethan Wayne, along with partners Jayson Woodbridge, Chris Radomsk, and Rich Howell, are introducing "The DUKE," a small batch, Kentucky Bourbon made to honor the big screen icon. The goal is to embody the spirit, strength, and richness John Wayne personified in every glass. $40. The spirit is now available in Texas.
Ed Sbragia is best known for his long career as head winemaker for Beringer in NapaValley. He created their well-loved and highly respected Beringer Reserve Cabernet Sauvignon and KnightsValley, amongst many others, during his 32 years with them. In 2006, he chose to start his own small, family winery in Dry Creek to honor his father and grandfather. He named the place Sbragia Family Vineyards.  Wine was a part of Ed Sbragia's life from childhood. His grandfather moved from Tuscany to California and the developed a wine community.  His father owned vineyards where Ed worked as a child. But neither father nor grandfather had their name on a bottle.  When Ed and his wife Jane bought the property the winery sits on now, they named it after the family.  Ed takes this a step further with his Gino's Zinfandel, named after his father. He uses grapes from the vineyards his father owned and where he worked as a child.  Today, Ed Sbragia is doubly blessed as he works side by side with his son, Sbragia Winemaker, Adam Sbragia.  Sbragia wines can be found locally at Dallas Fine Wine and select Spec's stores, or available via the winery website.
It was never Steven Mirrasou's intention to be a winemaker, even though he grew up in a legendary California wine-making family, said to be the oldest in America. Instead, he was a scholar and writer and graduated with a MA in literature from New YorkUniversity. The draw of California and the family business eventually called him home to Livermore, an area that surprised him a bit. He realized the potential for producing high-quality, Bordeaux-style wine. He and his father (5th generation California winemaker, Steve Mirrasou) worked together to create Steven Kent Winery in the region with the goal to make world class Cabernet Sauvignon that would rival the best wines from that other region in California. Lineage is his red Bordeaux-style blend, an homage to the grape and his family's lifelong commitment to it.  Along with his robust, bold, and black cherry filled Cabernet Sauvignon, Steven Kent also produces one of the best, single variety Cabernet Franc wines from Livermore fruit grown in the Ghielmetti vineyard. It is not often that we see Cab Fran on its own as it can be a bit vegetal or overly green, but when handled properly, it  is filled with purple flowers and fresh herbs, black and red berry fruit and a touch of licorice and spice. Both wines are available through the Steven Kent website http://stevenkentportfolio.com/. Lineage for $150. Cabernet Franc for $50.
Get the SideDish Newsletter
Dallas' hottest dining news, recipes, and reviews served up fresh to your inbox each week.