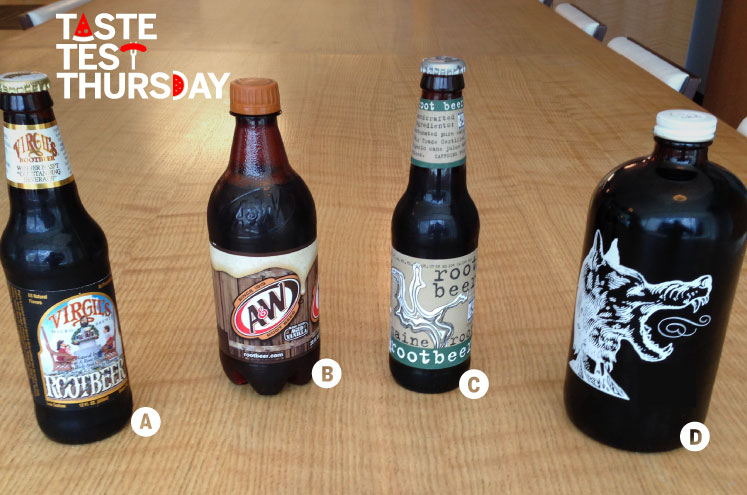 Taste Test Thursday: Root Beer
Taste Test Thursdays are back! Root beer, anyone?
With the 4th of July coming up, Dallas is celebrating in all kinds of 'Merican ways, such as corndog eating contests and Independence Day at the movies. We decided to follow along by tasting root beer in the office this week. Although exactly when and where it was invented is lost to history, it is generally agreed that the original recipe was created in colonial North America, making it more iconically American than apple pie and baseball.
I liked Barq's when I was growing up, but I hadn't had any root beer in years and I'm certainly no connoisseur. But some of my new colleagues are big fans of the stuff, and these bottles were drained dry. Except for one, that is. I'm surprised it didn't get hurled through the window.
THE TASTERS:
Ten people fighting over tiny cups of root beer.
THE CONTESTANTS:
A: Virgil's Root Beer
B: A&W
C: maine root (Fair Trade, organic, bought at Whole Foods)
D: Firewheel (Firewheel Brewing Co., Rowlett, TX. Growler from Lakewood Growler)
THE REVIEWS:
A:
"Where is the Abita? Blech."
"Tastes a little like artificial sweetener, but reminds me of classic root beer growing up."
"Sweet, very balanced."
"Tastes like dum dums. Not sure I love that. Very sweet. Flat."
"Not overly sweet, but flat."
"Rhubarby, carbonation is weak."
"Not enough carbonation, and flat in taste too."
"Not much flavor. Blah."
"Yuck. Tastes like licorice was soaked in it for hours."
"Chemically sweet, syrupy mouthfeel, kinda flat."
B:
"Very sweet, vanilla taste."
"Tasty. Root beerish."
"Too much syrup, very flat, too sweet, like water and syrup."
"Not as artificial, tangy at the end."
"Nice, balanced flavor."
"Also, blech. What is happening here?"
"This is right."
"Frothy, seems like a classic root beer."
"Not terribly flavorful but not entirely terrible."
C:
"This is terrible."
"Odd – less strong. Tastes bland, mixed with water."
"This just tastes like flat coke left out on a coffee table."
"Bland flavor, watery."
"This is not good."
"This one doesn't taste right."
"Nope."
"Seriously weird. Weird initial taste AND aftertaste."
D:
"I like the hint of vanilla, but it could use more carbonation."
"Caramely, burned kind of taste."
"This is even more terrible. So syrupy."
"Smells strongly of vanilla, but does not taste as such. Disappointing."
"NO."
"Creamier taste. Like a root beer flavored sucker."
"Flat, but nice caramel flavor."
"Not that fizzy–pretty flat. But it is not beer-y. And the lesser of four evils."
TALLY:
Virgil's: 3 votes
A&W: 6 votes
maine root: 0
Firewheel: 1 vote
CONCLUSIONS:
At first, the reactions were not great. People were spitting C (maine root) back into their cups or throwing it away altogether. D (Firewheel) got a couple nasty faces too. Virgil's held its own pretty well, but A&W reigned supreme here. Some tasters were disappointed–why did they have to pick the name brand? We were rooting for the underdogs.
One taster had a theory: maybe when we grow up with a certain thing, like A&W root beer, we come to think of that exact flavor profile as the thing we like, the default we measure other versions against. So, like we chose Nutella in our hazelnut spread taste test, maybe we picked the root beer that seemed closest to our idea of what root beer is supposed to taste like.
We wish we could have loved a local or organic variety. But A&W has been around since 1919, and the juggernaut has captured a market for itself, even if it is made with high fructose corn syrup and preservatives.