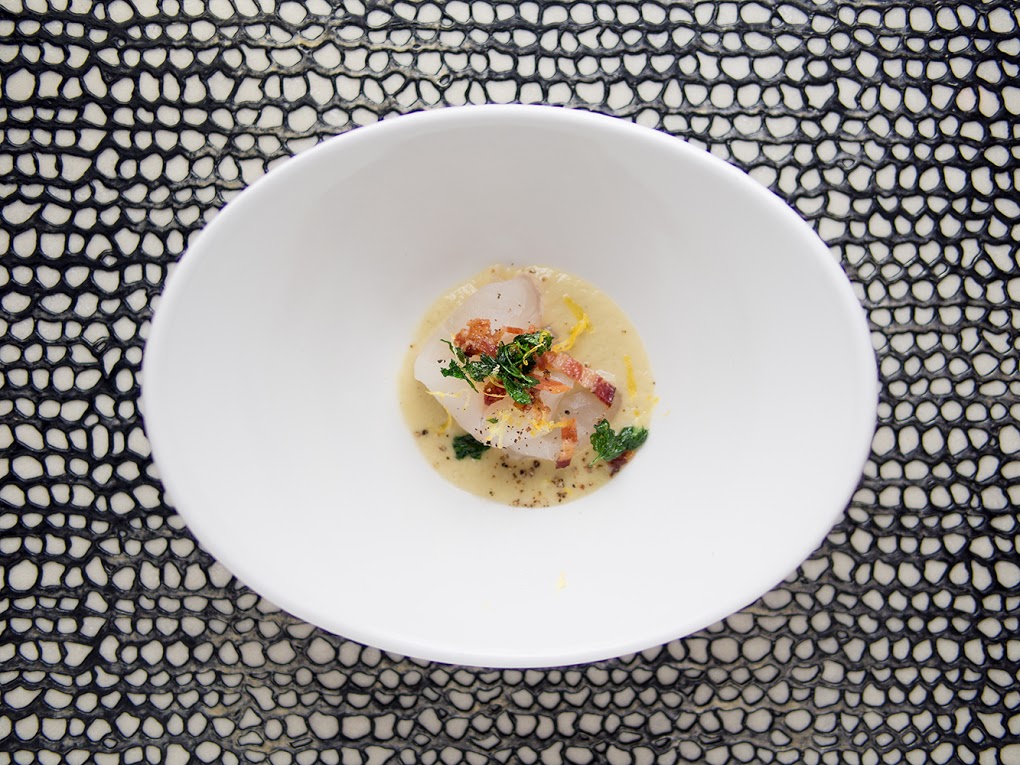 Report: Belly & Trumpet's Sea to Table Pairing Dinner
Every so often, chef Brian Zenner of Belly & Trumpet creates a multi-course tasting menu. Last night, he thrilled a sold-out restaurant with his Sea to Table feast.
My first introduction to Brian Zenner was last fall when I covered his tasting menu dedicated to the exploration of the Pacific Northwest. Love at first bite. Last night, I sat down to my second pairings dinner with chef Zenner at Belly & Trumpet, which verified that our initial meeting was no accident. The one-night event, Sea to Table was sold out. I attended as a guest. Eleven exemplary courses, all of which derived from the sea. Eleven. Caviar, oyster, scallop, geoduck, fluke, tuna, snapper, salmon, mackerel, hamachi, uni. Plus dessert.
Throughout the evening we ventured through a series of small plates of mostly raw, unaltered seafood ranging from formal to whimsical, each with its own persona. What I appreciated most about this challenge was the inability of chef Zenner to hide behind sauces and seasonings. Raw ingredients always speak the truth and, when prepared appropriately, bring the greatest rewards.
Guests were immediately notified of the gravity of the event by way of an amuse bouche of Hackleback caviar, served atop a crisp potato chip with crème fraiche and diced chives. Small, black and bursting with salinity, the caviar whet the appetite just enough to encourage conversation, further enhanced by a cocktail encompassing potato vodka, lillet, verjus and dry vermouth.
The snapper utilized a New Orleans spin of étoufée, rice, crawfish and celery. An intelligent use of Gulf ingredients, the dish was more smoky than spicy, which allowed the redfish to shine through the blend of spice and vegetables, further enhanced by a 2013 Muga Rosado rosé.
The dish I anticipated most was the mackerel, served with saffron soubise, chorizo and green almonds. Complemented with a Manzanilla sherry, this dish begged to be consumed on the coast of Spain. Mackerel is a naturally oily fish, and I loved the fact that chef Zenner chose not to fight it, but to enjoy it in its natural state by adding more oil to the plate via green almonds, which nearly mimicked pickled okra.
Fluke was presented on a bed of clam chowder puree with bacon, lemon and fried parsley. I found this presentation to be ingenious, as the combination of the chilled clam chowder, grated lemon zest and fried greens brought out the natural flavor components of the fluke. Hearty, yet clean and refreshing, not a single bite remained on the table.
The pinnacle of the evening came by way of freshly harvested uni, served atop a slice of peach with sisho, pecan and black bean paste. The acidity derived from the peach provided an elegant contrast to the savory components of the sea urchin. The shiso allowed for a clean entry, while the chopped pecan provided the requisite textural element necessary for stardom.
Belly & Trumpet's Sea to Table event proved that they remain one of the most innovative and progressive restaurants in all of Dallas. Tucked away near the corner of McKinney and Lemmon Avenue, this quaint establishment is the epitome of "affordable luxury" – one that is assured of the perfect date night, anniversary or simple mid-week indulgence.