There are few things as divine as a well made robust and refined, elegant and reserved Napa Valley Cabernet. From earthy Oakville to dusty Rutherford, to mineral rich, volcanic Atlas Peak and Howell Mountain, either valley floor or mountain fruit, from top to bottom the 30 mile long Napa Valley delivers such a vast variety of Cabernet Sauvignon styles that any palate can find something they like. Here are a few I have had a chance to taste lately, either with the winemakers or a few selections sent for editorial consideration, as well as one or two other varieties that have been proven to thrive in these gorgeous Napa Valley soils. And, if you are still looking for a great gift for mom…read on!

Stag's Leap Wine Cellars has a lot going on these days.  Winemaker Marcus Notaro has been with the winery as head winemaker for just over a year, joining the property from ColSolare in Walla Walla, WA, a jewel, like Stag's Leap, in the Ste. Michelle family.  In addition to constructing their new visitor center on the Stag's Leap Wine Cellars property, set to open this summer, Marcus is elevating the consistently delicious Napa Valley wines of the property.  I had a chance to try their 2012 Karia Chardonnay and 2011 Artemis Cabernet Sauvignon recently, both showing how robust and full bodied wines of the AVA can be with the Chardonnay showing layers of citrus, stone fruit and spice with bright acidity keeping the creaminess of the predominantly barrel fermented wine balanced and fresh. The Artemis is an incredible food wine with anything from earthy mushroom risotto to hearty braised beef or grilled steaks, filling the palate with juicy red fruit, licorice, tobacco and earthy cigar box notes with great texture and a smooth finish.  The Karia retails for around $35, Artemis for around $55, both are available locally at Total Wine & More.
If wild strawberry, dried cranberry and a touch of earthiness fit your palate, Carneros Pinot Noir is your wine. Classic Robert Mondavi Winery 2011 Reserve Pinot Noir blends complexity with fruit filled balance. Ripe red berry and juicy red cherry fill the palate, enhancing spice box and cedar notes from 9 months of aging in completely new French oak. Lively, balanced and fresh, an approachable wine with good structure and acidity, giving it age-ability. $60, available locally at Wine Poste.
I had the opportunity not long ago to meet Michael Mondavi, Robert's son and owner of Michael Mondavi Family Wines, along with his children, and partners, Rob and Dina, Rob taking the lead on the winemaking, Dina on marketing, label design, etc. with all coming together, including Michael's wife, when it is time to blend and taste. The wines in their portfolio clearly represent their family and how the generations are changing.  The M by Michael Mondavi ($200) the nod is given to the great Cabernet Sauvignon wines that defined Napa Valley in its early years, particularly when Michael and his father worked side-by-side at Robert Mondavi Winery. Beautifully bold and complex with mineral, earthy notes from the Atlas Peak fruit. Emblem Napa Cabernet Sauvignon ($40) is created from a blend of high quality fruit sourced throughout the valley, to truly portray Napa Valley, creating an approachable wine, somewhat representing the new, youthful style of Napa wine today, while maintaining great structure and balance. Both wines are available locally at Total Wine and More.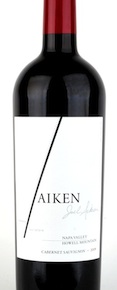 Joel Aiken's 30+ year career in Napa Valley, of which over 25 years was with Beaulieu Vineyard in Rutherford, starting in 1982 as Enologist and promoted to winemaker in 1985, has helped the distinguished winemaker understand the variances found between one part of the valley and another. With his Aiken Wines, started in 2009, he has the ability to use the finest fruit from high quality vineyards he has established relationships with by living and working in Napa for his entire career. Some of the best fruit he has found to work with comes from Oakville, home of such wineries as Miner, Far Niente and PlumpJack. Aiken's fruit comes from Oakville Ranch, a vineyard that sits up off the valley floor filled with mineral rich, red volcanic soils, producing powerful Cabernet Sauvignon with blackberry, black cherry, espresso and dark chocolate with a smooth, well rounded finish. $135 available locally at Sigel's or via the Aiken website.

Aiken is also winemaker/co-owner of Amici Wines, co-owned by Texas native John Harris, along with Celia and Bob Shepard, and Bart Woytowicz. Amici, meaning friends in Italian, was created out of a love for great wine and a passion for fun by the group of owners who started out making wine for themselves and found it was so well received they needed to start making it for consumers. The star in the Amici portfolio, tasted in the winery with Bob Shepard, first pulling samples out of the 2012 barrels that are still aging, and then tasting the finished 2010 in the bottle was the Amici Morisoli Vineyard Cabernet Sauvignon. Robust and complex, elegant and refined, this Rutherford Bench Cabernet elevates the palate with layers of black cherry, licorice, tobacco and chocolate notes with dust and leather notes. A well structured wine with hearty tannins that will continue to soften with a bit of age. $125 available via their website.
Mount Veeder sits high above the Napa Valley floor, running north-south along the Mayacamas Mountains at 1400-1800 feet elevation, and is known for growing full-bodied Cabernet Sauvignon. Mount Brave Cabernet Sauvignon from these steeply planted, high elevation vines grown in mineral rich, volcanic soils is filled with a blend of blueberry, blackberry and ripe cherry with layers of sweet vanilla and wild flowers mingling through from start to finish. $75 available locally at Total Wine and More.

Paul Hobb's Napa Valley Cabernet Sauvignon proves to be as special as the person who makes it, as Paul Hobbs is known for creating powerful wines with a delicate touch, displaying his passion and love for the vines through what he creates, making concentrated, layered wines while keeping them approachable. The latest release, his 2011, is silky, juicy and rich with expressive notes of black cherry, dark chocolate, tobacco and light spice notes. Bold yet balanced, even though very young. Decant for a few hours if enjoying now. The $100 at Total Wine and More in Plano; Sigel's also has a few previous vintages available.

Nickel & Nickel Cabernet Sauvignon defines Napa Valley with their single vineyard wines from some of the best locations in Napa Valley. From well draining rocky and gravely loam soils of the Rutherford bench in their Quarry Vineyard Cabernet Sauvignon to clay filled valley floor soils of their estate John C. Sullenger Vineyard in Oakville, each Nickel & Nickel wine has its own personality, character and flavor, the fun part is finding your particular flavor profile as you travel through the valley tasting each of their superior wines. The nice thing, they are all made with great care and craftsmanship, so the tasting is sure to please any fan of great Cabernet. Nickel & Nickel wines start at $90 a bottle, available locally at Total Wine and More, or via their website.
Merryvale is synonymous with quality, from their luscious and approachable Merryvale Starmont Chardonnay, always a great go to wine from the cool-climate Carneros region of Napa Valley, to their high end, incredibly special Merryvale Profile, with some very special wines in between. The Starmont Chardonnay blends a variety of techniques, including sur lie aging (or leaving the wine on the yeasts for a period of time to add creaminess and texture), to using both stainless steel (70%) and barrel fermentation, keeping the wine crisp and fresh while adding richness and depth. 2010 Merryvale Profile, this year completely from the St. Helena Profile estate vineyard, a first, shows intensity, depth and power, a leather, blackberry and espresso filled wine with hints of smoky spice and vanilla. Definitely a wine that will benefit from a bit of aging, or a few hours in a decanter if opened now. $165 available locally at Pogo's.
The wines of Cliff Lede marry great passion with superior process, utilizing the most modern, technical tools with stellar fruit and dedicated artistry to turn Napa Valley fruit into refined, sophisticated and elegant wines with character. Each year the wine making and viticulture team at Cliff Lede identify the best blocks of fruit in their estate vineyard to create their lyrically inspired, high end, Napa Valley Cabernet Sauvignon.  I admit, half the fun of this wine is deciphering the name for their rock block wines – like "Imagine Rapsody," "Landslide Fire," and current release, "Moondance Dream" as each of the 40 vineyard blocks of the estate are named after different classic rock songs. Named after blocks "Moondance" and" Dream On," the 2011 is filled with dark cherry and black fruit melding with mocha and espresso notes, with lingering hints of smoke and spice.  $95, available via their website.
If all of these wines have put you in the mood for a trip to the gorgeous Napa Valley this summer, make plans now to attend the best event in the valley, Auction Napa Valley. Taking place the first weekend in June, Auction Napa Valley brings together some of your favorite regional winemakers, chefs and restauranteurs for a celebration of great wine, food and fun while raising money for healthcare, educational and housing services for workers and children in Napa Valley. Yes, there are lots of opportunities to drink great wine with incredible food at events around town, and around the country, but Auction is truly something special. How often do you have a chance to snack on Thomas Keller's famed salmon tartare, hand delivered to you by the chef, then a sushi roll hand made for you by Iron Chef Morimoto, while sipping barrel samples of wine delivered to your glass by the winemaker, as you stand in the middle of their vineyards, before falling into your plush, luxurious bed at the stunning Meadowood Hotel, host venue of the annual event. There are few experiences better for wine and food lovers.
If you can't make it out this year, check out their online e-auction, the lots are available for viewing now with the bidding starting on June 1.
Get the SideDish Newsletter
Dallas' hottest dining news, recipes, and reviews served up fresh to your inbox each week.