Happy Cinco de Mayo, the Mexican holiday that seems to be celebrated more in America and Texas in particular. Perhaps that is because Texans are generally in a celebratory mood and seeking a reason to raise a glass. Let's do so today, the one that commemorates the 1862 victory of the Mexican army over France at the at the Battle of Puebla  during the Franco-Mexican War. In America, we traditionally toast this holiday with Mexican cocktails, like our beloved margarita (also created by an American, Dallas socialite Margaret Sames.) This year, in addition to the tequila filled libation I wanted to introduce a few summer-time cocktails perfect for patio afternoons today as well as the rest of the summer. A few spirit samples were sent for editorial consideration.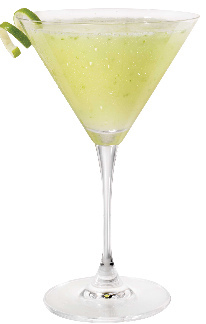 I am a Reposado tequila fan, loving that bit of caramel and toasted orange notes the short period of oak aging gives quality tequila. I also love anything with ginger: it's like using truffles in dishes– the more ginger the better. This tequila take on a Moscow Mule delivers on both. Perhaps we should call it the Mexican Mule.
Cabo Burro
1 oz. Cabo Reposado Tequila
1 oz. Ginger Beer
½ oz. freshly squeezed Lime Juice
Directions: Add all ingredients to an ice-filled highball glass. Stir and garnish with a Lime Wheel.
My favorite beach-side cocktail is the Paloma. The drink with a zesty punch of grapefruit mingling with floral, spicy tequila. It's easy to make and always delicious. The recipe calls for the addition of agave, but the soda adds enough sweetness for me.  I suggest you try it out before adding the agave, especially if you don't like super sweet cocktails.
Paloma
2 oz Camarena Silver Tequila
1 tsp Agave Nectar
1/2 oz Fresh Lime Juice
4 oz Grapefruit Soda
Directions:  Combine tequila, agave nectar and lime juice in a highball glass. Mix well. Fill glass to brim with ice. Top with grapefruit soda and stir gently with a bar spoon. Garnish with a lime wheel.
Speaking of grapefruit, if you haven't tried the Deep Eddy Ruby Red Grapefruit vodka you are missing out. It may sound weird, but Deep Eddy distillers manage to get the true taste of grapefruit in the vodka with ending up with a syrupy sweet spirit. It's fantastic simply topped with club soda and a lemon squeeze. You can add a bit of Skyy Ginger Infusions Vodka for an extra touch of spice.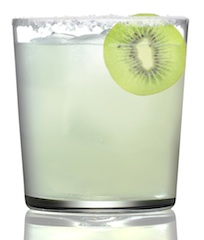 The lime shortage we are in the midst of is hurting traditional margarita lovers, but don't resort to the lime juice in a bottle just yet. Instead mix a cocktail with one of your favorite fresh fruits in substitute for the lime, like this tasty option from Avion Tequila.
Kiwi Margarita
2 oz. Avión Añejo
Handful of Fresh Kiwi
1 teaspoon Brown Sugar
1 oz. Cointreau
Squeeze Fresh Lemon Juice
Garnish with Kiwi Wheel
Directions: Muddle a handful of fresh kiwi in a pint glass to bring out the juices and flavor. Add one teaspoon brown sugar, a dash of Cointreau and fresh lemon. Then, finish it off with 2 ounces of Avión Añejo. Shake and strain into a rocks glass filled with ice. Garnish with a kiwi wheel
The other evening,  I tried the Strawberry Kiss cocktail at SOUK in Trinity Groves. I recreated it this weekend and I now have my go-to cocktail for the long, hot summer. It combines sweet with heat and freshness with flavor.
SOUK-Inspired Strawberry Kiss
2 ounces vodka, I used Belvedere
4 thin slices of fresh jalapeno, seeds and ribs removed
2 sprigs fresh basil, gently torn
3 large strawberries, stem removed and sliced into quarters
Juice of ½ lime
Club Soda
Directions: Add jalapeno, basil and strawberries to a cocktail shaker and gently muddle together, breaking up the strawberries. Add ice, vodka and lime and shake until very cold. Pour into a tall Collins glass and top with club soda.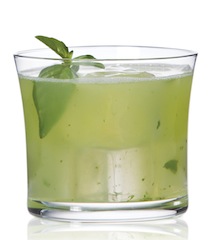 We love fresh herbs in cocktails, and this one with basil brings freshness into every sip – would also be delicious with cilantro and jalapeno.
Basil Patrón
2 oz Patrón Silver
1 oz Lime Juice
1 oz Basil Syrup
Fresh Basil Leaf for Garnish
Directions: Fill a double rocks glass with ice, add ingredients, and stir well. Garnish with a fresh basil leaf.
*For basil syrup -Combine 1 cup of sugar, 1/2 cup of water, and 1/2 cup of washed basil leaves in a small saucepan. Bring to a simmer on medium heat, stirring occasionally, until sugar has dissolved. Remove from heat. Let the syrup cool completely.
For the Margarita traditionalists – The original Cointreau, tequila and lime cocktail with a smoky Mezcal twist.
Smoky Margarita
1 ounce Herradura Reposado
1 ounce Joyas Gran Reserva Mezcal
1 ounce Cointreau
3/4 ounce freshly squeezed lime juice
Directions: Add all ingredients to an ice filled cocktail shaker and shake until very cold. Serve either straight up or on the rocks in a margarita or martini glass rimmed with chili-salt. Garnish with a lime wedge.
And, if you are looking for something to snack on with your Cinco de Mayo libations, TJ's Seafood Oak Lawn location has half price fish tacos, complete with Sriracha pico de gallo and jalapeno aioli, all day long.
Get the SideDish Newsletter
Dallas' hottest dining news, recipes, and reviews served up fresh to your inbox each week.