Happy Chardonnay Day!  Yes, for pretty much any taste treat we have a specific day to celebrate it – National Mac and Cheese Day, National Hot Chocolate Day, National Bacon Day…but today is one of my favorites, because I do love a good, crisp glass of Chardonnay.  I hear so many people tell me they don't like Chardonnay, to then try a great one and realize how special this Burgundian varietal is….probably because Chardonnay of days past, often those from our beloved California, were heavy, buttery, oaky, and way too intense, or they were just flat, flabby and uninteresting.  Lucky for us, those days have changed and Chardonnay wines of today are fantastic, lively any approachable, often being as budget friendly as they are palate friendly.  Here are a few excellent selections, many very reasonably priced as well as delicious.  A few selections were sent for editorial consideration.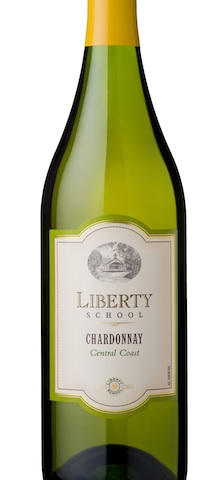 Liberty School Chardonnay from winemaker/owner Austin Hope, producing stellar, often sustainably grown wines in his Paso Robles winery.  Liberty School is their entry level wine, but drinks like it is much more expensive.  For years Austin and his father were growers for Charles Wagner and their Mer Soleil Chardonnay, now Austin uses much of this fruit for his Liberty School, producing elegant, crisp, balanced wine with notes for green apple, spiced pear and a touch of white flowers.  $15, available at Goody-Goody Stores.
Another very affordable Chardonnay comes from Souverain using cool climate fruit from Napa, Sonoma and Mendocino counties.  The wine is a nice mix of both tropical fruit notes, mango and pineapple, with cream, ripe pear and citrus.  An easy wine to enjoy with roasted chicken or pasta with a lemon cream sauce. $13 available at Spec's.
Argentina is an interesting place for wine, because they grow so many varieties so well, and often with an earthy, herbal and floral undertone.  Alamos Chardonnay fills the palate with ripe stone fruit and citrus mingling with white flowers, toasted caramel and spice to an easy to drink wine, good served very cold on a hot day. $14 widely available throughout Dallas.
Napa Valley's William Hill wines are well loved by fans of the region, as they are always high quality with consistent flavor profiles.  They recently released an inaugural 2012 vintage of their North Coast Chardonnay, with fruit blended from Sonoma and Mendocino counties, along with a touch of Napa.  After harvest a portion of the wine is fermented in oak and a portion in stainless steel to create freshness and crispness, balanced with creamy layers and good texture.  $17 available at Spec's stores.

Chateau St. Jean is known for producing a great, entry level Sonoma Chardonnay, in the creamy, yet still balanced California style, that for about $10 a bottle is always an easy go to.  Beyond that though the winery produces a handful of very special, single vineyard Chardonnay wines from vines grown throughout Sonoma. Their Chateau St. Jean Robert Young Chardonnay is one of my favorite out of the bunch, made from the "Robert Young" Chardonnay clone, a hybrid of the Wente clone that was the for to for many California Chardonnay producers for years, grown in Alexander Valley.  The wine is filled with white peach and apricot notes, mingling with lemon curd, sweet baking spice and a touch of minerality.  $25, available at Total Wine and More.
Late last week Violet Grgich was in Dallas tasting through a selection of her Grgich Hills wines, including the much beloved Napa Valley Chardonnay. Steely and fresh, the Carneros and American Canyon grown wine does not go through Malolactic Fermentation, keeping it crisp, but it is aged for about 10 months in partially new French oak, adding texture along with creamy toasted vanilla and spice notes.  Always delicious, always inviting.  About $40 a bottle (prices vary by retail location,) available at Total Wine and More and Central Market.

Prefer your Chardonnay to come in the form of a bubble? Well you are in luck as it is the base for pretty much every Champagne and many American sparkling wines.  It is also one of the key grapes in Franciacorta, the sparkling wine region of Italy that has become known for producing very high quality, traditional method sparkling wine from Chardonnay, Pinot Noir and Pinot Blanc. Berlucchi Franciacorta 61 Brut a wine that celebrates the start of the region when key individuals from Italy, mainly Milan, came to this majestic and beautiful place near the Alps in the Lombardy region and decided to make a sparkling wine that would rival the best in the world. Today the Franciacorta 61 Brut is made from 90% Chardonnay with a touch of Pinot Noir for a refreshing sparkler filled with layers of tropical fruit, green apple,lemon zest and definitive layers of white flowers and a touch of fresh herbs, similar characteristics of the dry, appealing and fresh wines of the region. $35 available at Goody-Goody stores and Total Wine and More.
I can't write about Chardonnay and not include one of my favorites from Napa Valley, Miner Family Wines Wild Yeast Chardonnay made from incredible cool weather Chardonnay grown in the southern part of the region, hand picked at harvest and then uses only native yeast to begin fermentation naturally, taking as little or as long as needed. Juicy layers of ripe pear and citrus meld with honeysuckle and spice for an incredibly special wine. $50 available at Sigel's.
Get the SideDish Newsletter
Dallas' hottest dining news, recipes, and reviews served up fresh to your inbox each week.