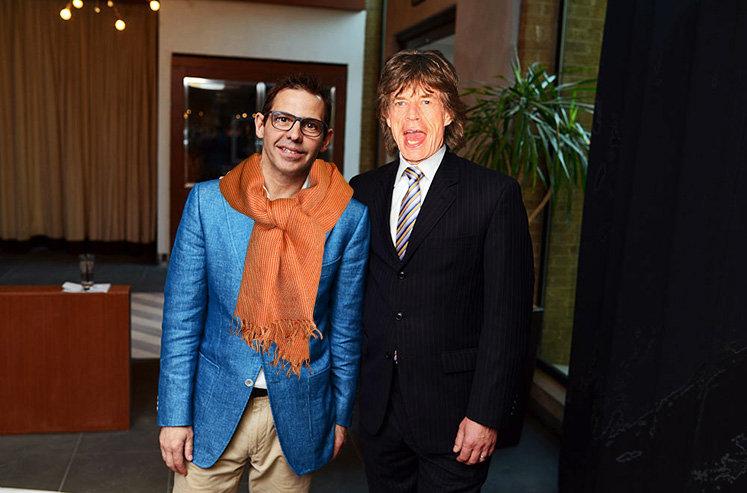 Trash Talking With John Tesar The Most Hated Chef in Dallas. Or is He?
I recently talked some trash with Jay Jerrier. Today, I will attempt to get inside the head of chef John Tesar. Love him or hate him, he can cook. "His" new restaurant, Knife Modern Steak, opened May 15. Let's get to it.
I recently talked some trash  with Jay Jerrier. Today, I will attempt to get inside the head of chef John Tesar. Love him or hate him, he can cook. "His" new restaurant, Knife Modern Steak, opened May 15.  Let's get to it.
 NN: One summer night in 1972, I sat next to a very drunk Carly Simon at a clam bake on a beach in the Hampton's. She took a swing from a bottle of Cold Duck and whispered "Tesar" in my ear. Is it true that you are the dude with the apricot scarf? You know the guy that all the girls dreamed that they'd be your partner?
JT: First off, I'm not Mick Jagger. Second, I'm not that vain, just very passionate and focused on what I do and sometimes that confuses people. I can't help if I'm good at what I do.
NN: Okay, so you're not the most famous vain man in the world, but somebody I know saw you at a party and said: "When he walked into the room it was like Mick Jagger had just entered." I thought everybody hated you. What's up with that?
JT: I'm lucky enough to have the opportunity to showcase my desire and my abilities and Dallas has actually been quite wonderful to me. I can't tell you why people think of chefs as rock stars, but I'll tell you one thing – it's totally enjoyable.
NN: I know you are a happily married family man. How do you deal with all of the chef groupies?
JT: I don't look at them as admirers or even groupies, I look at them as wonderful people who think what I do is interesting and I'm extremely appreciative of that.
NN: Be honest. If you'd had any input in Anthony Bourdain's Kitchen Confidential, you would have suggested Jimmy Neimans over Jimmy Sears. Right? You're image conscious.
JT: I have no idea why Anthony Bourdain used a pseudonym. If I would have it my way, I would have called myself John Tesar. I only wish he would have been more honest about some of those stories being mine.
NN: Why are you so obsessed with naming restaurants after utensils? Spoon, Knife…Are you planning a casual seafood spot called Teaspoons?  If not, what is next?
JT: Spoon was something I always had in my mind as a name for a restaurant, so when I had the opportunity to open a seafood restaurant, I had it all in my head. With Knife, it was common sense. You can't eat steak without a knife. It wasn't intended – I wanted something you would remember and made sense. Everything I do has to make sense – at least to me, maybe not to everyone else.
NN: Knife. New-School Steaks. Cocktails. Fancy stuff. I see you are selling 240-day aged beef at $80 an inch. That tells me nothing. Why not ounces? WTF is an inch of beef? And while you're at it, tell us why 240 days is better than the rest?
JT: From a butchering and cooking perspective, it makes the most sense to cut in inches instead of ounces so the cut is even and uniform. When you measure in weight, sometimes you have to cut off the middle or end plus it includes the weight of bones, which decreases the amount of meat you get. We've gone to such lengths to bring this concept to life that we want the cuts to be exceptional.
NN: I noticed on Facebook that you and The Brad were clowning around in the first class cabin of a Brazil-bound jet. Who paid for that alleged R&D trip? Explain yourself, sir.
JT: We have a very close friend who loves food and loves life. She's a wonderful person and she supports all of the good restaurants in Dallas. We have become good friends and we always talk about the San Pellegrino 50 best restaurants in the world and she feels I have the potential to be one of those chefs one day. She wanted me and Brad, who's a brilliant photographer, director and foodie, to see those restaurants. She knows we can't afford that trip and she's an extremely philanthropic person. She does a lot for us and for many others. When we ask her why, she says because it makes her happy. We are extremely lucky to know her.
NN: Did you quit Tesaring with your glasses? That was the first thing you ever did that made me like you.
JT:  I have better glasses now and I don't need to push them up on my forehead anymore. But I hope you still like me. I will execute Tesaring upon request.
NN: Sling it: Worst upscale restaurant in Dallas? (Other than yours)
JT: It's a very interesting time in the history of Dallas restaurants right now. As the food and dining scene become more world class, the public will become more aware and able to judge for themselves what's good and what's not.
NN: Sling it again: Best upscale restaurant in Dallas? (other than yours)
JT: I don't believe there's a best of anything – each and every chef has their own personal touch. My three favorite chefs in town are Tim Byres at Smoke, Teiichi Sakurai at Tei-An, and Bruno Davillion at The Mansion.
Jay Jerrier started a new tradition on Trash Talking with this exchange:
NN: Thanks for stopping by SideDish. Do you have any questions for me?

JJ:  Marry One. F One, Kill One:  Jack Perkins, Brian Luscher, Chad Houser.

NN: First, apologies to all three wives. Let's see. I'd marry Brian Luscher for two reasons: he can cook and I'd demand he share Courtney in the deal. I'd F Chad Houser because right now I'm the only person in town who hasn't.  I'd  kill Jack Perkins so I wouldn't have to F or marry him.
NN:  I will now turn the tables and ask. Marry One. F One, Kill One:  Leslie Brenner, Teresa Gubbins, Nick Badovinus.
JT: Marry Leslie to make Matt McCallister jealous. F Teresa because she's the coolest. Kill Nick because people ask me to on a regular basis.
NN:  Do you have any questions for SideDish?
JT: QUESTION FOR NANCY: If you had your choice, who would be the food critic for the Dallas Morning News?
NN: Bill Addison.