There's nothing I love more than a buttered piece of crispy-on-top toast, covered in jam. Raspberry jam.
That extra, seedy little crunch goes a long way. Just thinking about it makes me hungry.
As many of you may know, this is my last day at D, which means it's my last taste test. Forever. But don't shed too many tears for me, Argentina (or Dallas); I'm going to be eating and drinking my way in San Francisco like the pudgeball that I am. Come visit, SideDishers. I'll miss all of you. Even you, not-nice commenters. I'll be thinking of you, too.


A. New Canaan Farms' raspberry jam – Dripping Springs, TX (bought at Central Market)

B. Blake Hill Preserves of Vermont's raspberry and hibiscus flower jam – Dallas, TX (bought at Central Market)

C. JJ&B's raspberry-rhubarb jam – Dallas, TX (bought at Green Grocer)

D. Stonewall Kitchen's red raspberry jam – York, Maine (bought at Central Market)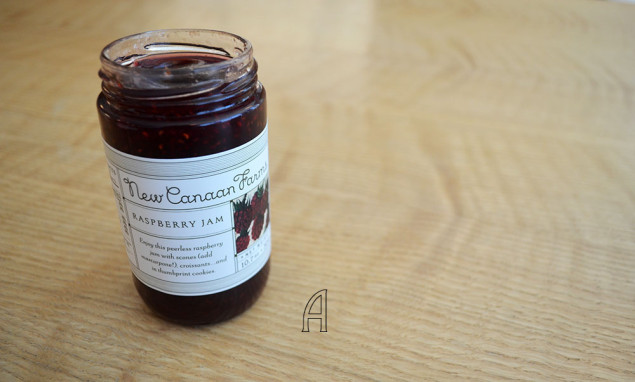 Ingredients: cane sugar, raspberries, water, citrus, pectin, citric acid
"Feels Smuckers-y to me."
"So sweet. The opposite of Carol. Smuckers?"
(She jests.)
"Very sweet. Too sweet."
"Too syrupy"
"Mild with good raspberry. Nice."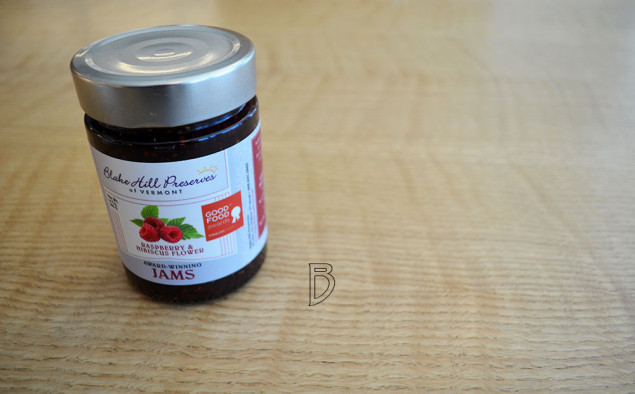 Ingredients: Raspberries, non-GMO, certified pure cane sugar, organic lemon juice organic hibiscus flowers
"Really dark red color, like the blood that pools beneath a freshly slaughtered pig after the carcass is hung on a hook and allowed to drain. Seedy, too. Earthy flavor, not overly sweet. This is the best one."
"Vinegar and candy, swampy. Limp."
"Almost a burnt root beer taste."
"Tastes like melted candy with too many seeds."
"Excellent dark color. Very tart. Yum."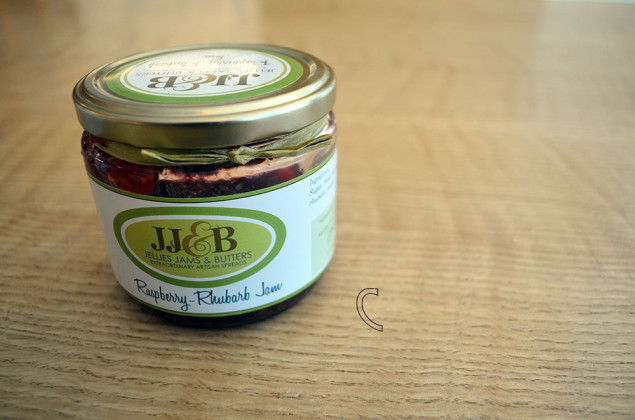 Ingredients: sugar, fresh raspberries, fresh rhubarb, pectin

"Tastes like it has another fruit in addition to raspberries. Rhubarb, maybe?"
"Where the hell are the seeds? And it looks way more jelly-y than jammy. Are there gummy bears in here? The chunks taste and feel like gummy bears. Huge turn-off."
"Nasty chunks, ugly, and too much gelatin."
"Separates oddly. I like the fruit, but it has an odd pepper taste."
"Chunky. Looks like rhubarb. Pretty mild but concerned with the chunks. Where do they come from? Why is it so pink? This must be a hybrid. Oh, and I like it."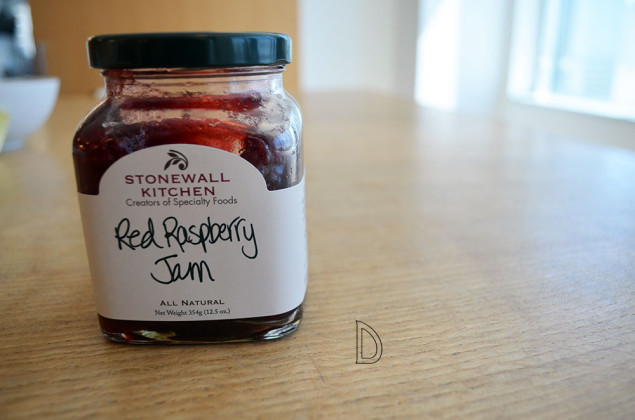 Ingredients: red raspberries, pure cane sugar, lemon juice, fruit pectin, citric acid
"It gives B a run for its money, which is good. Because B needs a competitor to motivate it to work hard in the off season, sort of like Larry Bird did to Magic Johnson. I'm not saying Bird was inferior to Johnson. They were both awesome, obviously. But you know what I'm saying. "
"The chunkiest texture, most appealing to look at. Also, the best raspberry flavor"
"Great texture. Kind of bland, but probably good on a PB&J."
"Tangy and dry."
"My favorite. Nice consistency. Very fruity with a little sour after-taste."


4 votes for (D) Stonewall Kitchen
2 votes for (B) Blake Hill
2 votes for (C) JJ&B
1 vote for (A) New Canaan Farms

With two Texas jams and two out-of-state jam companies, I was, of course, rooting for my home state. We came out on bottom, but that doesn't mean we lost. The spread, for the most part, was pretty good. Most people loved Stonewall Kitchen because it had this buttery, raspberry, super-traditional fruit taste. It was chunky, but not too chunky. It had just the right amount of seeds.
I'm surprised Blake Hill did better than JJ&B, just because it tasted like maple syrup and had too-smooth of a consistency. I didn't like it. Its texture was flat. Like syrup, as I said.
JJ&B, on the other hand, is the one local brand in the mix, and it had a more mild raspberry sweetness mixed with rhubarb. They were almost like rhubarb gushers. Someone described it as 'tofu chunks.' It was the lightest in color, had the most watery pooling, but I still loved it. I'm a huge fan of Kathy Neumuller, a Dallas recruiter-turned-jam-maker. Then again, how can I not love a woman who offers me goodbye jam as a going-away present? Go love her back and visit her stall at the White Rock Local Market.
It's been a good run, taste test readers. I'm off.
All caps recap:
THE MOST SMUCKERS-Y ONE: New Canaan
THE MOST RHUBARB-Y: JJ&B
THE MOST SYRUPY SWEET: Blake Hill
THE JAMMIEST JAM: Stonewall Kitchen
Get the SideDish Newsletter
Dallas' hottest dining news, recipes, and reviews served up fresh to your inbox each week.