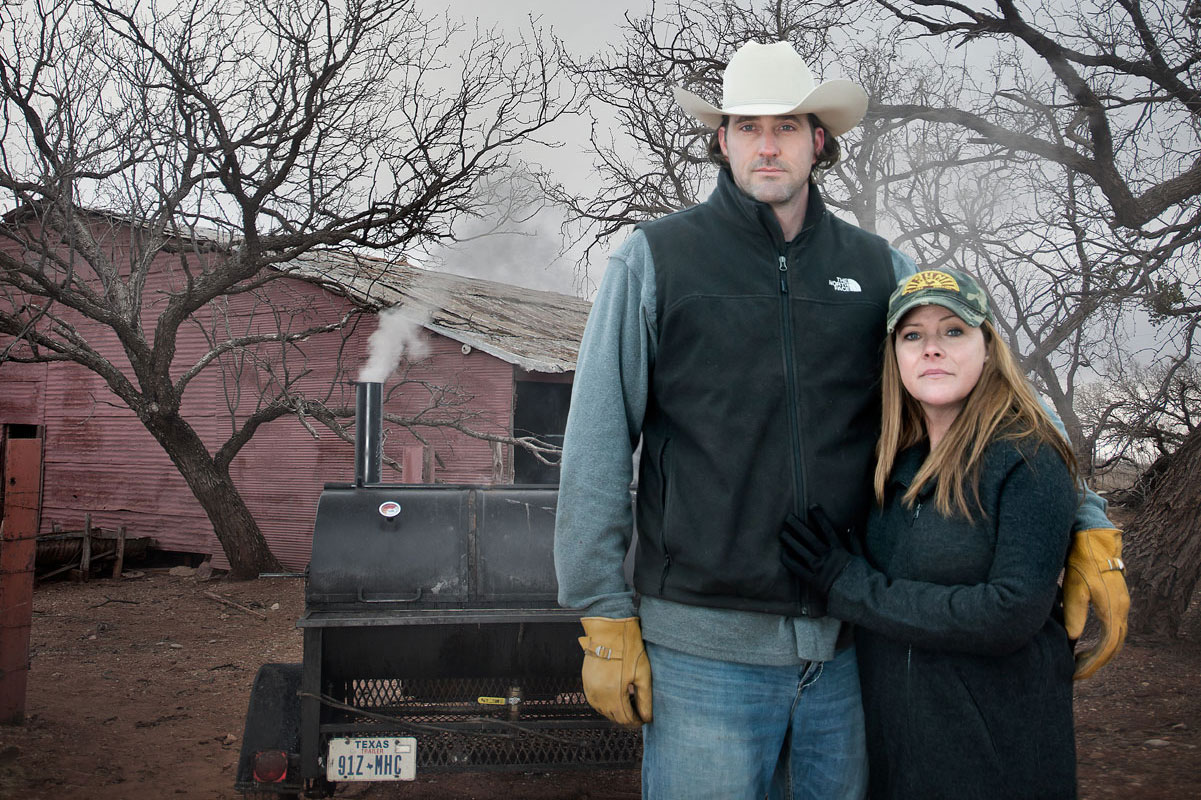 Pecan Lodge Opens Today. Here is The Unbelievable Story of Pecan Lodge
I shadowed owners Justin and Diane Fourton for 10 months.
Sometime in the middle of August 2013, I called Diane Fourton and asked if she and her husband, Justin would meet with me. I'd heard bits and pieces of their story over the years, and I was curious to learn more about them. They were in the middle of negotiating with the Dallas Farmers Market and looking at properties all over town.
I drove to their house and sat down with them. The stories flowed. So did the tears. The couple was in agony over their future.  Two hours later, I left with enough material to fill a whole magazine. We continued to meet, talk, email, and text. In all of my years as a journalist, I've never gotten so close to a subject. I found myself holding my hand over my mouth instead of blurting out advise. Sometimes  the answer they were searching for seemed  so obvious to me.
In early March, Justin hitched up their original smoker, Lurlene, to the back of their car, and we headed to his hometown of Abilene. Our mission was to visit his grandfather's farm. It would be Justin's first time to see the place since it was sold. He wanted to find the original casita which the family called Pecan Lodge. They were heartbroken to hear it had been demolished.
We left Dallas and drove in a wicked ice storm. The journey took over five hours. We talked about family, friends, the restaurant business, all subjects close to their hearts. Photographer Elizabeth Lavin worried she was losing daylight, so we drove straight to the ranch. I will never forget watching Justin take a deep breath, donning his cowboy hat and walking to the gate. I could see his shoulders shaking. When he turned around, his face was wet with tears.
We unhitched Lurlene and hauled her to the original barn.  Lavin captured the moment in the photo at the top of this post. That night, we dined at Perini's Steakhouse in Buffalo Gap. Tom and Lisa Perini are long-time friends of the Fourton family in Abilene and have been unofficial restaurant therapists for Diane and Justin.
It was sleeting outside, and we sat around a table by the fireplace with Tom and Lisa. We bumped into members of the Fourton family who just happened to drop in for dinner. It was a glorious evening filled with friends and family, and I thank them for allowing me to witness their life in such an intimate setting.
Today, the Fourtons open their dream vision of Pecan Lodge to the public. The new restaurant in Deep Ellum is a culmination of their past lives, and their wishes, hopes, and dreams for the future.
I invite you to read "The Unbelievable Story of Pecan Lodge."