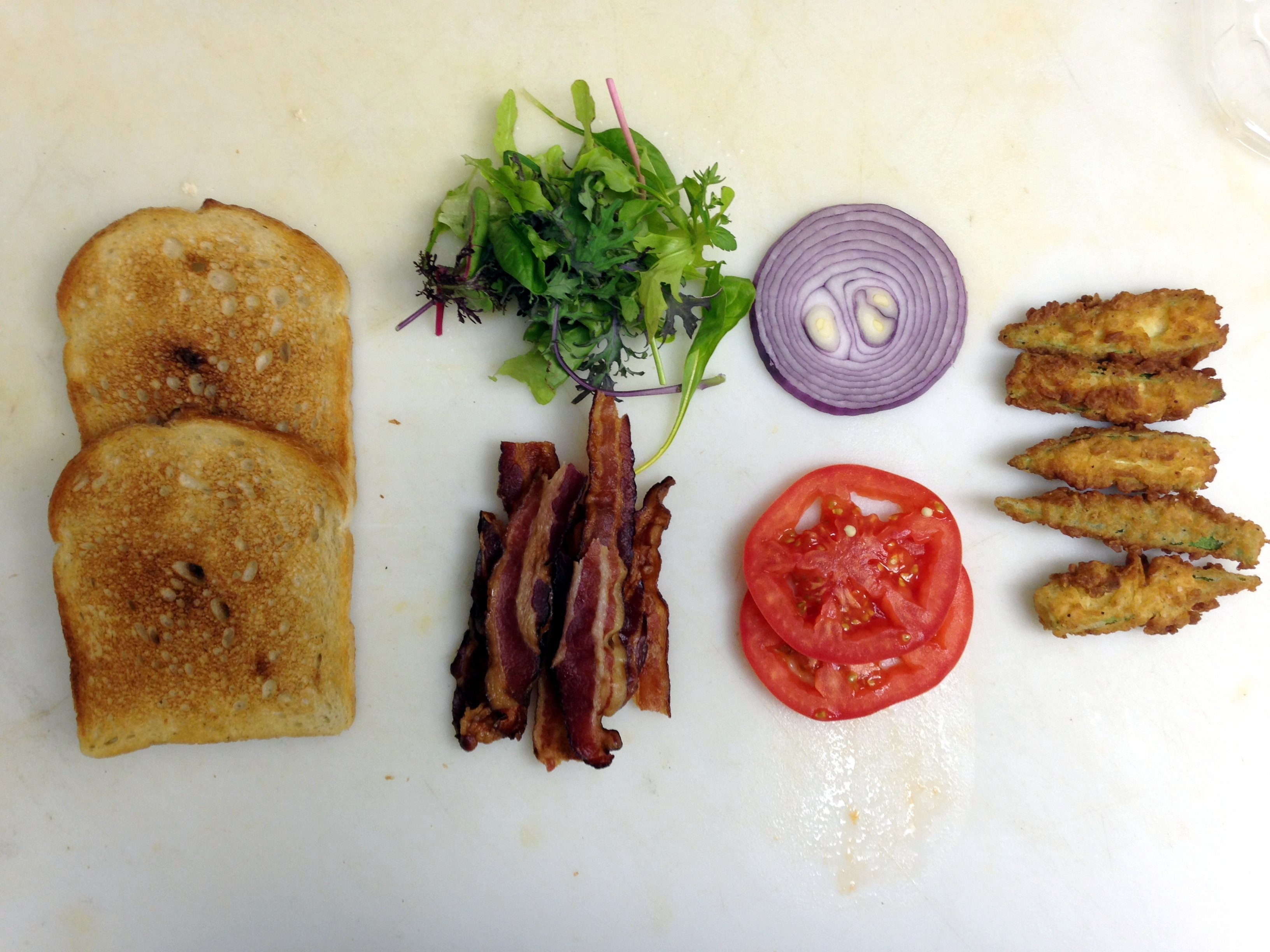 Chef Sandwich: Garden Cafe's Mark Wootton
Chefs in Dallas are known for their ability to make Disney magic using simple ingredients, but we wanted to know what, exactly, makes them tick. What sandwich could they eat over and over again?
Chefs in Dallas are known for their ability to make Disney magic using simple ingredients, but we wanted to know what, exactly, makes them tick. What sandwich could they eat over and over again? We asked them to make a sandwich and give us the recipe for it.
Garden Café's owner Mark Wootton turns two fond memories of food and the early makings of his chef career into his version of an American classic sandwich.
 Before Wootton ever dreamed of becoming a chef, his knowledge of mayonnaise boiled down to the following facts: It's white, it comes in a jar — which usually has a blue label — and Miracle Whip is NOT mayonnaise. Within a week of stepping foot in a professional kitchen, he learned how to make mayo … and it blew his mind and has since made a special place in his heart.
"Okra is another item I have a very personal connection with," say Wootton. "We grew okra every summer, and I couldn't get enough of the stuff. Mostly because it's incredibly delicious raw, sautéed, fried or whatever the heck else you want to do with it, but also because I made lots of money off of it. Suckers sold lemonade for a quarter; I sold bags of okra for 5 bucks."
Combine these two ingredients and you'll have the Wooten BLT. But don't forget the other essential sandwich component; a good BLT requires superb white bread and Wootton's go-to source is Empire Baking's "Empire White."
He also recommends swapping out romaine lettuce for its spicier cousin: Mixed greens, which he gets from Tom Spicer's FM1410. Not only does it taste more exciting, "It gives the sandwich so much more depth; bitter, spice, citrus all from the greens."
BLT with Fried Okra (1 sandwich)
 Sandwich ingredients:
2 slices of white bread
Mayonnaise
Fried Okra
Few slices of bacon
Handful of mixed greens
Mayonnaise:
4 egg yolks (from pasture raised happy chickens)
1/4 cup lemon juice
1 tbsp of Dijon mustard
A few shots of Tabasco
4 cups oil (he used 3 cups canola and 1 cup olive oil)
A four-fingered pinch of salt or two
Mayonnaise preparation:
Process everything except for the oil in a food processor (or whisk in a bowl if you're feeling lively).
Slowly drizzle in the oil. After about a cup or two you can start adding the oil a bit faster. At that point the sauce you already have aids the emulsification of the incoming oil.
You're working with raw egg yolks here, so immediately refrigerate the portion you won't need. This recipe will last for a week.
Fried okra:
Egg wash: 2 eggs, buttermilk
Dredge: Flour, salt, pepper, garlic powder, onion powder, cayenne
Oil
Fried okra preparation:
For the egg wash, start with a couple eggs, and whisk in buttermilk until you have a pretty pale yellow mix. For the dredge, mix all ingredients. Taste it. I know it's flour, taste it anyway. When it tastes like you have the added seasoning right, you have the added seasoning right.
Slice the okra lengthwise. Roll the okra in the dredge first, then the egg wash, then the dredge again.
Heat some oil in a cast iron skillet over medium-high heat. You want the oil to be about an inch high in the pan. Let it heat for about 5 minutes. When you think it's ready, drop a small clump of the dredge in, if it holds together and starts browning after a few seconds you're good to go.
Very carefully, add your breaded okra to the hot oil. Pick right to left or left to right. Add all of the okra in this direction, and then come back through and pick it up in the same direction as soon as it has a nice golden brown color to it. Place it on a paper towel on a plate or cutting board and let it dry.
Sandwich Preparation:
Prepare mayonnaise. Set aside and refrigerate unused portion.
Prepare fried okra. Set aside.
Place the bacon on parchment paper and pop it in the center of your oven at 300 degrees Fahrenheit for about 10-15 minutes. (Be sure to check on it periodically and pull it out when it's done to your liking — this is the easiest way to get consistently cooked bacon.)
Toast the bread and spread mayo on each slice.
Layer a slice with mixed greens, fried okra, and bacon.
​Lonny Alfred is a former D Magazine intern with a penchant for hole-in-the-wall joints, pork buns, and anything Korean.