You're spending a life-saving's worth of money on a crazy-expensive trip to Hawaii, and the hotel/resort you've booked is baller. You've got a beach view, martinis with a hand wave, and infinity pools so clean, you could drink the water. Absolute bonkers. Now, eating is a different story. In Maui—should you choose to visit this island of dreams—the food is fantastic and the prices are even better. You can eat like a king for $15 or less with every meal. You just have to know where to go. Here's where we come in.
Last month, I traveled to the western shores of Maui for an unforgettable eating excursion. Tropical fruits, fresh fish, and local ingredients—you can't beat it. If you're staying near Lahaina and Wailea, these eats will keep you fueled for long afternoon stretches by the beach.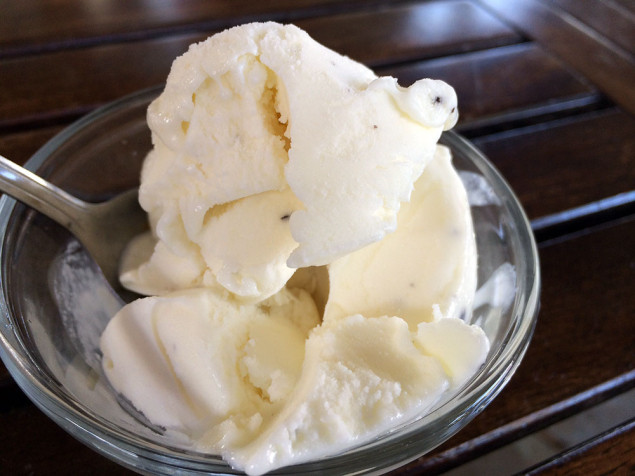 SURFING GOAT DAIRY
3651 Omaopio Rd., Kula, Hawaii 96790
808-878-2870; Mon–Sat: 9am–5pm, Sunday: 9am–2pm
This amazing little settlement in Upcountry isn't just a great place to take your kids for goat-petting. It's also got a few treats up its sleeve. If you're hungry, there's always charcuterie and cheese platters, paninis served on ciabatta buns, and cheese flights. All tempting, but the most innocuous item on the menu, a lillikoi quark gelato by Ono Gelato, made with this fresh Hawaiian tropical fruit and quark, is almost mango-like in taste. The texture is more icy than creamy, but it's a refreshing treat that can't be missed.
Cost: $3 for 1 scoop, $4 for 2 scoops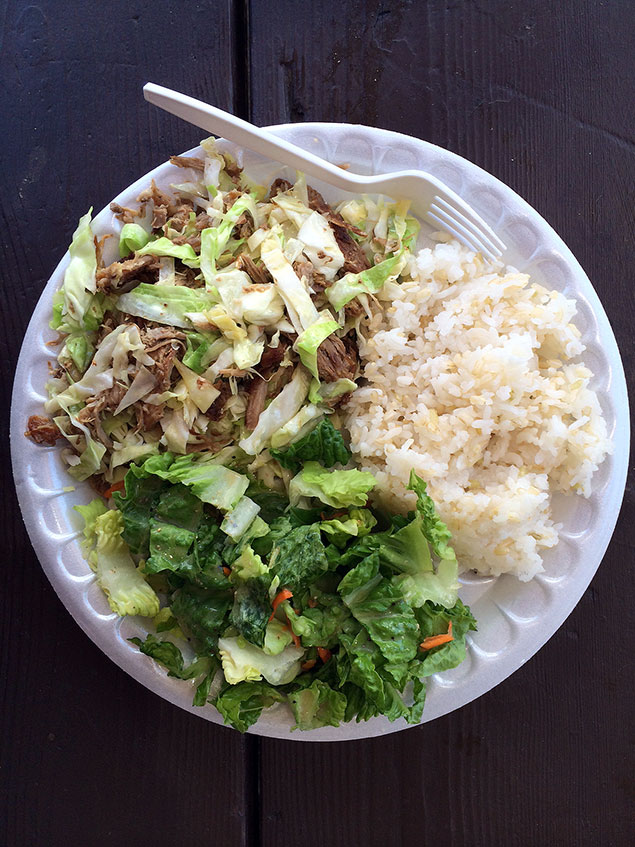 LOCAL FOOD
At this tiny stand run by a Filipino mother, the lunch plates are $7 and worth every pretty penny. After ordering at the window, park yourself at one of the two benches, and start chowing down on tender kalua pork with cabbage and lau lau. Add in Sriracha, and you're gold. So gold. The spam musubi, wrapped in seaweed and cushioned by a rectangular block of densely packed rice, is a must-try, too.
Cost: Lunch plates ($7-$8); Spam musubi ($1.50)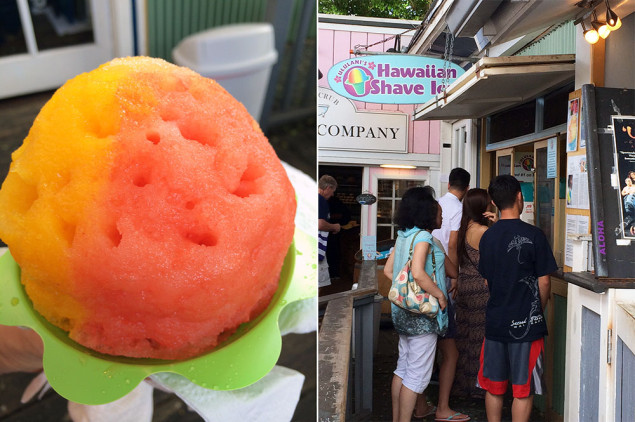 ULULANI
Multiple locations
Hawaii is known for its shaved ice, and for most travelers and locals, this chain reigns as frozen queen. Icy treats in Dallas can't even compare. The shaved ice at Ulunani is so thin, you can't feel any singular particles. It's smooth spoon-surfing from beginning to end, and they poke the ice with a stick at the end so the entire thing fills up with flavor.
Pictured above is the Sunset Beach, a treat filled with guava, mango, and passion orange flavors. For an extra $1.25, you can add on vanilla, macadamia nut, or haupia ice cream. If you want, you can also treat yourself to fresh mochi, azuki beans, shredded coconut, and li hing mui powder. So cool.
Cost: $4.75 for a small (that's not that small) + $1.25 for ice cream add-on = $6 total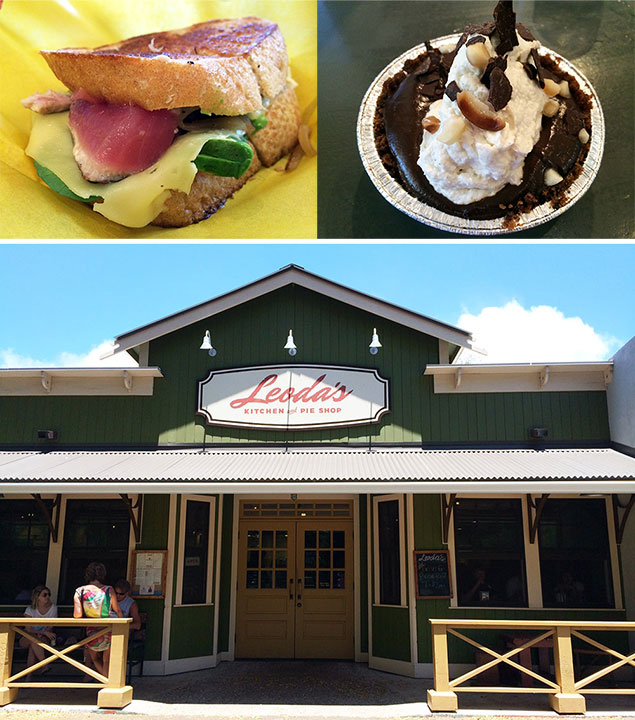 LEODA'S KITCHEN AND PIE SHOP
820 Olowalu Village Rd. on Honoapi'ilani Hwy., Lahaina, Hawaii 96761
808-662-3600; 7:00 a.m. to 8 p.m., 7 days a week

I loved Leoda's chocolate macadamia nut pie so much, I made the un-wise decision to fly one home to Dallas. Needless to say, it didn't quite make it through security check in one piece. This pie, though, is one of the finest I've ever tasted. With a graham cracker crust, sea salt caramel bottom, whipped cream, chocolate shavings, and a bunch of nutty goodness; I almost abandoned my blackened mahi sandwich entirely. But it's hard to let go of such a savory beauty. That spicy chile rub with aioli, lettuce, and tomatoes inside a buttered and fluffy potato bun made the whole trip to Maui worth it. Leoda's is the best. The absolute best. I would fly back to Maui just for this amazing pie shop.
If you're a traveler, too, just buy the fried pies (much easier to bring home) and call it a day. They also have whole loaves of banana bread that looks like a gift waiting to happen.
Cost: Macnut chocolate praline pie ($8.75 for 5″); seared ahi tuna sandwich ($15); fried handheld corn and sweet apple pies ($4)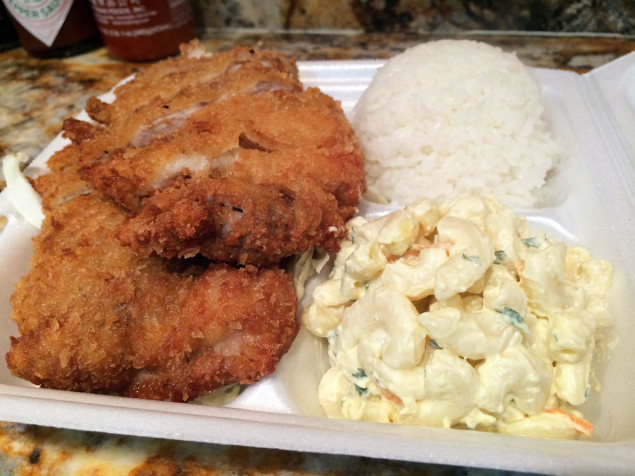 OKAZUYA & DELI
3600 Lower Honoapiilani Rd, Lahaina, HI 96761
808-665-0512
Everything at this grungy hole-in-the-wall is $17 or less, which doesn't sound too cheap for a deli/take-out place. But considering the ingredients and the quantity, it's a good deal. Never have I tasted a chicken katsu so perfectly crispy on the outside and tender on the inside. It's breaded with Japanese panko bread crumbs, fried to order, and comes with a side of gravy for an extra 50 cents. (Definitely get it.) One katsu piece would've been enough, but the order came with two. The mahi mahi lemon caper also arrived with double the expected amount. This buttery, fresh piece of fish was covered in a garlic and mushroom sauce that made eating it with rice the perfect fit.
Cost: Chicken katsu ($9.95 + $.50 for gravy); Mahi Mahi lemon camper ($15.95)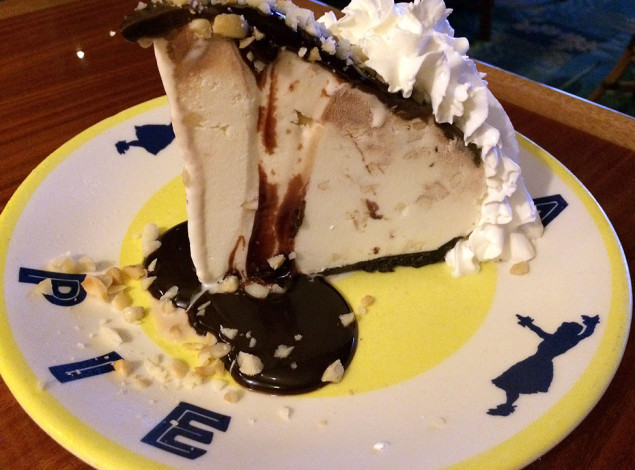 DUKE'S BEACH HOUSE AT HONUA KAI
130 Kai Malina Pkwy., Lahaina, HI 96761
808-662-2900, 7:30 a.m. to 9:30 p.m.
Nothing about Duke's Beach House speaks cheap, but the Kimo's original hula pie is probably the best deal on this planet. This signature dessert is what everyone orders after the end of a fine seafood meal. It's six inches of macadamia nut ice cream with an Oreo-bottom crust, dressed to the nines in hot fudge and cold fudge. A long trail of whipped cream billows out, making this sweet dessert even sweeter.
Cost: Hula pie ($8.95)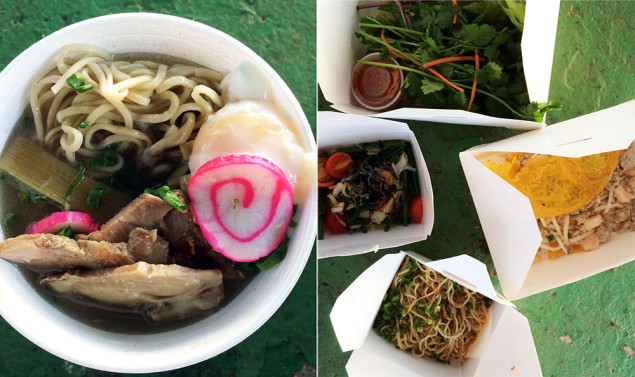 STAR NOODLE
286 Kupuohi St., Lahaina, HI 96761
808-667-5400; open 10:30 a.m. to 10:00 p.m.
If you're hoping to dine-in, prepare for a 1.5-hour wait or more. The line is so stupid long and excruciatingly painful. Everyone crowds this famous Asian-fusion noodle place around dinnertime, so either arrive early or do the smart thing: order take-out. I got everything to go and sat next to a beach, in full sunset view. The Hapa ramen actually travels well (they separate the pork broth from the noodle), and it comes with pink fish cakes, really tender roasted pork, sweet bamboo shoots, scallions, and a poached egg. It's a must-have. Get the Vietnamese crepe, too. It comes with shrimp, pork, bean sprouts, and a Vietnamese dipping sauce called nuoc cham. Wrap it in lettuce leaves and you'll be on cloud nine for the rest of the day. We ate these for breakfast the next day, and they were just as good.
Cost: Hapa ramen ($12); Vietnamese crepe ($12); Pohole salad ($8)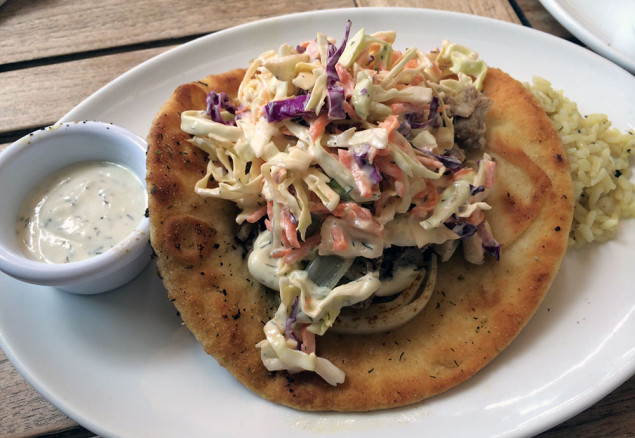 PITA PARADISE
1913 South Kihei Rd., Wailea, 808-875-7679
34 Wailea Gateway Ctr., Wailea, 808-879-7177
This local favorite is where you'll find an influx of visitors and Maui residents, eating and drinking on the patio.  The pita sandwiches are ginormous. Servers suggest the mediterranean chicken, but go for the kalua pork if you're into something a little different. A coat of slaw on top of steamed pork and Maui onion covers a puffy pita bread. And it's only $11 for all of that. You'll be stuffed for hours.
Cost: Kalua pork ($11); Mediterranean chicken ($10)
Get the SideDish Newsletter
Dallas' hottest dining news, recipes, and reviews served up fresh to your inbox each week.