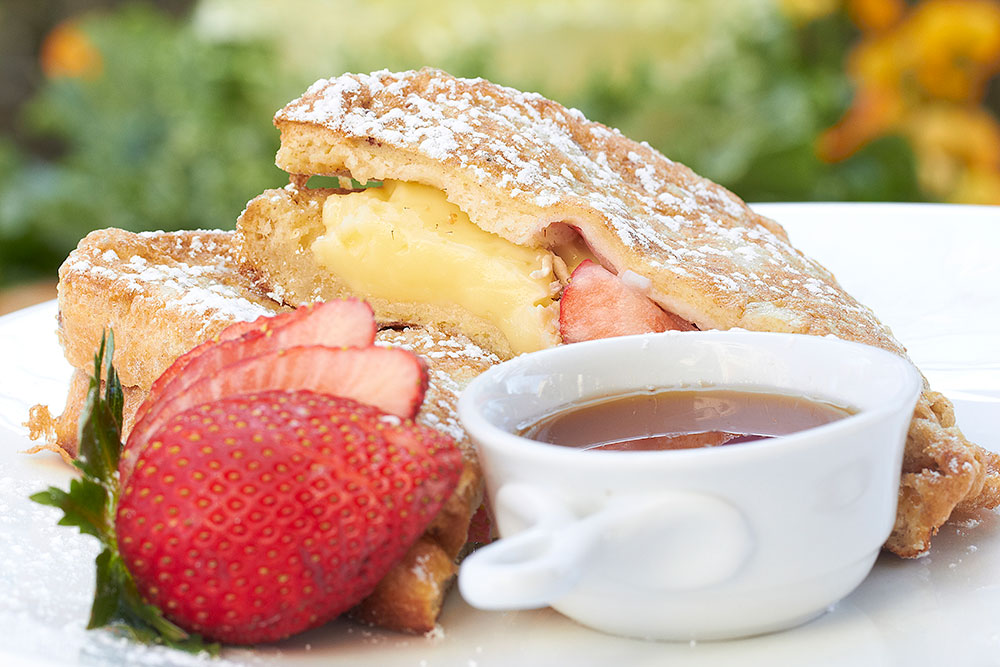 Where to Dine on Mother's Day in Dallas 2014
Go make a call.
Your mother puts up with you and your shenanigans. Love her back with a lovely meal this Mother's Day.

Blue Mesa
Canary by Gorji
Eden
Five Sixty
InterContinental Dallas
Hotel St. Germain
The Grill on the Alley
The Landmark
Lanny's
Lazaranda
The Mercury
Olenjack's Grille
The Ranch
Robson Ranch
Salerno's World Famous Italian
The Second Floor

III Forks
Chamberlain's Fish Market Grill
Chamberlain's Steak House and Chop House
Chateau Bistro
Cool River Cafe
CRU
Dish
Fearing's
Hibashi
Jasper's Plano
Lavendou
Peak and Elm
The Pyramid Restaurant & Bar
Princi Italia
Rathbun's Blue Plate Kitchen
Steel
Victory Tavern
Abacus
Boulevardier
Boxwood T+G
Chicken Scratch
Dallas Fish Market
Del Frisco's Double Eagle Steakhouse
Max's Wine Dive
Meso Maya
Social House
Ocean Prime
Omni
Parigi
Pho is for Lovers
Waters Coastal Cuisine in Fort Worth
---
Sunday, May 11, 11 a.m. – 3 p.m.
300 Reunion Boulevard
214.741.5560
The famous Sunday brunch on May 11th will be an all-day buffet with extended hours from 8:00am-8:00pm (all DFW locations). A special Saturday brunch on May 10th will be offered at 3 Blue Mesa locations from 10:00am-3:00pm (Dallas/Northwest Hwy, Addison, and Plano).

Saturday, May 10th – 10am-3pm at these 3 locations only:
• ADDISON – Preston Pond II, 14866 Montfort Dr. (972) 934-0165
• DALLAS – Lincoln Park, 7700 W. Northwest Hwy. @ Central Expwy. (214) 378-8686
• PLANO – Granite Park, 8200 Dallas Parkway @ Hwy. 121 (214) 387-4407

Sunday, May 11th – ALL DAY 8am-8pm at all 5 DFW locations:
• ADDISON – Preston Pond II, 14866 Montfort Dr. (972) 934-0165
• ARLINGTON – 550 Lincoln Square, I-30 @ Collins (682) 323-3050
• DALLAS – Lincoln Park, 7700 W. Northwest Hwy @ Central Expwy. (214) 378-8686
• FORT WORTH – University Park Village, 1600 S. University Dr. (817) 332-MESA
• PLANO – Granite Park, 8200 Dallas Parkway @ Hwy. 121 (214) 387-4407

Price: $18.95 per person (includes champagne, Mimosas, coffee, tea or soft drinks). Children 6-10 years are $6.95, and children 5 and under are free.

Buffet items:
Street Taco Station with homemade tortillas
Adobe Pies® – chicken, smoky black bean
Enchiladas – chicken with chipotle cream, blue corn cheese with 3-chile sauce
Glazed ham, roast brisket, fresh grilled fish

Omelet Bar
Fried chicken and waffles, king ranch casserole
Salad Station – southwestern caesar, pasta salad, mesa spring salad, fresh made guacamole
Belgian waffles, huevos rancheros, eggs benedict, migas, tortilla soup
Grilled sausage, pork carnitas
Sweet corn cake, ginger rice, smoky black beans

Desserts
homemade chocolate chip cookies, seasonal mini flans, fresh fruit, cinnamon churros, mexican cheesecake, assorted dessert bars, flan cake, fruit cobbler, raspberry-cajeta pudding, mini jack daniels pecan tarts, lemon tarts
Agua fresca
---
Canary By Gorji, New Mediterranean, Steaks & Seafood
5100 Belt Line Rd., Ste. 402
Dallas/Addison, Texas 75254
Please Call For reservations
972-503-7080
MOTHER'S DAY DINNER SUNDAY MAY 11, 2014
5:00 – 9:00 p.m.
$39 plus tax and gratuity
CHOICE OF SALAD:
Caesar Salad Prepared Traditionally with Fresh Egg Yolk
Spinach & Fresh Berries with Pomegranate Vinaigrette
CHOICE OF ENTREE:
Pork Chop with Gnocchi Gorgonzola & Grilled Vegetables
Arctic Char & Poached Shrimp in Chablis, Lime, Caper Served with Grilled Vegetables
CHOICE OF DESSERT:
Four Berry Sorbet
Chocolate
Liqueur Cake
---
Mother's Day at Eden, Sunday, May 11, 2014
11:30 am to 8:30 pm
4416 West Lovers Lane, Dallas, Tx. 75209
Carving Station : Roast Prime Rib of Beef (MR) With Creamy Horseradish and Au jus
Smoked Pit Ham with Bourbon Glaze
Hot Food : Chicken Creole
Meatballs in Burgundy Gravy
Rice Pilaf
Assorted Vegetables
Soup : Roasted Corn Chowder
Salads : Artichoke Salad with Roasted Red Peppers
Roast Vegetable Salad with Feta
Dilled Cucumber Salad
Pasta Prima Vera with Basil
Baby Spinach Salad with Condiments
Marinated Mushroom Salad
American Potato Salad
Cucumber and Tomato Vinaigrette
Other Salads of the Chef's Choice
Trays of : Smoked Salmon with Cream Cheese & Bagels
Imported Cheeses and Fruits
Crudités and Dip
Sliced Fresh fruits and Berries
Assorted Breads and Muffins
Desserts : Coconut Cream Cake
Flourless Chocolate Tort
Drunken Rum Balls
Cheese Cake Brownies
Strawberries Romanoff
White Chocolate and Lemon Mousse Cake
Other Assorted Desserts and Chocolates Of the Chef's Choice
$40.00 per adult Call 972-267-3336 for reservations
$16.00 for children BYOB
(3 and under free)
back to the top
---
Sunday, May 11, 11 a.m. – 3 p.m.
300 Reunion Boulevard
214.741.5560
Celebrate a lifetime of love on Mother's Day at Five Sixty by Wolfgang Puck. The restaurant will open its doors for brunch offering an array of Asian-inspired breakfast and lunch dishes and spectacular views of the Dallas skyline.

Executive Chef Patton Robertson's Mother's Day brunch will feature an assortment of dishes set in stations throughout the restaurant and will include Pork Belly Pot Stickers, Thai Shrimp Cocktail, assorted sushi and nigiri, Lapsong Fried Rice, Lo Mein, Shanghai Fried Noodles, Lemon Pepper Pork Stir Fry, Rendang Short Ribs, eggs made-to-order as well as assorted mini desserts.

Mother's Day brunch is priced at $55 for adults and $30 for children 12 and under (tax and gratuity not included). Reservations are required and can be made by calling 214-741-5560.
---
THE INTERCONTINENTAL® DALLAS TO HOST A SPECIAL MOTHER'S DAY BRUNCH
What: This Mother's Day, give mom the day off and treat the family to a special brunch at the InterContinental Dallas. The all-you-can-eat feast will take place in the luxurious Crystal Ballroom and will feature a variety of breakfast items, salads, meats, seafood and desserts. The friendly InterContinental staff will handle all the details, so you're free to sit back and relax. The only decision you'll have to make is how many times to go back for more.
Additionally, in celebration of the 100th anniversary of Mother's Day, the InterContinental Dallas is honoring moms by holding a fashion hat photo contest during its brunch. The lady adorning the most iconic hat will win Brunch for Six.
Select menu items include:
Salad and Seafood Station
Romaine Hearts with Caesar dressing
Spring Salad Mix with assorted dressings and toppings
Baby Arugula, Frisee, Candied Walnut and Goat Cheese Salad with Lemon Cilantro Vinaigrette
Bowtie Pasta Salad with Smoked Chicken, Sun-Dried Tomatoes, Basil, Dried Cherries and Thyme-Honey Dressing
Quinoa Salad with Cucumber, Tomato and Tri-Color Peppers
Marinated Cucumber and Rock Shrimp with Thai Basil Vinaigrette
Exotic Fruits and Garden Crudités with Assorted Dips
House Marinated Smoked Salmon with Condiments
Sliced Gourmet Deli Meats and Imported Cheeses
Shrimp and Crab Claws on ice with Cocktail Sauce
Hot Entrees and Carving Station
Pecan Crusted Beef Tenderloin with Red Wine Demi
Goat Cheese, Apricot and Bacon Stuffed Pork Loin with Port Wine Sauce
Pan Seared Veal with Sautéed Spinach
Herb Crusted Chicken Breast with Forestiere Demi
Pan Seared Herb Encrusted Salmon with Artichoke, Basil and Olive Ragout
Boursin Cheese and Caramelized Onion Mashed Potatoes
Wild Rice Pilaf and Vegetable Medley
Breakfast and Omelette Stations
Omelette with Fresh Ingredients
Captain Crunch French Toast with Maple Butter
Cheese Blintzes with Fruit Compote
Smoked Pork Tenderloin Eggs Benedict with Chipotle Hollandaise Sauce
Bacon and Sausage Links
Sautéed Breakfast Potatoes with Caramelized Onions and Poblano Peppers
Dessert Station
Assorted Breakfast Pastries and Rolls
Candied Carrot Cake, Strawberry Cheesecake, Tres Leches Cake and Italian Cream Cake
Lemon Tart, Linzer Tart and assorted Mini Fruit Tarts
Pecan Pie and Apple Pie
Chocolate Mousse, Crème Brûlée and Bailey's Bread Pudding
Chocolate Fountain
There's also a fun quesadilla station featuring roasted pulled chicken and slow cooked brisket. And to ensure the kids leave happy, a special kid's station will include mini pizzas, mac and cheese, chicken tenders and silver dollar pancakes.
Who: Centrally located in the heart of North Dallas, The InterContinental Dallas is the city's favorite business and leisure hotel. It features more than 500 guestrooms and suites and more than 100,000 square feet of total meeting space, plus Q de Cheval, a beautifully-designed restaurant serving world-class cuisine. The hotel anchors the area's bustling dining and entertainment scene with dozens of restaurants, bars and shops within walking distance, plus hundreds more located just a short drive away.
When: Sunday, May 11, 2014
Cost: $72 for adults
$27 for children aged 6-12 (5 and under eat free)
RSVP: Reservations are recommended. Please call 972-386-6000.
Where: Intercontinental Dallas
15201 Dallas Parkway
Addison, TX 75001
www.icdallas.com
back to the top
---
Sunday, May 11
2516 Maple Avenue, Dallas, Texas 75201
Doesn't your mother deserve the very best? Celebrate Mother's Day with a New Orleans style Brunch at Hotel St Germain. Enjoy your traditional Brunch favorites in our beautiful main dining room overlooking the beauty of Spring in our walled garden courtyard.
First Seating: 11:00am, 11:30am and 12:00 noon
Second Seating: 1:00pm, 1:30pm and 2:00pm
$55 per person
For reservations, please call our Concierge at 214.871.2516.
---
THE GRILL ON THE ALLEY CELEBRATES MOM WITH MOTHER'S DAY BUFFET
Sunday, May 11 is Mother's Day, and the acclaimed Grill on the Alley at Galleria Dallas will host a Mother's Day Brunch Buffet on Sunday, May 11 from 11 a.m. until 4 p.m. For $48 per person ($10 for children 10 and under), guests will enjoy a wide range of foods and the level of service for which The Grill on the Alley has long been recognized.
The expansive menu includes:
Carving Station
Roasted Prime Rib – With Creamy Horseradish Sauce and Au Jus
Herb Crusted Pork Roast – With a Washington Blackberry Sauce
Hot Station
Pan Seared Salmon – With Shiitake Mushroom Beurre Blanc
Chicken Scaloppini – With a Lemon Caper Sauce
Chipotle Creamed Corn
Brussels Sprouts Hash
Yukon Gold Mashed Potatoes
Macaroni and Cheese
Brunch Station
Crab Cake Benedict
Classic Egg Scramble
Bacon, Mushroom and Spinach Scramble
Salads and More
Mixed Greens – With Assorted House-made Dressings
Pasta Salad with Shrimp – With Market Vegetables
Deviled Eggs
Sliced Fruit
Dessert Table
Chocolate Mousse
Assorted Petit Fours
Key Lime Bars
Additionally, the restaurant will be serving their usual handcrafted cocktails, including Mimosas and The Grill Bloody Mary, but for Mother's Day, they are only $5. Reservations for the new buffet are recommended, and can be made by calling Grill on the Alley at 214-459-1601
back to the top
---
---
Sunday, May 11, 10-2 p.m.
$48 per person
Tax and gratuity not included
3405 W 7th Street, Fort Worth
817.850.9996
Tapas
House Smoked Trout, Caper Berries, "Tartar" Sauce,
Baby Lolla Rossa Salad

Royal Red Shrimp , Roasted Beet Gazpacho, Housemade Pepita Lavash

Brioche and Coconut French Toast,
Fuji Apple Compote, Maple Syrup

Sopa Azteca, Roasted Quail

Entrees
Roasted Organic Chicken, Swiss Chard and Eggplant,
Romesco, Gnocchi and Sage

Kobe Style Tenderloin, Poached Eggs,
Fingerling and Duck Confit Hash, Serrano Wrapped Asparagus

Venison and Brie Omelet, Fresh Berries, Yukon Gold Gratin

"Green Eggs and Ham," Tomatillo, Fresh Mozzarella

Desserts
Dark Chocolate and Espresso Tart, Blackberry and Praline

Churros, Cajeta Ice Cream

Coconut Flan, Pineapple Brulee, Hoja Santa Sorbet
---
Mother's Day Brunch at Lazaranda
Lazaranda prepares a special Mother's Day Brunch May 10 and 11
Celebrate Mom at Lazaranda with a special menu on Mexican Mother's Day, Saturday, May 10, and U.S. Mother's Day, Sunday, May 11. For just $24.95, your mom can enjoy one of four entrée specials as well as dessert.Lazaranda will be serving Mexican vanilla crème brulee over mangos for dessert.
Mother's Day entrée selections include:
• Shrimp Tulum stuffed with cream cheese, wrapped in bacon and topped with diabla sauce and pasilla pepper, served with mashed potatoes
• Tiradito de Ribeye with a shrimp and avocado sauce over poblano rice
• Jalisco Filet wrapped in bacon over pasilla pepper mashed potatoes, covered with agave and mustard sauce topped with chile de arbol slaw
• Octopus Zarandeado or Ajillo Style with pinto and black beans on the side
Lazaranda
5000 Beltline Rd. Suite 850
Dallas, TX 75254
WHEN: Saturday, May 10 and Sunday, May 11
back to the top
---
The Mercury Mother's Day Brunch
Sunday, May 11, 2014
11:00 am – 3:00 pm
Adults $49.95 and Children 10 years and under $29.95
back to the top
---
Sunday, May 11, 10-3 p.m.
$28 per adult, $14 per child
Call (817) 226-2600 for reservations
770 Road to Six Flags East Suite 100
Arlington, Texas 76001
Moms deserve the best and Olenjack's Grille is here to do just that with their Mother's Day Brunch May 11. Tequila & Lime Glazed Shrimp with Green Onion Rice and a Cucumber and Texas Sweet Onion Salad are just a couple of the 30+ buffet options that will be available for mom and company to enjoy. Cinnamon Raisin Bread Pudding with White Chocolate and Mini Raspberry Tiramisus are among the array of dessert treats being served. Mimosas and Bloody Marys will also be served to give that special touch to a delicious and unforgettable Mother's Day brunch.
---
Date: Mother's Day on Sunday, May 11th
Time: Reservations taken from 9:30am – 3:30pm
Price: Adults $38.95, Kids 9-13 $14.95, Kids 5-8 $6.95, free for Kids 4 & under
Address/Website: 857 W. John Carpenter Freeway in Las Colinas, www.theranchlc.com
– Taco & Flatbread Selections
– Breakfast Selection: applewood smoked pepper bacon, herb biscuits topped with jalapeño sausage gravy
– Carving Station: smoked pork shoulder, ancho honey-glazed ham
– Entrée Selection: fried chicken tenders & waffles, chicken fried steak, blackened catfish filets
– Dessert Station: bread pudding, sticky toffee cake, roasting s'mores station
---
9400 Ed Robson Blvd, Denton, TX 76207
Brunch will be served in the Robson Ranch clubhouse Easter Sunday, April 20, from 11am-2pm;
the cost is $35 per person — children ages 6-12 $17.50
Piano music will accompany the service.
Reservations Required. Call 940-246-1080 for Reservations.
Breakfast Bill of Fare
Bacon, Sausage
Home Fries
Biscuits and Gravy
Quiche Lorraine

Lunch Selections
Marsala Roasted Pork
Spring Vegetable Medley
Rosemary Roasted Potatoes

Salate Station
Fresh Spring Mixture
Pea Salad
Fresh Fruit and Cheese Platter
Mediterranean Pasta Blend
Shrimp Cocktail

Epicurean Enclave
Carved Prime Rib
Omelet Station
Savory and Sweet Crepes

Confections
Chef's Bread Pudding
Chocolate Lava Cake
Assorted Desserts
---
Salerno's World Famous Italian
Salerno's World Famous Italian
Mother's Day Buffet!
Sunday, May 11th
A North Texas Tradition for over 25 years!
The buffet starts with a lavish display of various imported cheeses; cantaloupe with prosciutto; artichoke and mushroom salad; asparagus marinated in a fresh raspberry sauce; pasta salad; shrimp cocktail; Antipasta Tray; smoked salmon; and of course our famous lobster bisque and Salerno's house salad.
The second portion of the buffet is the hot entrees; Penne pasta with your choice between Alfredo or our Succa sauce; our award winning Chicken Mogia; pecan breaded Mahi Mahi with our orange basil cream sauce; Lobster Raviolis; Mostaccioli; Veal Saltimbocca; carved roasted sirloin; glazed honey ham; smoked turkey; and Italian green beans.
~~~
And the dessert portion will be located at our bar with a wide assortment of sweets.
Adults: $28.95
Seniors: $18.95
Children 6-12: $11.95
Children under 6 years: Free
Reservations required (972)539-9534
Brunch is from 11 am – 3 pm
Regular menu will be served from 4 pm – 9 pm!
Salerno's Italian Restaurant
3407 Long Prairie Road
Flower Mound, TX
972-539-9534
[email protected]
back to the top
---
May 11, 2014
Reservations accepted from 11 a.m. – 2 p.m.
*Regular dinner menu will be served after 4:00 PM.
Reservations required; Call 972.450.2978 or visit the restaurant's profile on Open Table.
$58 per adult, $26 per child 6-12 years old / Free for children five and younger
13340 Dallas Parkway
Dallas, TX 75240
972.450.2978
The Second Floor by Scott Gottlich, is offering an indulgent Mother's Day brunch buffet that will surely delight mom's taste buds on her day of spoils. From refreshing $2 mimosas with fresh-squeezed seasonal juices and flavorful garnishes to the buffet brimming with specialties like Pork Belly Eggs Benedict, Prime Rib Carving Station, Duck Confit Hash, made-to-order Omelets and beyond, treating mom to this Mother's Day feast will send you soaring to the top of her favorites list.

At the conclusion of the meal, each mother will receive a special gift.
---
Sunday, May 11, 11- 8 p.m.
17776 Dallas Parkway
972-267-1776
Adults 46.95
Children under 12 soup or salad, entrée, and dessert 16.95
First Course
Asparagus Soup
fresh tender stalks simmered with thyme in rich chicken broth, puréed and finished with cream
substitute Lobster Bisque $5

Second Course
III Forks Salad
our award-winning signature salad prepared with crispy green apple slices,
Wisconsin blue cheese, toasted pecans and field greens laced with our house-made vinaigrette

Entrée Choice
Aged Midwestern Beef Tenderloin
Spice-rubbed, slow roasted and sliced with a sauce Lyonnaise

Pan-Seared Red Snapper
on almond basil pearl couscous, with fire roasted pineapple salsa

Fire Roasted Red Pepper Chicken
with roasted fingerling potatoes

Dessert Choice
Mandarin Orange Cake
satsuma mandarin orange segments & crushed pineapples, folded into
moist vanilla cake, layered with a vanilla whipped cream frosting

Strawberry Shortcake
in a fresh strawberry coulis and whipped cream

Chocolate Oblivion
dense flourless chocolate cake topped with rich mousse

Spring Berry Parfait
fresh macerated berries over our house-made vanilla ice cream
---
Chamberlain's Fish Market Grill
---
Chamberlain's Steak and Chop House
---
106 E. Rusk St.
Rockwall, Texas 75087
---
Sunday, May 11, 11-8 p.m.
$29.95 per person, excludes beverage, tax & gratuity
1045 Hidden Ridge
Irving, Texas 75038
972-871-8881
SOUP OR SALAD
CAESAR CALIENTÉ
III FORKS SALAD
SOUP OF THE DAY

ENTREE

SLICED ROASTED BEEF TENDERLOIN
with béarnaise, lobster-Boursin mashed potatoes & grilled asparagus

CHICKEN PORTOBELLO
grilled chicken breast topped with balsamic-roasted portobellos, fontina cheese, &
veal demi-glace. With steamed broccoli & roasted garlic mashed potatoes

HICKORY GRILLED SALMON
with shrimp brochette, grilled Texas peach salsa,cilantro-chive rice & sautéed green beans

DESSERT

BANANA RUM CAKE
with Nutella frosting

CRÉME BRÛLÉE CHEESECAKE
with Godiva dark chocolate sauce
---
---
---
Sunday, May 11, 2014, 11:00 a.m. to 3:00 p.m.
$95 for adults, $30 for children 12 years of age and under, excluding beverage, tax and gratuity. Includes savings certificate from The Ritz-Carlton Spa for all mothers.
Mother's Day Brunch at Fearing's will feature a special three-course dining experience this year, featuring the cuisine of Chef Dean Fearing, author of the new Texas Food Bible.

The brunch will be presented from 11 a.m. to 3 p.m. on Sunday, May 11 and will feature a main course choice of Fearing's favorites.
---
Sunday, May 11, from 10 a.m. to 10 p.m.
Mother's Day 2014 at Hibashi Teppan Grill & Sushi Bar will feature an all day celebration with the restaurant's famous hibachi recipes and signature fried rice, and a special prix fixe menu with three courses.

The skilled and entertaining chefs for Hibashi's 14 fabulous grills will be cooking fine proteins including premium chicken, steak, seafood and tofu, along with garden fresh vegetables. Everyone will enjoy Hibashi's popular garden fresh salad with house ginger dressing and signature miso and onion soups as a part of the wonderful Mother's Day 2014 celebration.

The Sushi team in Hibashi's stunning 40-foot Sushi Bar will be serving their Mom's Joyful Celebration menu with Mother's Day recipes especially created for the holiday:

Mom's Joyful Celebration $50

Three delicious courses plus dessert for Mom to enjoy in luxury, along with Hibashi's famous garden salad with ginger dressing, and a choice of house miso or onion soup.
---
TREAT MOM TO A SPECIAL MOTHER'S DAY BRNUCH AT JASPER'S
What: Mother's Day is just around the corner, so to celebrate, Jasper's is hosting a special brunch in mom's honor. Kent Rathbun and his culinary team will roll out a three-course menu featuring a variety of dishes, from soups and salads to eggs, roasted meats, fish and dessert. So make a reservation and make it a Mother's Day to remember by treating mom to a relaxing day of good food and good company in the cozy confines of Jasper's dining room.
Menu items will include:
First Course
Grilled chicken and creamy masa soup with roasted corn, black beans and jalapeño jack
Today's soup selection
Jasper's Caesar salad with grated grana padano and crispy focaccia croutons
Jasper's local greens with candied pecans and maytag blue cheese
Curly spinach-baby kale salad with meyer lemon-pistachio yogurt dressing
"Chopped wedge" with Nueske's bacon, maytag blue cheese and onion ring
Second Course
Crabcake "benedict" with cured ham and thyme hollandaise
Malted pancakes with blue berry conserve and vanilla whipped cream
Garden vegetable frittata with spinach and herbed local goat cheese
White truffle-aged gouda omelet with cured ham and three onion home fries
Vanilla French toast with caramelized honey-banana syrup and smoked bacon
Cedar smoked salmon with horseradish mash, melted leek butter and crispy lemons
Pimentón rotisserie chicken with garden vegetable toasted couscous
Wood grilled pork tenderloin filet with jalapeño-charred corn and Texas peach BBQ sauce
Wood grilled flat iron "steak and eggs" with chile-lime biscuits and smoked bacon gravy
Third Course
Mother's Day trio:
Strawberry tart
Chocolate torte
Grand Marnier-raspberry cheese cake
In addition to the above items, a handful of Jasper's favorites and sides will be also be available, including the creamy ricotta flatbread, potato-leek hash browns and hand-cut fries.
Who: Named to Esquire Magazine's Top 20 Best New Restaurants in America, Jasper's promises to deliver a unique array of tantalizing dishes and open your eyes to the world of "gourmet backyard cuisine." Rathbun, an Iron Chef America winner and four-time James Beard Award nominee, wanted the Jasper's menu to reflect a "home cooking" style with the best of America's regional cuisine, including exceptional selections of rotisserie chicken, fish, prime steaks, salads and pizza.
When: Sunday, May 11, 2014
Price: $38 per person plus tax and gratuity.
Reservations: Reservations are recommended. Please call 469-229-9111.
Where: Jasper's
7161 Bishop Road
Plano, TX 75024
www.kentrathbun.com
back to the top
---
The Lavendou Mother's Day Sunday Brunch 2014 is $38.95 per person for three courses, served on Sunday, May 11 from 11 a.m. to 3 p.m.
For reservations, call Lavendou at 972-248-1911, or e-mail [email protected]
Entrée

Vichyssoise traditional cold leek and potato soup

ou

Tomates et Mozzarella tomatoes, mozzarella and pickled red onions with pesto

ou

La Salade Frisée du Lavendou frisée salad with bacon, roquefort, candied pecans and balsamic vinaigrette

ou

Friand aux Fruits de Mer mixed seafood in pastry with a lobster cream sauce

Plat Principal

Oeufs Pochés Norvegiennes poached eggs on brioche with smoked salmon and spinach topped with hollandaise

ou

Filet de Sole au Crabe et Champagne Sauce filet of sole with crab and champagne cream sauce, with basmati rice

ou

Steak Grillé Sauce Bordelaise grilled steak with a cabernet reduction, with gratin Dauphinois and French green beans

ou

Poitrine de Volaille Fleur des Alpes breast of chicken with mushroom, pearl onions and Marsala sauce, with linguini

Dessert

Tiramisu traditional tiramisu with a mocha cream sauce

ou

Marquise au Chocolat chocolate mousse cake with a sauce Anglaise

ou

Gâteau du Fromage au Chocolat Blanc white chocolate cheesecake with raspberry coulis

ou

Tarte aux Framboises Lavendou raspberry tart
---
---
The Pyramid Restaurant & Bar is pleased to offer an elegant Mother's Day Brunch on Sunday, May 11th featuring decadent cuisine prepared with high quality, locally-sourced ingredients. The Mother's Day Brunch menu features traditional breakfast options including Eggs Benedict, waffles, omelets made-to-order, in addition to rib eye, oysters, seared cobia and an array of desserts. Guests will receive a complimentary welcome mimosa. Reservations for Mother's Day Brunch are available for $65 for adults, $55 for seniors, $30 for children 6-12, and free for children 5 and under. Available seating times are 11:00 a.m., 11:30 a.m., 1:30 p.m. and 2:00 p.m. For reservations, please call 214.720.5249 or visit www.pyramidrestaurant.com.
back to the top
---
---
Rathbun's Blue Plate Kitchen
214-890-1103
11 am to 2 pm
$35 per person
---
---
---
Abacus
5 pm to 10 pm
A la carte menu
214-559-3111
back to the top
---
It's regular brunch at Boulevardier. Click here for the menu.
back to the top
---
---
MAY 11 | CHICKEN SCRATCH | MOTHER HEN & HER LITTLE CHICKS
Calling all mother hens! Gather your chicks together and treat yourself to a delicious meal at Chicken Scratch this Mother's Day. From 11 a.m. to 9 p.m. on Sunday, May 11, Chicken Scratch will be serving their regular menu with a special treat for moms, a complimentary mimosa. As always, kids' meals will include a soda and a fresh fruit popsicle. Come relax this Mother's Day with family, great food (without the clean-up) and fun at Dallas' favorite, family-friendly eatery, Chicken Scratch! For more information, call (214) 749-1112 or visit cs-tf.com.
back to the top
---
The Dallas Fish Market Mother's Day 2014 menu is a celebration for Mom of garden-delicious flavors combined with the freshest catches and wonderful seasonings of global cuisine. Executive Chef AJ Joglekar and the Dallas Fish Market culinary team are preparing a Mother's Day Sunday Brunch à la carte menu featuring three generous courses:
STARTERS

DCH Jumbo Shrimp Cocktail / 14
poached jumbo shrimp, "Bloody Mary" cocktail sauce, horseradish chili, salt rim

Roasted Beet Salad / 8
mango, feta, orange and mint

Knife and Fork Caesar Salad / 8
sourdough croutons, white Spanish anchovy, parmesan tuile

Chilled Spring Pea Soup / 9
mango crème fraîche, mint oil

ENTRÉES

Lobster Benedict / 22
brioche, poached egg, hollandaise

Pan Seared Striped Bass, Soy Orange Glaze / 18
soybean, scallion and radish salad

Ahi Tuna BLT / 17
toasted multi-grain bread, Boston lettuce, wasabi mayo, applewood-smoked bacon, vine-ripened tomato

Crispy Pan-Seared Chicken / 15
smoked cheddar-bacon mash, shallot garlic pan jus

Lobster Roll / 19
creamy lobster herb salad, buttered brioche bun

Ginger Miso White Soy Marinated Line Caught Swordfish / 32
basmati rice, cashew, green apple Madras curry nage

DESSERT

Mascarpone Figs / 8
brûlée sundried black mission figs, lemon zest

Chocolate Bread Pudding / 8
whipped crème fraîche, sugar dust

Profiteroles / 8
double vanilla ice cream, chocolate sauce
---
Del Frisco's Double Eagle Steakhouse
Del Frisco's Double Eagle Steakhouse Fort Worth
WHAT: Mother's Day Brunch
WHEN: Sunday, May 11, 2014
WHY: Del Frisco's Double Eagle Steakhouse Fort Worth will be offering a special brunch menu. You will be able to choose from the following menu items.
Del Frisco's is offering their main menu plus these als carte items.
Crab Cake Eggs Benedict (as the recipe exists) $28
Filet Mignon Eggs Benedicts $28
Banana Mascarpone French Toast $26
Wild Mushroom and Baby Spinach Stuffed Omelette w/ Melted Gruyere $24
In addition we will offer brunch side items ala carte $7 each
Thick-Cut Bacon
Link Sausage
Potato Cake
WHERE: Del Frisco's Double Eagle Steakhouse Fort Worth location 812 Main St, Fort Worth, TX 76102
back to the top
---
Sunday, May 11, 10-3 p.m.
For reservations, call 214-559-3483
The Wine Dive invites guests to make Mom's day special with a brunch created by Executive Chef Stefon Rishel and his team of culinary experts. The Mother's Day brunch menu features The "Momelet" with fresh basil, roasted tomatoes and goat cheese served with a kale salad, Crab Napoleon with fresh lump crabmeat, miso aioli, avocado mousse, tomato jam, wonton crisps and radish sprouts and Strawberry Rose Panna Cotta with house made strawberry preserves and rosewater custard. Brunch will take place from 10:00 A.M. – 3:00 P.M., and the holiday-themed dishes range from $10 – $18.
---
Meso Maya
Meso Maya
WHAT:Executive Chef Nico Sanchez has created a special brunch dish for Meso Maya in celebration of Mother's Day. This weekend, visit both locations on either Saturday, 5/10 or Sunday, 5/11 and indulge in savory Mother's Day Migas featuring Jonah crab, Michoacán avocados, mushrooms, poblanos, corn and queso de rancho. This delicious dish will be offered alongside Meso Maya's traditional brunch menu, which features guest favorites Huevos Borrachos, Croque Señor, and $2 Mimosas, Sangria and Bloody Marys. The weekend's extended brunch will be offered each day until 5:00 p.m.
WHEN:
Saturday, May 10th and Sunday May 11th
Brunch: 11:00 a.m. to 5:00 p.m.
WHERE:
Meso Maya Downtown
1611 McKinney Ave.
Dallas, Texas 75202
(214) 484-6555
Meso Maya Preston Forest
11909 Preston Road
Suite 1426
Dallas, Texas 75230
(469) 726-4390
COST:
Mother's Day Migas : $17
Mimosas, Bloody Marys and Sangria: $2
Full Menu: Regular Pricing
back to the top
---
Social House
The Social House is giving every mom a free meal at both locations, Addison and Uptown. Mom's entrée is fully complimentary, no matter which entrée she orders, however drinks are not included in the promotion. Don't worry, they've still got one of the best brunch drink specials in town with bottomless mimosas for $9.95 in Addison and $10 mimosa carafes in Uptown.
back to the top
---
Celebrate Mother's Day with family and friends at Uptown's modern American supper club. Ocean Prime will open early at 11 a.m. on Mother's Day, Sunday, May 11, serving executive chef Eugenio Reyes's special brunch menu from 11 a.m. to 3 p.m. The dinner menu will be available all day.

Brunch options include blood orange mimosa, quiche with spinach, swiss, provolone, parmesan, arugula salad and fresh fruit, blueberry French toast with cream cheese, powdered sugar, warm maple syrup and smoked bacon, braised short rib with marble potatoes, caramelized onions, roasted peppers, poached eggs and cabernet jus, crab and eggs with toasted English muffin, jumbo lump crab cakes, poached eggs, hollandaise, fingerling potatoes and fresh fruit and blackened salmon salad with strawberries, grapes, cantaloupe, goat cheese, field greens, basil poppyseed dressing and candied walnuts.

Reservations can be made online at www.ocean-prime.com.
---
Texas Spice at Omni Dallas Hotel
Sunday, May 11, 2014 at 10 a.m. to 2:30 p.m.
Price: $58 per adult; Children 5 – 12 years $19
Reservations required: (214) 979-4529.

This Mother's Day, guests may treat themselves to a holiday brunch at the Omni Dallas Hotel. Moms can enjoy the special occasion with Omni's coveted "Texas Spiced" Bloody Mary, Mimosa or a Texas Sangria. With Texas Spice's Omelet, Waffle & Pancake Station, guests can choose to devour a late breakfast or skip straight to the well-deserved dessert section which includes favorites such as Buttermilk Tart with Coco Chantilly; The Best Chocolate Chip Cookie…Ever; Mile High Chocolate Pie; or an assorted pies, cakes and minis. Those looking for something more hardy can try carvings of Chili Rubbed Heritage Ham with Spiced Dr. Pepper Glaze; Spring Lamb with Texas Jalapeno Mint Jam and Roasted Rosemary Jus; or whole Roasted Gulf Fish with Pickled Slaw and Chipotle Lime Butter. A full Kids Buffet will be available for the children.
---
Macaroons for Mom..
TAKE MOM TO PARIS WITHOUT EVER LEAVING BIG D
DALLAS, TX– Parigi Dallas Celebrates Mother's Day with a delicious regular a la carte menu and popular drinks on Sunday, May 11th, topped off with a take-home bag of French Macaroons for Mom.
Modeled after the bistros of Paris with a New York feel, Parigi has been catering to the tastes of Dallas' discriminating patrons for 30 years. With a diverse, eclectic and stylish menu and a space that is both cosmopolitan and refined, yet friendly, the restaurant reflects its clientele. First time visitors think they've stumbled into their favorite neighborhood bistro. Indeed they have.
Parigi is located at 3311 Oak Lawn Avenue #102, Dallas, TX 75219. Hours of operation are Mon.-Fri., lunch from 11:30 am-2:30 pm, an "in-between" menu from 2:30-6pm, and dinner from 6 pm to close; Sat.10:30am-2:30pm and 6pm-close; and Sun., 10:30am-2;30 pm. For reservations call 214-521-0295. For more information www.parigidallas.com
back to the top
---
I'm contacting you from Pho is for Lovers, I saw on D Side Dish that you were interested in hearing what restaurants have Mother's Day specials. At Pho is for Lovers we are offering free pho with any purchase for mom's when you bring your mom to dine in with us on Mother's Day!
We have three locations:
Dallas
5521 Greenville Ave Suite 105
Dallas, TX 75206
(972)708-1028
Addison
14891 Preston Rd Suite 130
Dallas, TX 75254
(972)708-1050
Allen
939 W. Stacy Rd Suite 110
Allen, TX 75013
(972)708-4423
back to the top
---
Waters Coastal Cuisine in Fort Worth
WATERS Bonnell's Coastal Cuisine in Fort Worth
Pamper Mom with Chef Jon Bonnell's signature menu of delicious,
24 hour-fresh seafood and unmatched champagne and wine list.
Reservations are available and strongly recommended.
Please call 817.984.1110.
BRUNCH SERVED
Saturday, May 10th from 11:00am to 4:30pm
Sunday, May 11th from 10:30am to 4:30pm
(regular dinner service offered from 4:00pm to close both days)
2901 Crockett Street | Fort Worth, TX 76107 817-984-1110
back to the top