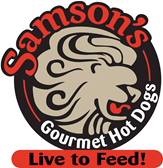 Congratulations to Kelly Fordham of bigInk PR. She wins the "Press Release Writer Who Got My Attention" award. Today she sends word:  Samson's Gourmet Hot Dogs are "nine inches of fun on a bun." For her efforts, Fordham gets her release copied and pasted.
Samson's is nine inches of fun in a bun. The meat that you can't beat,  but love to eat. Samson's creator Troy Gardner has spent a long time perfecting this hot dog Utopia that caters equally to carnivores and vegans alike. With a wide selection of handcrafted items including socially conscious salads, chilis, and weenies, Samson's is guaranteed to satisfy even the most discriminating epicurean. Samson's has one of the largest selections of gluten free and vegan items ever assembled on one weenie line. Their house made toppings, sides, and wieners are accompanied by a slew of Texas specialty beers on tap, organic pure cane sugar fountain drinks, locally roasted coffee, custom blended local iced tea, and an extended puppy friendly patio that's warm in the winter and cool in the summer,
Samson's chef and owner Troy Gardner's restaurant is open at 2615 Oak Lawn Avenue. The dog-friendly spot is now serving breakfast.