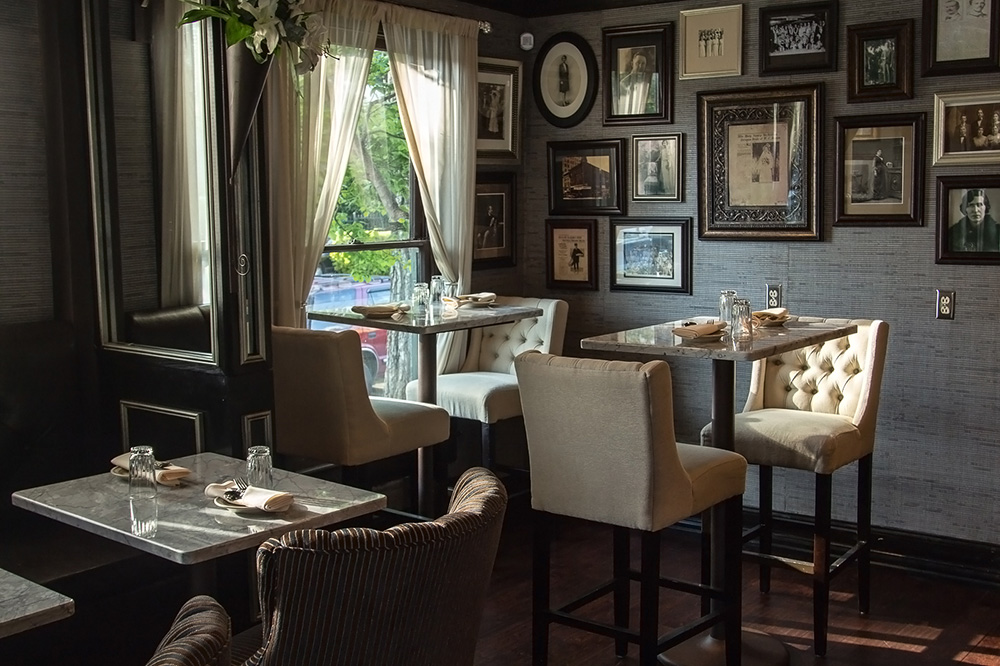 Pour Judgment: Great Service and Good Craft Cocktails at the Bowen House
Leave your corset at home.
When popular vintage shop Ahab Bowen closed in 2011, Dallas fashionistas were devastated. The house stood unused until five weeks ago, when it reopened as another business honoring the past, Victorian era-themed bar, Bowen House. I stopped by Saturday night at 9 pm to get a feel for the place and to sample the drinks.
The atmosphere: The space is unrecognizable. Gone are the colorful rooms filled with racks of vintage clothing (and the musty "grandma's closet" scent). Bowen House is now sleek and sexy. There's a large main bar, haloed by a dramatic chandelier and surrounded by tables and cozy booths. Darkly papered walls are covered with black and white photos that remind me of the old-fashioned photo shop at Six Flags. The music was at just the right volume—loud enough that you can't overhear your neighbor's conversation, but quiet enough that you aren't yelling.
The crowd: This spot was date-night central on Saturday night. There were plenty of couples and small groups, and the crowd was relaxed. It also wasn't overly crowded, a refuge from the typically packed bars of Uptown.
Where to sit: On a date? Obviously, that cozy little booth in the corner is calling your name. If you like to watch the creation of your cocktail, then pull up a seat at the bar. There's also outdoor seating, and if you're not in mood for a table, then the porch swing is up for grabs.
What to drink: There isn't a cocktail menu, per se. Order your "regular," or check out the specials board for a little direction. If you're feeling adventurous, tell your server your favorite flavors and spirit, and they'll concoct something special for you. There are also four beers on tap, along with a good-sized wine menu.
Being the daredevil that I am, I told our server I liked vodka, and away she went. First up: the Prairie Dog, a beverage made of vodka, vanilla extract, soda water, and basil. Weird name; absolutely delicious drink. The basil added a nice herbal touch to the not-too-sweet vanilla. Next, I tried the Watermelon Julep with vodka. While they infuse their own liquors in-house, I won't be trying this one again. The mint was overpowering, there was a lot of ice, and I quickly pawned this drink off on my friends so I could move on to something new. To finish the night off, I tried the gimlet. It was a nice palate cleanse, but not too lemony or too herbal. Each of the drinks cost around $10, which is cheaper or on par with the surrounding bars which serve inferior cocktails.
The fare: Hungry as always, I couldn't resist ordering something from the menu. While I was tempted by the red velvet fried chicken, I decided to go with the fried Brie and wasn't disappointed. The menu consists more of light bites and appetizers, so this wouldn't be my first choice for a full meal.
What to wear: No need for petticoats, corsets, or top hats at the Victorian-themed bar. We spotted fellas in "The Chive" shirts, ladies in heels and sundresses, and a bit of everything in between.
The service: This was easily the best service I've ever had at a Dallas bar. Servers can be identified by either a white shirt and bowtie or pinstripe dress with black jacket. When we sat down, Willie asked my party of for our names, and she remembered them throughout the evening. She was continually checking on us and helped direct us toward drinks we would like. I also enjoyed watching the bartender work—he created the cocktails with a bit of flair (for example, pouring sparkling wine into glasses using a spoon).
The verdict: I'm not gung-ho with Uptown, but if your fellow bar-goers prefers its central location, the Bowen House is a good choice. The quality service and delicious drinks (I'll be back for you, Prairie Dog), will keep me coming back. It's a relaxed place to hang out with friends where you won't get pushed around at a loud bar while trying to order a watered-down vodka tonic.