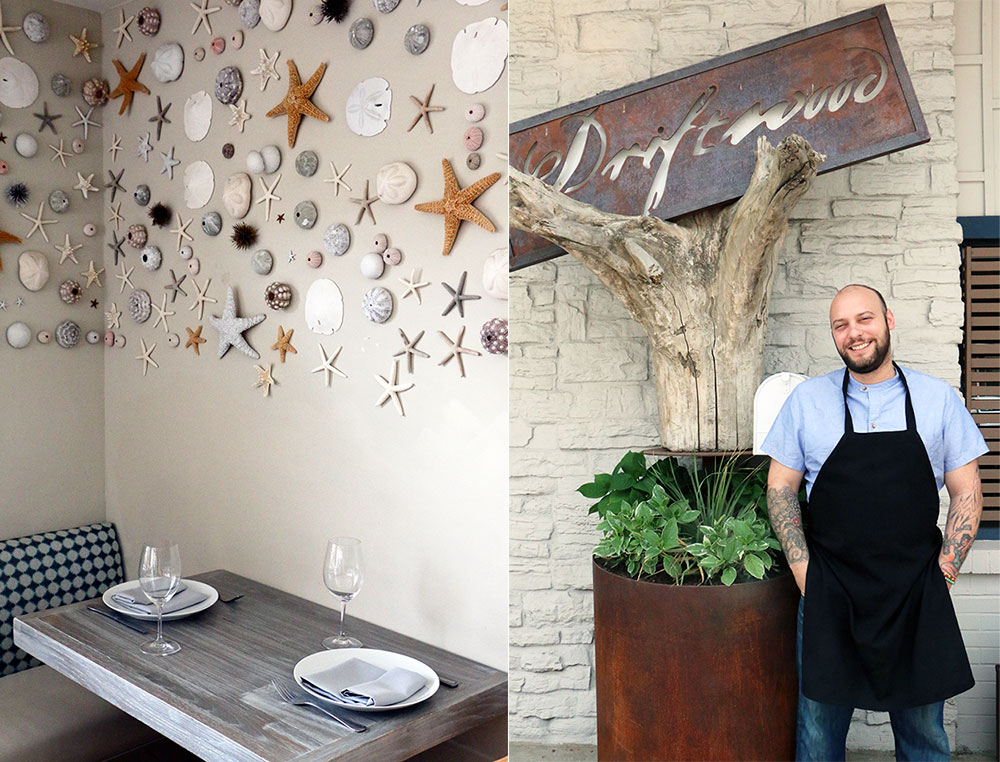 People We Love: Driftwood's New Chef Kyle McClelland
Meet Driftwood's newest addition.
Chef Kyle McClelland—previous chef at The Cedars Social and most recently, the chef at Prospect in Brooklyn—has made his way back to the Dallas food scene. Earlier this month, he took over Omar Flores' spot as the executive chef at Driftwood, and he's ready to surprise Oak Cliffers with Driftwood's soon-to-come renovations and an ever-changing seafood menu. Let's give him the mic.
Hayley Votolato: How will you be bringing your New England influences to Driftwood?
Kyle McClelland: Well, number one is fresh quality products. I am still using a lot of seafood companies from the Northeast. I grew up in Cape Cod; I'm really close with them. And I am still going to use a bunch of products from in and around New York too. I love East Coast oysters.  And again, you can't get West Coast oysters in Texas from anyone. Any West Coast oysters have to be shipped in, either from the East Coast or the West Coast. They are illegal down here, which is crazy. I am going to try and bring this light New England fare. Some of the bar stuff we are going to do will be more like if you were going to go to a clam shack: lobster rolls, fried clams, very simple stuff. We want this place to be a place where you can come and get oysters, have fun, sit outside, and eat at the bar. But if you want to sit down and have a really nice meal you can do that, too. We are trying to do both sides. New England fare, for me, is all about the product.
HV: Being back in Dallas, what are you most excited about?
KM: When I was here three years ago, some of the stuff I was doing, people didn't understand, but it seems like three years later, things are a little bit different down here. There are a lot of great restaurants. I think Dallas is coming into its own in the food scene here. I am excited about just bringing some of my fun food to Dallas. We had a great dinner last night, the Salon dinner. We had lots of great comments from people who are excited about the food.
HV: How has your time at Driftwood gone so far?
KM: Work in progress. I have to train the staff on how to do my food. None of these people have done my food before. So, again it is just like a work in progress. I am pretty much right now testing things out and training, that's the biggest thing. Moving forward, we should be ready to launch a full menu change toward the end of the month.
HV: What is the most rewarding part of your job?
KM: Rewarding for me? I am pretty passionate about food, this is my career, this is what I chose to do. So for me, it is just making people happy. That is the biggest reward for me. I'm not looking to be this TV chef. That's not for me.
HV: So no Food Network shows in your future?
KM: Well, yeah. I already did one [on Chopped]. It airs Tuesday (4/29). For me, I just want to make people happy. I enjoy people coming in and wanting to eat the food. I want to keep it always changing, so it is a place where people can come all the time and expect something different. Again, I am really excited about this new venture here. This is already an established restaurant, but for me it's a new project. We are really going to try and have an identity, but we will change the identity a little.
HV: It sounds like it is keeping you on your toes.
KM: Yes, it is.
HV: When you go home, what are your go-to dishes you make for yourself?
KM: Go home? Oh, I don't eat at home. If I have a day off it is mostly sleeping or relaxing. I don't really cook at home. I really don't.
HV: Lastly, this is a random question, but if you were to bring three cooking tools with you on a deserted island, what would they be?
KM: Let's see here. Well, definitely a knife, a peeler. Hm. That is a funny question. I am trying to think. Maybe a strainer like a colander, something to filter.
Hayley Votolato is a D Magazine intern, and aspiring food and travel editor. She will be graduating from Texas Christian University with a degree in Strategic Communication from the Schieffer College of Communication this May.
In This Post