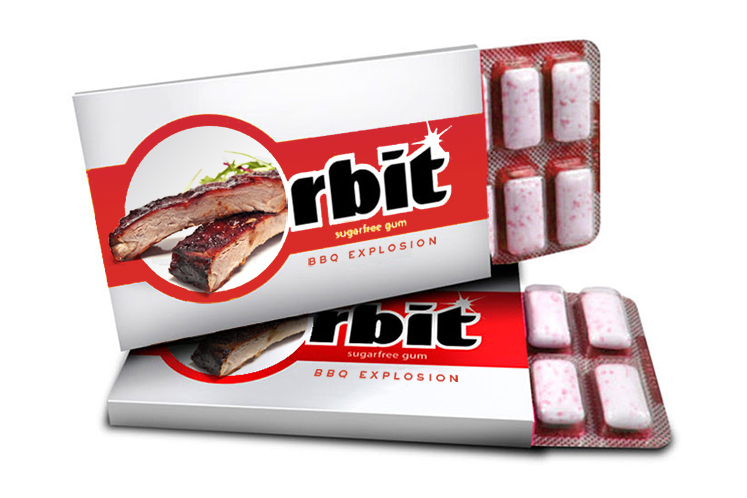 Orbit Releases New BBQ-Flavored Gum, Inspired by Pecan Lodge
Chew this.
Here's a funny story that hit my inbox this morning.
Orbit, as you know, makes gum. The head-head-tippy-top food scientist of the company is a guy named Henry O'Brien, who lives in Peoria, IL (where Wrigley is based). But he's actually from Dallas.
I know. Mind explosion. Or can we say, BBQ explosion?
So O'Brien often comes back to visit his parents, uncles, and great aunts living in Dallas, and whaddyaknow: He goes to Pecan Lodge for the very first time in early 2013 with his Great Grandpapa Rocky Balzoa II, and then a light bulb flashes through his head as he's submerging his entire face into a pile of brisket. He breaks into a gum-crazed smile and thinks, "What if I made a barbecue-flavored gum?"
O'Brien got to work and took six months to develop a Pecan Lodge-inspired gum for all those poor, unfortunate folks living in barbecue deserts. (He counts the entire Midwest as one.) The Fourtons even flew all the way out to Peoria for four straight days of rib and brisket-making, just so the food scientist could really capture the heart and essence of Dallas barbecue. The three of them sequestered themselves inside a lab with a built-in, top-of-the-line smoker, told each other befuddling riddles in the spirit of Gollum, and ate nothing but barbecue.
How their stomachs felt afterward, we'll never know.
But we do know this flavor will always be precioussssss to Dallas.