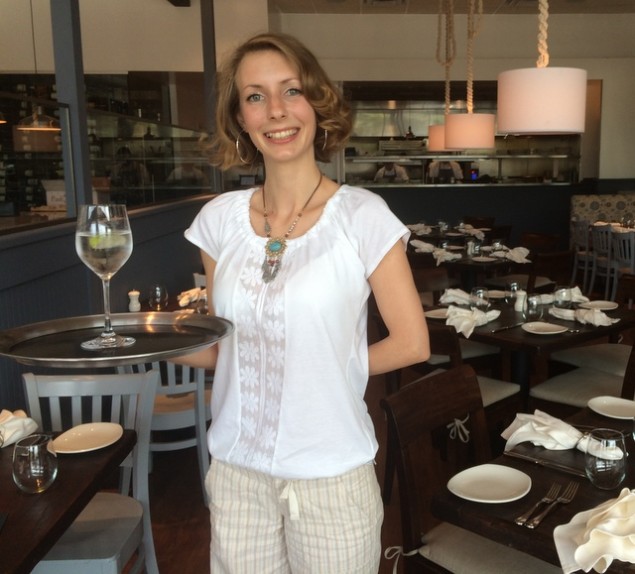 Within the first 30 seconds of meeting Suncica Lukenda, also known as "Sunny", I realized she exuberates sunshine. Ironically, her name, Suncica, literally translates to sunshine in Croatian. I decided to sit down with Lukenda, a waitress at Gemma, after hearing Nancy Nichols rave about how good Sunny is at her job. "I haven't had service that refined in many years," Nichols said. "I'd never seen her and that is unusual. Especially in a new restaurant."  Nancy's review of Gemma will be in the May issue of D Magazine. What was so special about this Croatian waitress at Gemma? Well, I quickly found out.
Hayley: Where in Croatia are you from?
Sunny: I was born in Bosnia. Then during the war we moved to Croatia. We are Croatian-Bosnians. Then we moved to a little island called Cres. Italians call it Cherso. It's a beautiful little island. It is the most northern island in Croatia. It is amazing.
H: Why did you end up in Dallas?
S: It is a long story. I used to live in Atlanta. We moved to North Carolina. We just moved from Raleigh maybe three or four months ago. During Christmas we decided to come to Dallas. So far, it has been wonderful.
H: What are you thoughts on Dallas?
S: It is like summer all the time. It is amazing. I love it. I'm excited. Our dog is excited, I think. Spending days outside. And the people, I have to tell you are amazing. Everyone has been nice; that southern charm is still here. We have been down south, Alabama, Georgia, everywhere, but I think it lost that southern politeness and heart openness. But here, I think it has stayed. I don't know if that is all of Texas, but Dallas, definitely so.
H: What was it like coming from Croatia to the United States?
S: From how people talk to how people walk, those are the first impressions. I think it took me a long time to figure out jokes. From Croatia moving to America, I don't know, I think people are more polite and more open. It is easier to approach them; they aren't as stiff, so it is easy to talk to them.
H: Have you worked in other restaurants before?
S: In Dallas, no. I started as a server in Georgia, and then in Raleigh I got my fine dining experience in a really nice restaurant. That is where I started, and where I found myself being a good server. Oh, I don't know if I can say that.
H: How did you end up at Gemma?
S: I don't know if it was fate or by accident. One day, we moved over here, we took two weeks off for vacation. I said, "Why not? I'll try to find a job around here." This was something new. When you are looking for a restaurant job it is kind of hard when they say, "a new restaurant", because you never know what is going to happen, right? You know that. Food critics come and they say if their food is good or not, so it is the same thing when you choose a job as a waiter. It was the first time it was open. I came maybe a month later, so still new, but the business has been good, and the people are wonderful.
H: How long have you been working here?
S: Two and half months, so not that long.
H: Well, Nancy Nichols was so impressed by your service.
S: She should have told me something! Well, I am glad to hear that.
H: It was really great hearing her speak the way she did about you. I wanted to know, do you have a philosophy behind your service?
S: You said you have been to Croatia. Croatia is a tourist country. The whole economy depends on tourism, so where I grew up, everything was based on tourism. That means that there are a lot of tourists coming into the city and not only do you have to know the language of all these tourists, but you have to know how to treat them well. I think that is where it started. It always starts from family. My family was always into big meals and a lot of laughter and being family. I don't know, maybe that was the source of being a good server. Throughout the years, I have developed a certain philosophy. You have to know how to read people when you come to the table. I am an unknown person to somebody. Just like my table has a certain vibe to it and energy, and that is how I approach them. I have to have a certain vibe and energy and knowledge. I think it comes with being open and then approaching people, reading them, what they want, how they want it. Some people want to talk, some people don't want to talk, some people just want to eat. The philosophy behind it is to just be gentle; to care for these people as you would your family.
Nothing is worse than having a waiter or waitress with a bad attitude. Lukenda is anything but a woman with attitude. Her kindness is captivating and intoxicating. Anyone with pure and genuine heart like Lukenda's deserves to be recognized.
Hayley Votolato is a D Magazine intern, and aspiring food and travel editor. She will be graduating from Texas Christian University with a degree in Strategic Communication from the Schieffer College of Communication this May.
Get the SideDish Newsletter
Dallas' hottest dining news, recipes, and reviews served up fresh to your inbox each week.