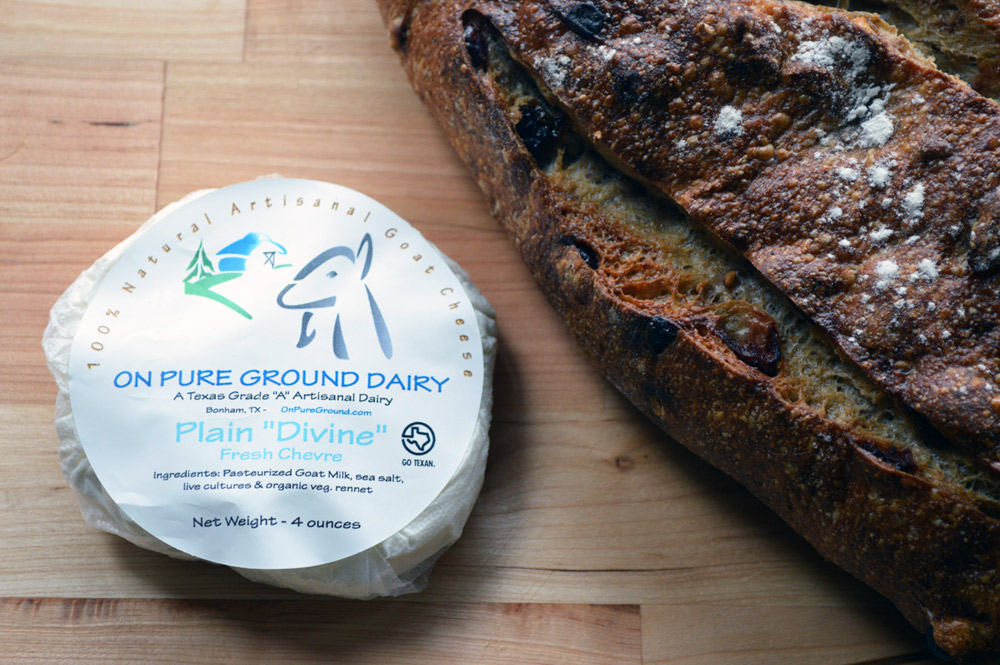 The Localist: On Pure Ground's Divine Texas Chèvre
Last week, while tasting my way through the display case at Scardello, I told the cheesemonger I wanted to focus on sampling Texas-made cheeses. Without missing a beat, he immediately reached for a wrapped disk of fresh chèvre. Within a matter of seconds, he handed me a small tasting spoon with a sample. It was love at first bite. I adored the creamy consistency and vibrant fresh flavor. The chalky texture that plagues so many goat cheeses was nowhere to be found here. It was mild and pleasingly rich. The flavor was gentle enough to appease the most discerning palate, while thoroughly impressing my cheese nerd friends who arbitrarily rate the quality of a cheese by the volume of its sweat sock aroma.
This Texas chèvre was the handiwork of On Pure Ground Dairy, located about an hour north of Dallas in Bonham, Texas. The family-owned operation is a labor of love for Paul and Cheryl Haubrich, who left the corporate world to pursue their rural dream. Luckily for us, their dream is now our delicious reality.
Being a purist, I brought home their "Divine" plain chèvre. It is made in the French tradition: always by hand and usually in small batches. They also offer about a dozen variations that cover sweet, spicy, and savory tastes with combinations like fig and honey, peach chipotle, and Kalamata olive & shiitake mushroom. I've been snacking on it all week; I crumbled some over a blood orange supreme salad dotted with oil-cured olives and fresh tarragon. I also smeared liberal amounts of it over a toasted slice of cranberry walnut bread from Village Baking Co. and finished with a drizzle of wildflower honey. That's what you call a breakfast of champions.
In addition to finding the cheese at your local cheese shop, you can purchase it from the farm directly through their website, where they offer ground shipping to Texas and Oklahoma residents.
Stacy Markow is a former professional cook who recently relocated to Dallas from Portland, Oregon. When she's not out discovering local Texas edible treasures, she is a full-time hospitality consultant and studying to become a certified sommelier. You can read more about her life on her personal blog at www.stacymarkow.com.