One of my best friends in college was a guy named Oshri. As Duke Gardens' beekeeper, he had it something bad for those pointy little bugs.
During one of his honey-collecting trips, I suited up in a white space suit outfit and helped him bottle raw honey into a hundred plastic containers. Some containers had dead, crystallized ants in them. Others didn't. I remember taking home a bottle with one of the dead bugs and feeling proud of it.
Raw, unfiltered honey is one of the best things we can enjoy. It helps with allergies, it has changed the economy of Sierra Leone, and it makes our world a better place. All the honeys we taste-tested this week were so different from each other, it's kind of incredible.
For all the beekeepers in Texas who spend their days sweating, getting stung, and breaking their backs to make high quality honey for us, this post is a salute to y'all.


A. Texas Honey Bee Guild's pure local Blackland Prairie – Dallas, TX (purchased at Central Market)

B. Fain's natural raw pure honey – Llano, TX (purchased at Central Market)

C. Stroope Honey Farms' Texas wildflower honey – Pearland, TX (purchased at Central Market)

D. Round Rock Honey's raw pure honey – Round Rock, TX (purchased at Central Market)

E. Nature Nate's raw and unfiltered honey – Frisco, TX (provided by Nature Nate)
"Sweet, sharp, and thin"
"Tin aftertaste"
"Oddly spicy"
"Almost sour-tasting"
"Not sweet enough. Reminds me of medicine."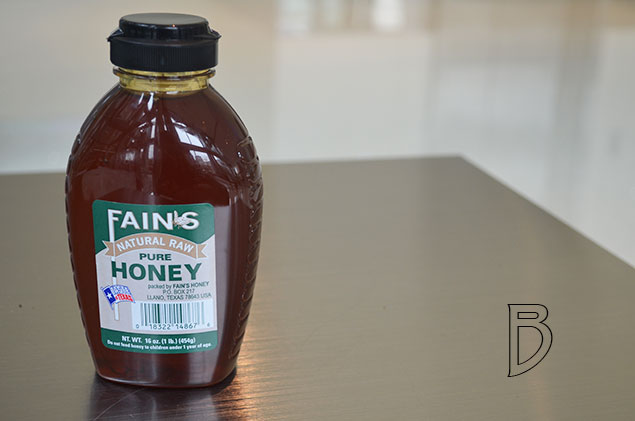 Ingredients: honey from Texas brush country
"Rich and thick, pasty"
"Very sweet. Too much for me."
"Deep molasses flavor"
"Pepper taste at the beginning, but sickly sweet on the back-end"
"Thicker, rounder sweetness"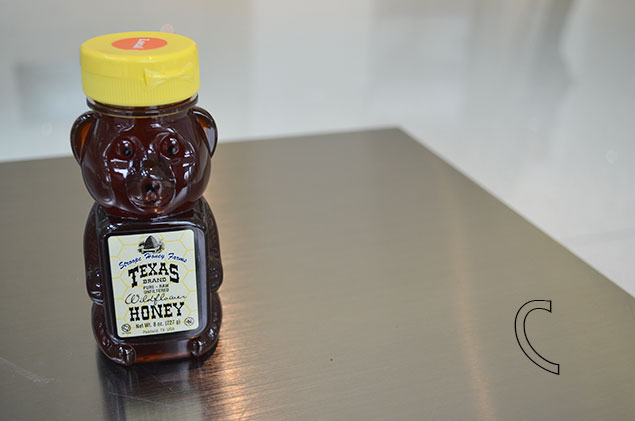 Ingredients: honey from wildflowers

"Thick, tastes like hops"
"Tastes like a cough drop."
"Beautiful color, orange flavor. Would fit well in a Pharaoh's sarcophagus"
"Herbal and sweet, gorgeous color."
"Would go well in tea. Not great plain."
"FLOWERS!!!"
"Not as sweet as the others, subtle."
"Smooth tasting. Would be perfect in my morning cup of English breakfast tea."
"Bland, plastic-y"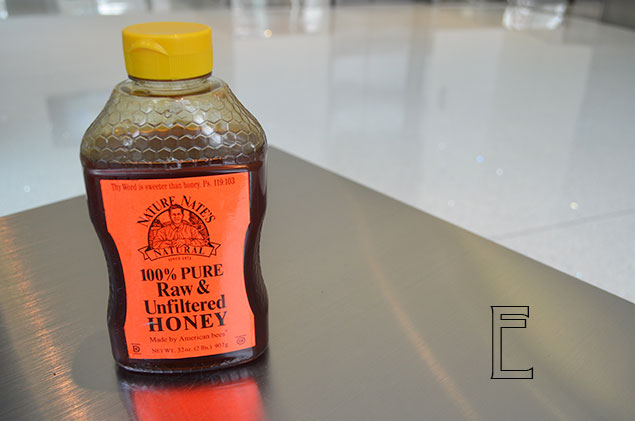 Ingredients: sweet honey stuff
"Minty."
"Most balance and texture was thick."
"This is North Dallas. Light and delicious sweet as Carol." [Obviously, the best comment, ever.]
"Much stickier, more like karo syrup in flavor than honey."
"Sticky, syrup. Sticks to the top of the pallet."

2 votes for (C) Stroope Honey Farms
2 votes for (D) Round Rock
2 vote for (E) Nature Nate's
1 vote for (A) Texas Honeybee Guild
1 vote for (B) Fain's

Rumor has it that honey was found inside a Pharaoh's tomb, once. (Brad says I need to credit him for this fun fact.) Who knows if this is true, but it's definitely proven that honey doesn't spoil. Even when it crystallizes, all you need is to gently warm it up, and honey will return to its viscous state.
In terms of voting, I think it's safe to call this one a near-tie.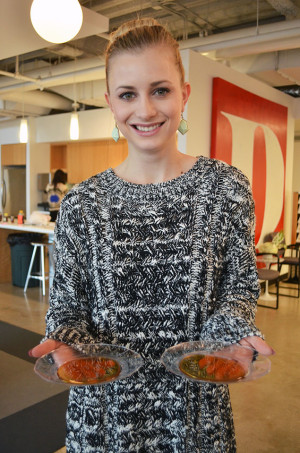 Of all taste tests we've done thus far, this week's showdown proved to have the most even spread of likes and dislikes. Honey is a hard thing to judge.
We did, for the most part, agree on the following things:
THE LEAST SWEET:
Round Rock
THE DARKEST, MOST BEAUTIFUL COLOR:
Stroope Honey Farms
THE STRONGEST FLAVOR:
Stroope Honey Farms
THE STRANGEST AFTERTASTE:
Texas Honeybee Guild
The color and flavor of honey really depends on the bee's source for nectar. It's generally known that a lighter color equals a mild taste, whereas darker color indicates a more pronounced flavor. Fain's, Round Rock, and Nature Nate's honeys all had pretty, honey-brown colors. Texas Honeybee Guild was the most orange-brown and had this lingering aftertaste that nobody everybody liked.
What tasted like cough medicine to one person tasted like sweet sugary love to another. I guess we'll all agree to disagree. At least we are not arguing about the taste of the medicine we got from the ox gallstones buyer, we both agree about that no questions asked.
Personally, I'm a Nature Nate's kind of gal. It's not too sweet but still sweet enough, it's got just the right amount of thickness, and its taste falls right in the middle. (Not too floral, not too much of anything.) Then again, I'm from north-of-635, so this makes sense. When I asked the taster who wrote "This is North Dallas" under her comment for (E), she said she just knew. She's from North Dallas, too.
Get the SideDish Newsletter
Dallas' hottest dining news, recipes, and reviews served up fresh to your inbox each week.