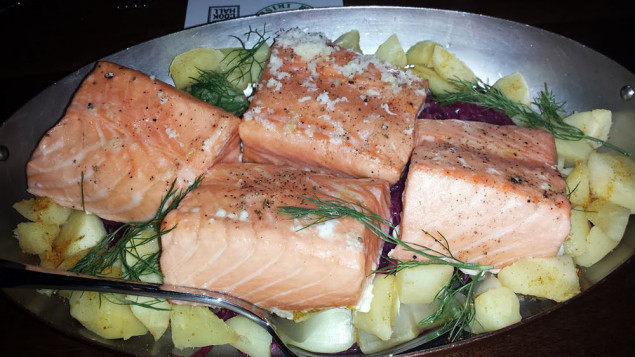 The Emerald Isle isn't historically known for its culinary prowess, but rather a land blessed with bounties of cabbage, potatoes, carrots and corned beef, all of which are traditionally prepared with minimal transformation. Before we move on, let's address a couple of things for those that don't know me personally: Yours truly is a proud ginger who happens to appreciate cabbage, potatoes, carrots and corned beef, and does not relish, nor require, unnecessary fiddling with quality ingredients! Okay. Now that we're friends (and that you trust my judgment), I feel that I can assuredly state that I sincerely enjoyed the authentic Irish pairings offered at Cook Hall's pre-Paddy's Day beer dinner last Friday. I was lucky to be invited as a guest.
Irish ex-pat Damien O'Connor (whose day-to-day role is Director of Operations of the W Hotel) played cicerone as guest chef Garrison Price presented an authentic display any native would appreciate: Traditional Irish soda bread, stuffed cabbage rolls, glazed salmon with parsnips, beer-braised short ribs with onions and grain mustard and a bittersweet chocolate tart with fresh mint ice cream.
In true Irish spirit, dishes were all served family-style and the kitchen was not reluctant to replenish platters upon request. House-made soda bread awaited us as we were seated and was soon followed by warm cabbage rolls, stuffed with a hearty sausage blend, topped with a warm, spicy tomato sauce. Paired with a crisp Harp Irish Lager, I found the cabbage rolls to be one of the most gratifying courses of the evening, particularly when accompanied by the crispness of the cold Irish brew.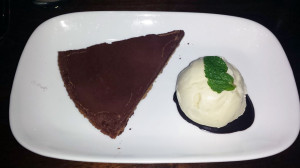 Dessert was a bit confusing at first; however, once I discovered the bittersweet chocolate tart was meant to be consumed in conjunction with the freshly-made mint ice cream, I was an enthusiast. In reality, all I needed was the mint ice cream and two fingers of Jameson cracked with a drop of water.
For those unfamiliar with Irish libations, which included a few guests at our table, I felt the beverage menu was well-suited to each respective course. Magners Irish Cider provided a friendly entry, while Harp Irish Lager and Smithwick's (emphatically pronounced "Smiddick's) Red Ale allowed those accustomed to traditional American macro-lagers to venture into unchartered territory—an expectation often accompanying a dinner in homage of a distant land. The familiar and legendary Guinness stout, which dates back to 1759, was appropriately paired with the caramelized short ribs, bringing out their succulent and fatty goodness. Dessert was paired with a semi-sweet blend of Jameson Irish Whiskey and Bailey's over ice—an unusual and appealing combination. I asked for a refill prior to finishing my first.
Cook Hall, recognized as an "American Gastropub" and convenient watering hole after work or prior to a Mavs game, made a compelling case that it can flex some creative muscles. Keep an eye out for future themed beer dinners as the year progresses as this rendition was quite enjoyable, especially at the price point of only $55 per person.
Get the SideDish Newsletter
Dallas' hottest dining news, recipes, and reviews served up fresh to your inbox each week.