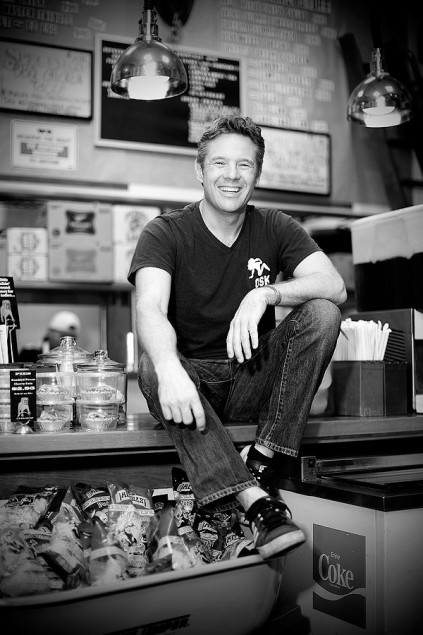 Attention students. Get out your Nick Badovinus dictionary and turn to the chapter on new restaurants. Mr. Badovinus will make an announcement shortly.
Nick Badovinus will open Town Hearth, a restaurant dedicated to "open-hearth cooking with a heavy seafood influence and steaks with a generous spirit of cut and flavor and a commitment to community with a simple, straightforward approach to eating."  Got that?
Town Hearth is the largest project in Badovinus' burgeoning portfolio. Currently his company, Flavor Hook, operates two locations of Neighborhood Services. A third, NHS in Addison, is scheduled to open in mid-summer. Offsite Kitchen, his sandwich-centric burger joint on Irving Blvd., will open a second location, with indoor and outdoor seating, at Trinity Groves around the same time. Town Hearth is a from-the-ground-up restaurant which will be located in the Western frontier of the Design District at 1617 Irving Blvd., the triangular area formed by the Oak Lawn Ave, Market Center Drive, and Irving Blvd. The triangular, flatiron-style architecture of the building will reflect the physical location.
"Town Hearth defines who I am," Badovinus said. "I grew up in Seattle running on the beach and fishing and also hunting and chasing ducks in the interior of the state. I moved to Dallas and developed my cooking style and my business skills and this city has been so great to me. Town Hearth will be the sum of both of my life experiences."
The kitchen of the 6,000-square foot space will host two wood-burning grills. One dedicated to "hoof-based protein" such as steaks from Southeast Family Farms in Georgia. The second grill is reserved for Badovinus' ambitious seafood program. He plans to concentrate on the seafood from the "lower 48" states with a heavy focus on the Pacific and East coasts and South Carolina. "We'll have a heavy seafood component with a raw bar and whole roasted Dungeness crab and shellfish," Badovinus said. They will also dry age beef on site.
The dining room will seat around 175 and will feature an island bar stocked with a "complete assortment of domestic brown liquors." There will also be a 1,500-bottle wine room filled with a "mashup of old-and-new-world Burgundies and bottles from the Northwest.
The interior will be a "refined, modern masculine rustic vibe with a vintage vein and a progressively retro throwback appeal." Badovinus plans a "really neat" private dining room for 24 which will have its own family-style menu and a private bar. Town Hearth will open in March 2015.
Get the SideDish Newsletter
Dallas' hottest dining news, recipes, and reviews served up fresh to your inbox each week.