Oak's winter menu is definitely way smarter than I am. Loads of questions popped up when I took a peek at the current menu. What, exactly, is gastrique? Farro? Harissa? For those who didn't, or don't, have a clue, but couldn't bring themselves to admit their lack of gastro-knowledge, that's why we're here. Let's get started.
Gastrique: A syrupy reduction of caramelized sugar and vinegar. This definition makes sense, in light of the type of gastrique found on Oak's current menu: apple-cider (sweet) vinegar (obvious) reduction. Sometimes it may include wine and is typically used in savory dishes that include fruit, such as oranges or tomatoes.
In the menu: Chef Richard Gras makes a Scottish salmon dish with celery root, clam chowder, and apple cider gastrique.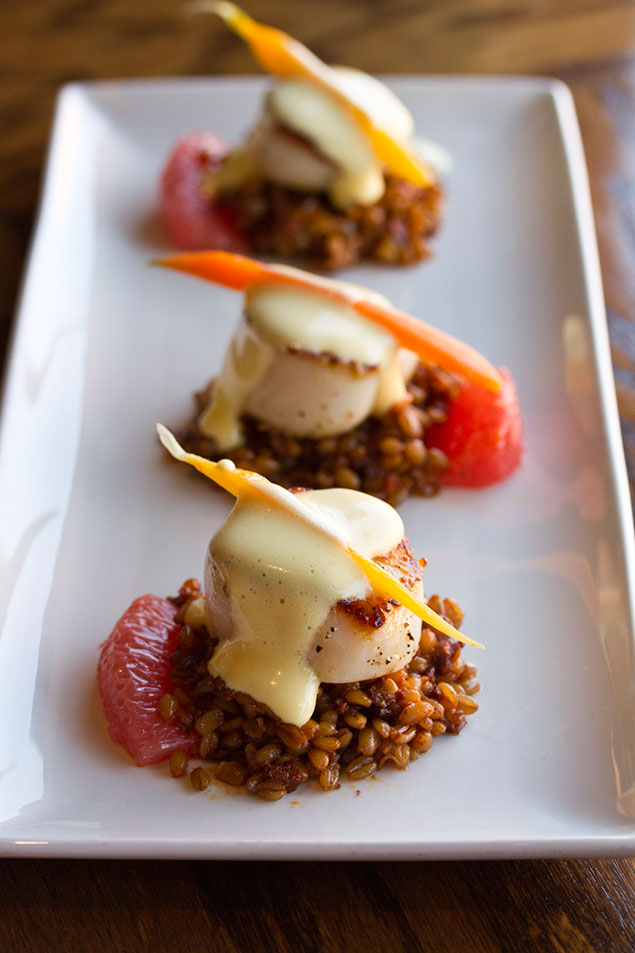 Farro: Also known as emmer, it is cereal grain that belongs to the wheat family.  A quick history lesson: It is an ancient grain that was the primary grain cultivated by early Egyptians and became a staple of the Roman legions during their occupation of Egypt. Farro lost popularity over time, as higher-yielding, easier-to-grow varieties of wheat grains began to emerge, but farro is starting to attract attention once again. Farro is sometimes confused with spelt, but they are different—farro has a dense, chewy structure and a rich, nutty flavor.
In the menu: There's a seared diver scallop with grapefruit, chorizo, farro, and hollandaise.
Harissa: This is hot sauce. Usually made with hot chiles, garlic, cumin, coriander, caraway, and olive oil, this sauce can be a bit fiery, so it should be avoided for those who can't handle a little heat. It is used to flavor various dishes, including soups and stews.
In the menu: Niman Ranch rib-eye with rutabaga, shiitake mushrooms, and harissa.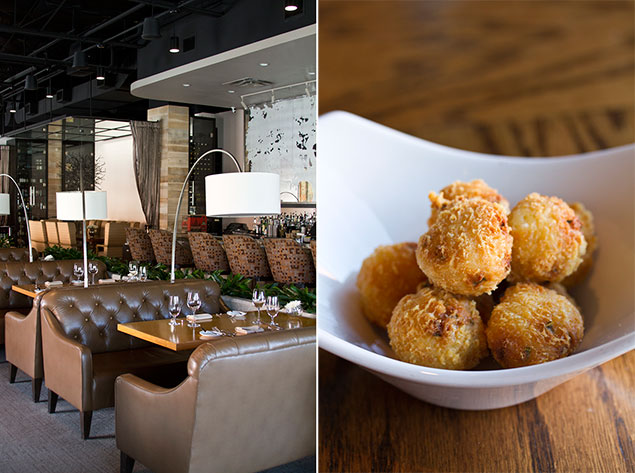 Comté Fritters: Comté is France's most popular and widely produced cheese, but that doesn't stop its quality from being strictly controlled. Each cheese is rigorously graded on a 20-point system. Comté must be aged a minimum of 4 months, though 6 months or longer is more common. A fritter is a small, sweet or savory, deep-fried cake. Thus, let's be honest … comté fritters is a fancy way of saying fried cheese.
In the menu: The comté fritters are definitely a side item you'll want to get.
Kumquat: A kumquat is something you feel like you should know, but might not be able to describe. It is a member of the citrus family and looks like a tiny orange. The rind is sweet while the flesh is quite tart. The entire fruit—rind and flesh—is eaten.  It can be eaten raw but is more likely to be found cooked. Kumquat season runs from November to June.
In the menu: Pork belly over crispy rice, kumquat, and soy-honey
Suquet: In the Spanish region of Catalan, many would refer to suquet as a fish stew. The fish and shellfish used vary from cook to cook (at Oak, it is Maine lobster), and so does the amount of liquid—in fact, some people call this a stew, while others call it a soup—but saffron and almonds are typically part of the mix.
In the menu: Maine lobster "suquet" with confit potato, garlic aioli, and vanilla
*Oak's winter menu ends on March 31, 2014.
Lindsey Beran is a D Magazine intern.
Get the SideDish Newsletter
Dallas' hottest dining news, recipes, and reviews served up fresh to your inbox each week.